With the enigmatic MrX by Talenti the outdoors is a continuous movement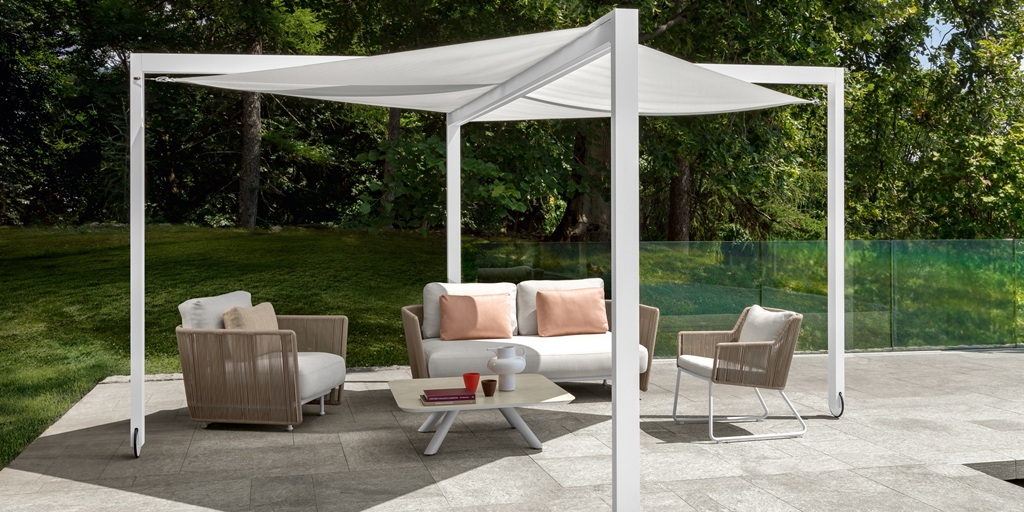 Born from the creative inspiration of Marco Acerbis, this innovative solution allows a space to be shaded in a versatile and revolutionary way.
For summer 2022, Talenti, one of the leading brands in the high-end outdoor market and present in over 65 countries worldwide, presents the innovative MrX. Born from the creative inspiration of the famous Italian designer Marco Acerbis, MrX allows you to shade your outdoor space, a terrace or a swimming pool, with a sculptural yet surprisingly space-saving element of unique design.
MrX is an architectural concept that takes its cue from classic pergolas and sunshade tents but revolutionises their structure to create a dynamic and stylish piece of furniture.
At first glance, when MrX is closed, it is difficult to realise what it is. Like a riddle to be solved, it is revealed little by little thanks to its compass opening which allows the extension of the curtain for a wide and pleasant shade. The secret is thus revealed with simple yet ingenious mechanical gestures that open up a tailor-made oasis of relaxation.
Ideal for both residential and contract applications, MrX is not a pergola, it is not a sunshade but a sophisticated shading device unique in its kind and marking a turning point in the very concept of protective furniture. The sun is a friend/enemy that should not be trusted too much, so it is better to have furnishings that quickly become allies for every eventuality.
Made of extruded aluminium and available in different colours, the structure adapts perfectly to any context for a fascinating accessory in its contemporary simplicity.