EOS swoops for Beach House Resort
Privately owned real estate investment firm EOS Investors has added an oceanfront resort on Hilton Head Island in South Carolina to its drive-to leisure resort portfolio.
A well-located hospitality scheme on the East Coast looks set to enjoy a whole new lease of life after changing hands.
A new addition to the EOS portfolio
Privately held real estate investment firm has acquired Beach House Resort on Hilton Head Resort in South Carolina, raising hopes that the property will soon undergo a major revamp. The development has long been celebrated for its ocean-view accommodation and lifestyle venues spanning 400 ft of prime beachfront.
"We are excited to welcome another high-quality, leisure destination to EOS' portfolio of more than 3,700 oceanfront keys in South Carolina," said Tom Burns, managing director of EOS Investors.
"Beach House aligns with our strategic approach of identifying unique assets in high-barrier-to-entry markets. Hilton Head Island serves nearly 2.5 million annual visitors and no resorts have been developed on the beachfront in over 35 years."
Simon Mais, chief operating officer at EOS Hospitality, added: "We look forward to building upon the longstanding success and welcoming hospitality that the Beach House Resort has fostered for many years. We are excited to invest in the property and feature added offerings for hotel guests and Hilton Head visitors alike in the years to come."
A coastal retreat
Beach House Resort is home to 202 guestrooms with private patios and ocean views. This accommodation is complemented by facilities such as an outdoor pool, a fitness centre, a business centre and live-music beach venue Tiki Hut.
At the resort, meetings and events are held in 7,000 sq ft of indoor and 10,000 sq ft of outdoor space. There are eight event rooms, two outdoor areas and a ballroom in total.
As well as placing guests right on the beach, the resort is located just one block away from the Coligny Plaza shopping centre.
Expanding EOS' presence in coastal South Carolina, this acquisition follows on from the 2019 acquisition of Kingston Resorts and 2021 partnership with Brittain Resorts, which are both located in Myrtle Beach.
Pictured: Element Riyadh. The capital of Saudi Arabia is set to welcome 48 hotel projects, which between them will bring as many as 9,838 new rooms to the city. A number of luxury brands are making their mark in the city at this time, with a total of 28 five-star...
Imagery courtesy of Choice Hotels. Choice Hotels International is to acquire Radisson Hotel Group Americas, bringing nine brands, 624 hotels and over 68,000 rooms under its umbrella. The $675 million deal marks the latest step in Choice's strategy of growing its...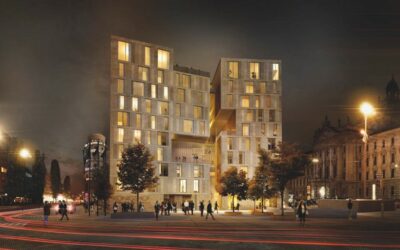 Imagery © Nieto Sobejano. Our latest Project of the Week title goes to the new-build JW Marriott Königshof taking shape in Munich. Highlights of this 10-storey site are to include a wellness floor and a rooftop restaurant affording panoramic views over Munich. A new...
Imagery courtesy of Accor. Accor has opened its first The Sebel-branded property on the Gold Coast, Australia, after an $11 million upgrade of an existing site. Sebel Twin Towns Coolangatta debuted following an extensive transformation and rebrand of the ocean tower...