Sofacompany enhances life for students in Antwerp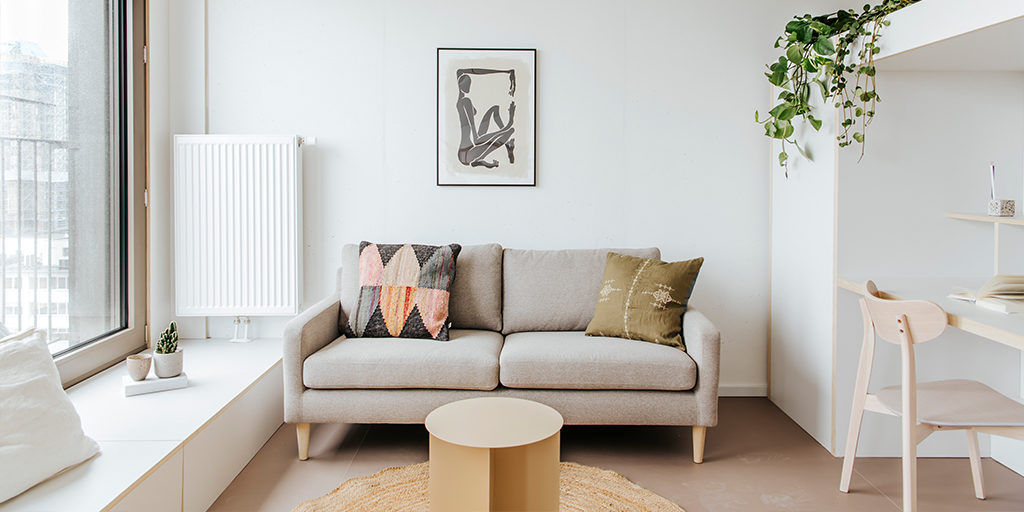 Sofacompany is gaining a solid foothold in Belgium. Among other projects, the company's furniture is used to furnish newbuild developments. Most recently, Sofacompany delivered sofas for new and ground-breaking student housing in central Antwerp.
With the slogan 'Live like a prince', the Prince Antwerp student residence in Antwerp has just opened its doors to a new type of student housing. The student residence is different from others of its kind by being not only functional but caring about a welcoming and cool decor too. Every housing unit and common areas are furnished, and Sofacompany is behind the sofas for both student housing units and communal living areas.
Prince Antwerp is a 13-storey tower with 156 housing units in different sizes and is furnished by Belgian design studio Homiez. Sofacompany and Homiez have worked together over the last four years and have completed more than 50 projects, primarily focusing on furnishing of newbuild projects – a category where Homiez holds a strong position.
"It is important for us to collaborate with design brands who are flexible and deliver good value for money. With Sofacompany, we can design sofas in colours and textiles that match the expression we want when designing a new housing project. For the Prince Antwerp project, we have worked a lot with design, but at the same time it is student housing, so it requires the furniture to be both durable and comfortable. That is why we chose Sofacompany for this project too," Fie De Maeyer, co-founder of Homiez, explains.
You can read the full case story at sofacompanyprofessional.com
In 2020, Sofacompany's revenue was 545 million Danish krone and they have become a big export company. 70% of their revenue comes from sales abroad, and Belgium is among the big export markets.
"Our mission is to spread more of the Danish cosiness, also known as hygge, in more homes across the world. For Prince Antwerp, we had a unique opportunity to showcase our brand and philosophy to a large number of young people, who someday will furnish their own homes. Our furniture is designed based on core values of comfort, durability and sustainability, which strongly appeal to this segment," Niels Svolgaard, who is the sales director for Sofacompany, says.
https://sofacompanyprofessional.com/cases/prince-antwerp