Sheworks and Sofacompany showcase sustainable design, adding another dimension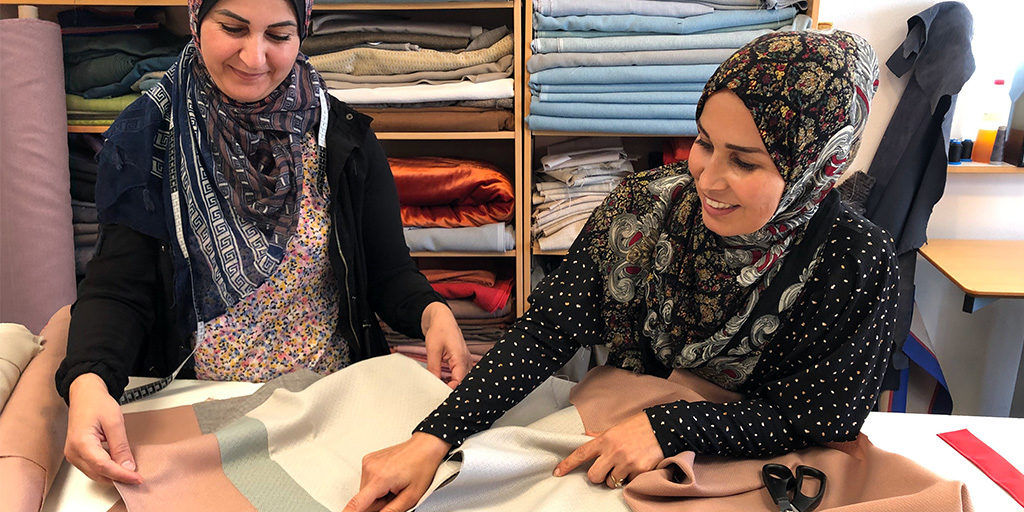 Danish design brand SOFACOMPANY collaborates with SHEWORKS and, for the first time, they participate in circular design exhibitions in Copenhagen and London.
If you are in Copenhagen or London in September 2021, you will have the possibility to get a sneak peak of beautiful, functional and circular designs, when SOFACOMPANY and SHEWORKS reveal another collection of limited-edition pillows. The two pioneers within sustainable design will be exhibiting at Circular Furniture Days in Copenhagen and Design for Circularity in London this month.
With their second collaboration, SOFACOMPANY and SHEWORKS again create beautiful, limited-edition mosaic pillows, designed from surplus materials donated from SOFACOMPANY. The pillows are manufactured by skilful immigrant and refugee women, who normally face a lot of challenges in entering the labour market.
"We are delighted to have been invited to participate in Circular Furniture Days and Design for Circularity with SHEWORKS. SHEWORKS is a commendable initiative, and we cannot wait to show what happens when creatives come together to create beautiful and functional designs manufactured to not harm the environment," says Line Nevers Krabbenhøft, head of design in SOFACOMPANY.
Besides the new pillow collection, SOFACOMPANY showcases their first fully sustainable sofa – inside and out. The Wilson sofa has been in development for more than a year-and-a-half with extensive research taking place and continuous tests of dimensions such as cushion fillings and textiles.
"Designing a sofa that is both fully sustainable and still beautiful and comfortable is incredibly complex. Our biggest fear is promising too much, and we therefore emphasise transparency in the process more than anything. We are very close to our goal with the Wilson sofa. The only parts not possible to source in sustainable versions are small nails, glue and zippers," says Krabbenhøft
SOFACOMPANY initiated their ambitions of sustainable design more than three years ago. Today, the company has gotten very far compared to similar brands in the same price category.
"We are on a journey of sustainable design, and we are very ambitious. But we never compromise with quality and design. No one buys a sofa solely because it is sustainable. Fortunately, the options for manufacturing nice and sustainable design are only growing, and we are excited to show this at the two circular design exhibitions," says Krabbenhøft.
Circular Furniture Days takes place during 3daysofdesign in Copenhagen from 16-18 September.
Design for Circularity takes place during London Design Festival in London from 22-25 September.
About SOFACOMPANY
SOFACOMPANY is headquartered in Ringsted with 20 showrooms located around Europe. Four of those are in Denmark. Products are designed in Denmark and manufactured in their own factory in Vietnam. In just a few years, SOFACOMPANY has become one of the fastest growing Danish furniture design brands. Read more on www.sofacompanyprofessional.com