Mexico's Banyan Tree Mayakoba celebrates 10-year anniversary with $50m expansion
A rendering of one of the Banyan Tree Mayakoba's new, breath-taking villas. (Photo: Banyan Tree)
The iconic resort on the Mayan Riviera will see a $50m investment expand and improve its offering to make the next decade another resounding success.
The Banyan Tree Mayakoba resort in Playa del Carmen's upscale Mayakoba community is set to get bigger and better by the end of 2020, with a $50m investment to expand its facilities and improve its service.
We find out more.
Banyan Tree Mayakoba celebrates 10 years
Big moves are on the cards for the iconic Banyan Tree Mayakoba resort in Playa del Carmen, as they embark on a $50 million expansion and development of their facilities. The decision to expand their offering coincides with the Mayan Riviera resort's 10th anniversary.
Peter Hechler, General Manager, Banyan Tree Mayakoba spoke of the plans, saying, "It's an exciting time as we reinvest into the resort in honour of our 10th year. These enhancements come as a direct result of listening to our guests' feedback. We know today's discerning traveller is looking for high-design, private villas; innovative dining options serving fresh, local cuisine; and more robust kids' clubs."
"These new villas will be a bit of a departure from the existing accommodations in terms of design, while still embracing and celebrating our unique natural setting in a new way. We're proud to evolve and grow while maintaining the same level of luxury service and intimacy that our guests expect, Mr Hechler explains.
Design for the new decade
Famed practice Sordo Madaleno Architects is in charge of the expansion, and they have big plans for the resort. Perhaps the most important part of the architectural puzzle will be the creation of 40 new guest rooms and suites, including six overwater villas and 34 beachfront suites with their own private pools.
The Lagoon Sunset Suites will be generous overwater villas with an open floor plan spread over two floors, while the Beachfront Pool Suites and Beachfront Sunrise Suites will offer guests a slice of seaside paradise, with direct access to the Caribbean coast's white sandy beaches.
Another focus of the expansion will be a new Sands Beach Club, a 4,000-sqm (43,000 sqft) development which will feature two oceanfront pools, several dining options and a spa and massage club.
MK Blue will also have a presence, with over 900 sqm (10,000 sqft) of outdoor event space. Other amenities include a beachfront library and an expanded Kid's Club.
Let's take a look at a few outstanding hotel projects in Mexico:
MORE NEWS
[wpspw_recent_post_slider design="design-20″ show_author="false" show_tags="false" show_comments="false" show_content="false" dots="false" slides_column="1″ autoplay_interval="3000″ speed="1500″ category="4″]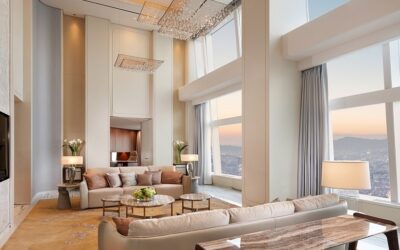 Lotte Hotels & Resorts' premier brand hotel, Signiel Seoul, was selected on its list of 'The Best Hotels in the World' for the first time among domestic hotels in an award hosted by global travel magazine Condé Nast Traveler on October 3 (local time). Condé Nast...