Radisson collaborates with Silk Hospitality on first Individuals site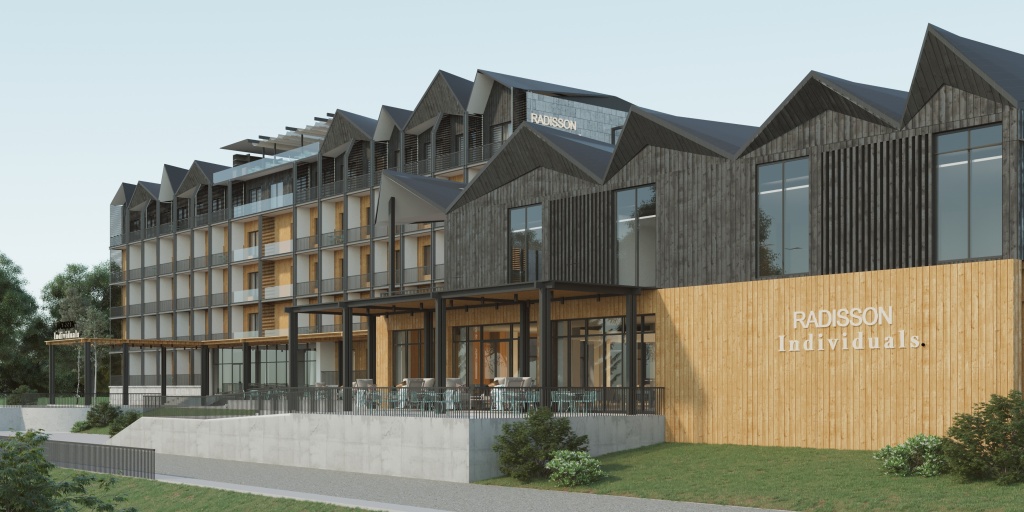 Imagery courtesy of Silk Hospitality.
Radisson Hotels Group is continuing its work with Georgian hospitality service provider, Silk Hospitality, this time on the debut of its Individuals brand at a property in the country's Racha region.
Utsera Resort will open under the Radisson Individuals brand as a part of the ongoing cooperation between Silk and Radisson. The third-party management agreement calls for Silk to run the 85-room multi-seasonal complex once it opens in Q3 2024.
The latest collaboration follows three previous projects in Georgia: Tsinandali Radisson Collection Hotel, Radisson Blu Batumi and Radisson Blu Iveria in Tbilisi.
Health focus
The latest upscale resort will provide multi-seasonal health and spa services from a three-storey wellness and spa centre. This will house 25 m closed and open air swimming pools, jacuzzi, wet and dry saunas, a steam room and a 500 sq m gym. Onsite dining facilities will also serve healthy food.
The over 20 million Gel ($7 million) investment project is supported by TBC Bank and the Enterprise Georgia programme.
International standard
Gia Saganelidze, founder of Utsera Resort, said: "I am glad that an international standard high class hotel is going to open in a region known for its unique mineral waters, age-old trees and diverse flora. Apart from tourism promotion, the project will create new jobs, increase the investors' interest in the region and strengthen the local economy. I am thrilled that I will be able to turn my vision into reality with such experienced partners as the Radisson Hotel Group and Silk Hospitality. The hotel complex is going to be fully operational from 2024."
George Ramishvili, chairman of Silk Hospitality's parent company, Silk Road Group, commented: "This project marks another step towards Georgia fulfilling its vast potential as a high-quality tourism destination. Silk Hospitality, together with its partners, is driving growth within Georgia's hotel and restaurant sector and continues to play an essential role in supporting the economy through job opportunities and tourism revenue."
Independence and backing
Radisson Hotel Group's senior vice president business development, David Jenkins, said: "It is a pleasure to be working with Silk Hospitality on yet another exceptional project. This resort provides the perfect example of our new Radisson Individuals brand, allowing independent hotels to maintain and promote their uniqueness while enjoying the benefits of being part of the Radisson Hotel Group family."
Jordi Kuijt, CEO Silk Hospitality, said: "This project is a credit to the success of Silk Hospitality's existing hotels and resorts. That we are entrusted with this project highlights the great level of confidence of the owner and Radisson Hotel Group in Silk Hospitality, not only as the broker of the licence agreement, but as the company that will manage the resort. We look forward to working with Mr Saganelidze and the Radisson Individuals brand in realising it. As with all other properties in our portfolio, we are confident that this resort will be of the highest quality and provide an experience second to none in Georgia."
Asian developer Hing Construction is to bring a new five-star hotel resort to the Zambian capital, Lusaka. Hotel investment advisor Barrows is providing guidance on the project using its African and Middle Eastern regional experience. Raising funding Both parties have...
TOPHOTELPROJECTS researchers have had a busy September, adding nearly 150 entries to the database over the last few weeks. Here we profile several of the most important hotel additions which have been announced in this month. Trunk Hotel Yoyogi Park Japanese...
Imagery courtesy of The Paramount Hotel and Generator. Boutique brand Generator has signed its first third party management agreement, for an iconic New York City hotel which will now be refurbished. The European firm will operate the legendary Paramount Hotel,...
Accor's Sofitel Hotels & Resorts brand is expanding in Shanghai with the agreement of a 293-key luxury urban resort, set to open in 2025. The hotel group is partnering with Shanghai Xinguang Technology Development Group on the development of Sofitel Shanghai South...
ABOUT THE CHAIN
Radisson Individuals is a conversion brand that offers independent hotels and local, regional chains the opportunity to be part of the global Radisson Hotel Group platform.