IHG agrees first Holiday Inn Indonesian urban beachfront resort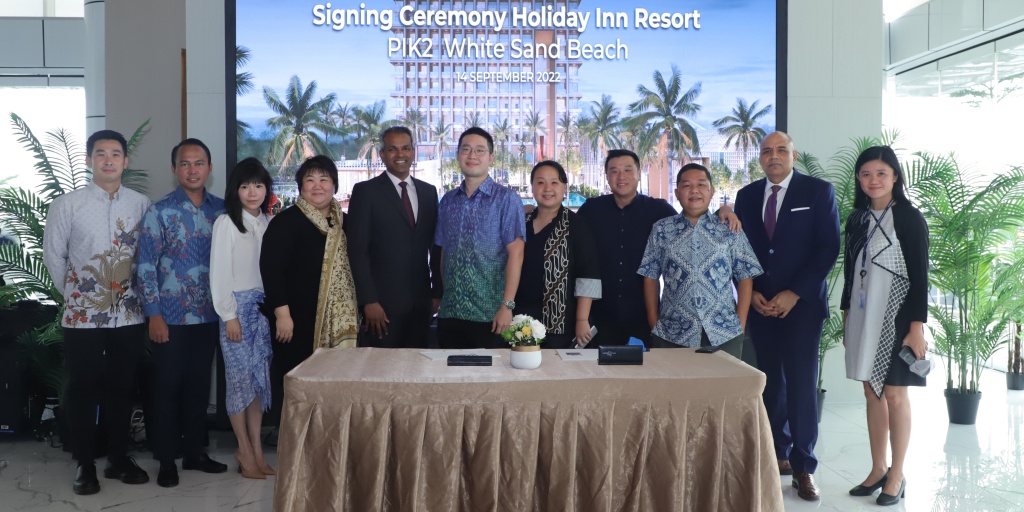 Imagery courtesy of IHG Hotels & Resorts.
IHG Hotels & Resorts has signed an exclusive partnership with holding entity Agung Sedayu Group to develop the Holiday Inn brand's first urban beachfront resort in Indonesia.
The agreement expands IHG's brand portfolio to 36 opened and pipeline hotels in the south east Asian country.
Beach first
Opening in 2024, the new-build Holiday Inn Resort PIK2 White Sand Beach will be the first white sand beach resort in Greater Jakarta. Offering 180 rooms, suites, and lofts, the resort will showcase Holiday Inn's new generation of flexible spaces with contemporary design. Guests will experience the brand's features including its signature KidSuites.
Facilities will include a restaurant, two bars, more than 2,600 sq m of meeting space, a gym and resort centre, indoor and outdoor recreation areas and an outdoor pool.
Sustainable development
Holiday Inn Resort PIK2 White Sand Beach will be the anchor hotel at PIK2 North Jakarta, a 2,350ha waterfront satellite city in the Tangerang district. Billed as the 'New Jakarta City', it has many substantial projects in development, including the largest mall in Indonesia, a range of F&B establishments, a sports centre and an Islamic financial district. Seamlessly integrated within its natural environment, PIK2 will be a smart city designed with modern technology for work, life and play.
Phase one of PIK2 stretches across 1,000ha, encompassing sustainably led development featuring commercial, residential and lifestyle concepts, with destinations such as a 60ha greenbelt and a mangrove conservatory.
Thriving brand
Rajit Sukumaran, MD, South East Asia and Korea, IHG, said: "We are delighted to extend our partnership with Agung Sedayu Group and introduce Holiday Inn Resort PIK2 White Sand Beach in Indonesia. It will be a fantastic anchor hotel for the highly anticipated PIK2 development, located perfectly for families living in, and business travellers visiting, this world-class waterfront city.
"We have eight opened Holiday Inn properties in Indonesia with a further three in the pipeline, including Holiday Inn Resort PIK2 White Sand Beach. We are confident that the brand will continue to thrive and grow in the cities and tertiary markets across the country. IHG has beautiful Holiday Inn resorts across the region, including Indonesia, Maldives, South Korea, Thailand and Vietnam. Holiday Inn Resort PIK2 White Sand Beach is a wonderful addition joining more than 1,400 existing and pipeline properties across Holiday Inn Hotels & Resorts globally."
New travel destination
Natalia Kusumo, CEO of commercial and hotels division 2, Agung Sedayu Group (Amantara) commented: "Thanks to its rich 70-year history, Holiday Inn is famous as one of the most trusted travel brands in the world. We believe it is the right choice to have Holiday Inn Resort PIK2 White Sand Beach as part of the travel destination developments on White Sand Beach within the next few years. Our overall design is for PIK2 to be the new travel destination within the Greater Jakarta area and the best place to work, live and play."
Ipeng Widjojo, business and development director, Agung Sedayu Group added: "We have the vision to develop world-class destination concepts to promote the wonders and potential of Indonesia. Infrastructures are also principal aspects in PIK2, which is why we plan to open the PIK2 Interchange Toll in Q4 2023. IHG has impressed us with their innovative thinking and ideas and has proven to be a great partner with the upcoming Holiday Inn Resort PIK2 White Sand Beach and Hotel Indigo Jakarta Pantai Indah Kapuk. We will work together to develop hotel experiences that set the benchmark for Indonesian tourism."
Indonesian expansion
IHG continues to expand in Indonesia with 25 opened hotels across its Six Senses, InterContinental, Hotel Indigo, Crowne Plaza, Holiday Inn and Holiday Inn Express brands and has 11 properties in the pipeline, including the brand debut of Kimpton and Regent, both in Bali, and Hotel Indigo in Bintan.
The Holiday Inn brand itself will also add Holiday Inn Resort Bintan Lagoi to Batam island in Q4 2023, adjacent to the Hotel Indigo. The dual-branded property will be located on a 9.2-ha beachfront plot in the Lagoi Bay area.
Asian developer Hing Construction is to bring a new five-star hotel resort to the Zambian capital, Lusaka. Hotel investment advisor Barrows is providing guidance on the project using its African and Middle Eastern regional experience. Raising funding Both parties have...
TOPHOTELPROJECTS researchers have had a busy September, adding nearly 150 entries to the database over the last few weeks. Here we profile several of the most important hotel additions which have been announced in this month. Trunk Hotel Yoyogi Park Japanese...
Imagery courtesy of The Paramount Hotel and Generator. Boutique brand Generator has signed its first third party management agreement, for an iconic New York City hotel which will now be refurbished. The European firm will operate the legendary Paramount Hotel,...
Accor's Sofitel Hotels & Resorts brand is expanding in Shanghai with the agreement of a 293-key luxury urban resort, set to open in 2025. The hotel group is partnering with Shanghai Xinguang Technology Development Group on the development of Sofitel Shanghai South...