Explorar announces Thai duo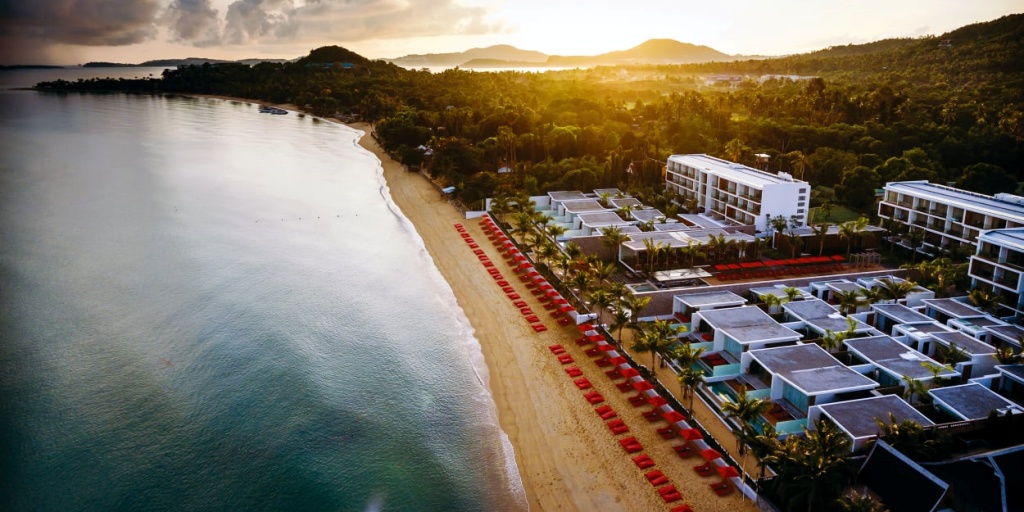 ​Imagery courtesy of Explorar Hotels & Resorts.
Explorar Hotels & Resorts will expand its Asian portfolio with two Q4 2022 openings in Thailand.
The moves into the popular island destination of Koh Samui and cultural island experience of Koh Phangan, are part of the hotel group's ongoing rapid growth strategy in Asia.
Peaceful escape
Explorar Koh Samui features 125 beachfront rooms, suites, and pool villas, located in the vibrant backdrop of Mae Nam Beach in Bo Phut. The resort features an incredible infinity pool that overlooks the sea with a swim-up bar, and The Market, an all-day dining restaurant that focuses on being local, authentic and healthy.
The second resort, Explorar Koh Phangan, is situated on Haad Rin Nai Beach and offers 75 contemporary guest rooms, suites and villas, with a mixture of sea views and lush gardens with terraces or balconies. It will have its own The Market eatery. Both properties will focus on a peaceful escape with an adult-only (16+) environment.
Unique to the Explorar Hotels & Resorts brand is 'The Exchange', a social co-working space for the digital nomad, with fast connectivity, charging facilities and premium Starbucks Coffee. The Exchange also serves as a vibrant meeting place with food and beverage provision.
Social travel ethos
Niels Huby, co-founder and head of development, Explorar Hotels & Resorts, explained: "This continued growth and exciting development shows that Explorar Hotels & Resorts 'experience-driven' and 'social travel' ethos are gaining momentum in this new travel era. We're thrilled to open both Explorar Koh Samui and Explorar Koh Phangan in the coming months. We are excited by the positive interest we are receiving for growth in the South East Asia region."
Gordon Oldham, the owner of Explorar Koh Samui and Explorar Koh Phangan, added: "We are very excited to join the Explorar Hotels & Resorts brand and bring two exciting hotel properties back to life in Koh Samui and Koh Phangan; both islands are incredibly unique, raw and experience driven destinations, a perfect fit and pairing to the brand."
These signings join Explorar Treehouses El Nido, designed by Underwood Art Factory's award-winning design team. Spectacular treehouses with private pools are set in the lush tropical forest of El Nido, Palawan Island in the Philippines.
Resulting from a management agreement with owner, Silver Mascot Limited, this forthcoming aparthotel will be Yotel's third property in London and seventh hotel in the UK. A flexible accommodation concept Yotel first introduced its aparthotel brand YotelPad in 2018 in...
This lifestyle hotel is being brought to life by Venue International with a design concept that reflects its historic location by Designist. Taking over a historic site Moxy Afrika Han is set to open in 2024 in the historical Afrika Han building of Beyoğlu in...
La Concha Resort was part of Marriott's Renaissance Hotels group for 15 years, but will now be joining the luxury Autograph Collection. Multi-million refresh The site will soon undergo a US$45 million renovation of 238 ocean front suites as well as new additions to...
Mondrian Riyadh Al Malga Hotel and Residences will be developed as part of the mixed-use Al Malga Urban Village and is set to open in 2026. Murabba proximity Located in the northern part of Riyadh, the Al Malga neighbourhood is at the entrance of the recently...
ABOUT THE CHAIN
Launched in 2021 as a brand of boutique hotel group, The Pavilions Hotels & Resorts, Explorar Hotels & Resorts offers travellers the opportunity to explore and experience each of its destinations from a vibrant, comfortable and fun base.
Error, group does not exist! Check your syntax! (ID: 3)