Wyndham launches new luxury brand Registry Collection Hotels
Wyndham Hotels & Resorts has debuted its 21st brand, Registry Collection Hotels, with Grand Residences Riviera Cancun unveiled as the premium portfolio's inaugural property.
The newly launched brand aims to help independent luxury hotel owners recover from the challenges of the pandemic.
The introduction of a new Wyndham brand
Through Registry Collection Hotels, independent hotel owners will be able to maintain their independent spirit while benefiting from Wyndham Hotels & Resorts' global reach and the Wyndham Rewards loyalty programme.
"As the hospitality industry continues to rebound, independent luxury hotel owners around the world have approached our development teams seeking sales, marketing and reservations support under a proven and established luxury brand," said Geoff Ballotti, president and CEO, Wyndham Hotels & Resorts. "The creation of Registry Collection Hotels was a natural fit, given Registry's growing global recognition as the world's largest luxury exchange programme with over 200 high-end luxury fractional resorts and the continued successful management of that programme by our partner Travel + Leisure Co (formerly Wyndham Destinations).
"Registry Collection Hotels now fill an important space at the upper end of the Wyndham Hotels & Resorts portfolio, allowing us to very selectively provide support to independent hoteliers around the globe who meet the highest standards of luxury service and accommodations."
Michael Brown, CEO of Travel + Leisure Co, added: "We are truly excited about the renewed potential of the global travel, leisure and lifestyle industry, as the world rejoices and reunites after more than a year of lockdowns and restrictions. Experts and travellers are looking forward to exploring again for curated and exclusive experiences around the world."
The collection's flagship property
Hotels will be selected for Registry Collection Hotels based on their individuality, thoughtful design and world-class service. The collection debuts with the brand's flagship resort, Grand Residences Riviera Cancun, a 144-key all-suite property outside the Mexican fishing village of Puerto Morelos that opened its doors in 2013.
This secluded resort, which is owned by affiliates of the Royal Resorts group of companies, offers hacienda-style suites, along with three gourmet restaurants, a full-service spa, a state of the art-gym, an oceanfront infinity pool and a kids' club.
"Grand Residences Riviera Cancun is a spectacular resort situated in a pristine spot on one of Mexico's most desirable beaches," said Ballotti. "Beloved by guests the world over for its incredible location, postcard views, and world-class service, we couldn't be more excited to be launching Registry Collection Hotels with one of the region's premier developers and a long-time customer of Travel + Leisure Co, Dr Kemil A Rizk."
"From day one, the team at Wyndham has been holistically focused on the needs of our resort, working closely with our team as we collaboratively develop our strategy to announce our flagship affiliation," said Dr Rizk, president and CEO of Royal Resorts.
"What we value about Wyndham, in addition to their tremendous scale and distribution, is their appreciation for what makes Grand Residences Riviera Cancun unique and their passion for ensuring our individuality is never compromised."
Guests staying at Grand Residences Riviera Cancun will benefit from complimentary private premium airport transportation and a varied activity programme that includes cooking and mixology classes, snorkeling, fishing charters, yoga, bike tours and catamaran cruises.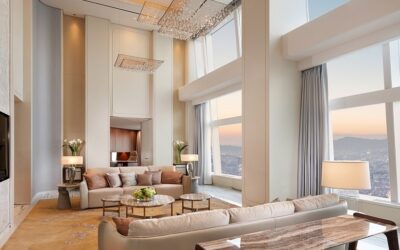 Lotte Hotels & Resorts' premier brand hotel, Signiel Seoul, was selected on its list of 'The Best Hotels in the World' for the first time among domestic hotels in an award hosted by global travel magazine Condé Nast Traveler on October 3 (local time). Condé Nast...