JW Marriott brings ultimate luxury offering to Hainan island
The gorgeous grounds of JW Marriott Sanya Haitang Bay are ready to enchant guests. (Photo: Marriott)​
Recently launched JW Marriott Sanya Haitang Bay offers everything the heart of a luxury traveller desires in the best location Hainan island has to offer.
JW Marriott recently announced the opening of the luxurious JW Marriott Sanya Haitang Bay on the National Coast of China.
This launch marks JW Marriott's second property on the island of Hainan and the brand's eighteenth hotel in Greater China.
We find out more about Sanya's newest luxury retreat.
Another jewel in JW Marriott's crown
The new 160-room JW Marriott Sanya Haitang Bay is on a 21.8-kilometre stretch of shoreline and offers a luxury escape for travellers who come to refresh body, mind and soul through the hotel's curated amenities.
Marriott International's luxury hotel brand could not have picked a better spot for its second property on Haitang island. The newly launched JW Marriott Sanya Haitang seamlessly blends with the lush landscape of Haitang Bay and enchants guests with the beguiling charm of this serene coast.
Set right beside Yalong Bay National Tourism Resort, Haitang Bay boasts stunning scenery rich in white sandy beaches, tropical forests and glittering waters.
Only a 40-minute drive from Sanya Phoenix International Airport, the resort's vicinity is also home to numerous tourist attractions including Wuzhizhou Island, Sanya Haichang Fantasy Town, Nanshan Temple and the Wanda International Cinema.
"We are truly delighted to continue to expand our brand portfolio in Sanya, China," said Mitzi Gaskins, Vice President & Global Brand Leader, JW Marriott. "JW Marriott Sanya Haitang Bay is bringing a modern, luxurious setting to our guests in Sanya, as well as encouraging them to embrace the present and savour life to the fullest in a mindful and nourishing environment."
Inspired by nature
Inspired by the theme of stone, the subtle design by Smallwood, Reynolds, Stewart, Stewart (SRSS) creates a strong connection with nature through endless arcades, ceramic accents, an octagonal fountain and a peacock pavilion which reflect the hotel's luscious backdrop.
All rooms and suites come with private balconies overlooking this paradise and are designed in a way to create an optimum sense of relaxation.
Keeping it local
To complete a guest's experience at the JW, two exquisite dining facilities offer local and international culinary treats. Guests may enjoy live cooking presentations at JW Kitchen, the property's all-day dining venue or relax in the tropical JW Lounge which offers signature cocktails and wines from around the world.
JW Garden supplies the hotel with homegrown produce and lets chefs create an unforgettable farm-to-table experience or even a hands-on cooking class with a focus on local ingredients and natural cooking.
Matchless amenities
With 3,500 sqm (37,600 sqft) of meeting space, 8,000 sqm (86,000 sqft) of outdoor lawn, flexible seating solutions and comprehensive business facilities, JW Marriott Sanya Haitang Bay is also the ideal venue for hosting romantic weddings, corporate meetings and special events.
Guests can rejuvenate at the fully-equipped Health Club, at one of nine pools, or be pampered at the luxurious Spa by JW.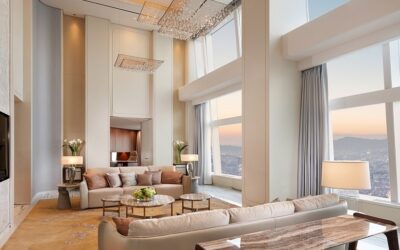 Lotte Hotels & Resorts' premier brand hotel, Signiel Seoul, was selected on its list of 'The Best Hotels in the World' for the first time among domestic hotels in an award hosted by global travel magazine Condé Nast Traveler on October 3 (local time). Condé Nast...