IHG looks forward to more Vietnamese Sun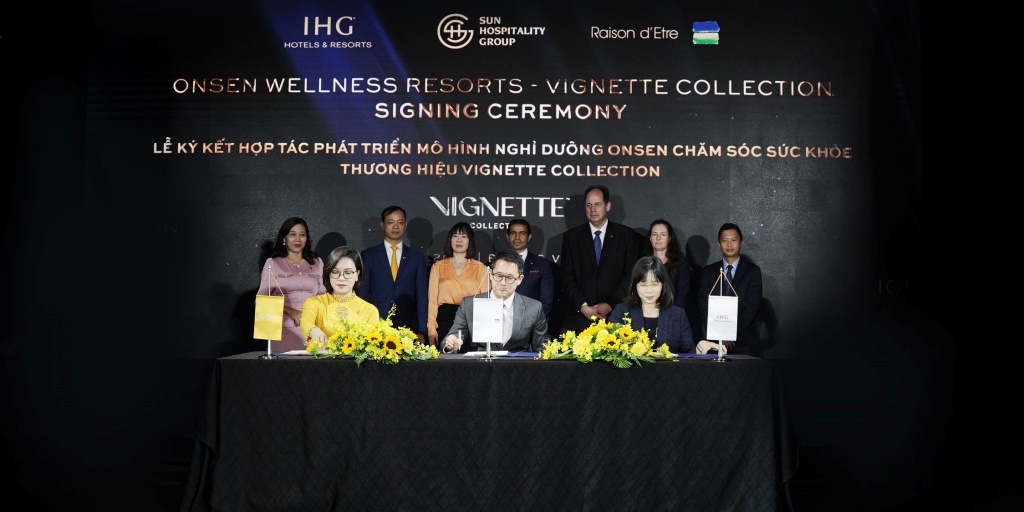 Imagery courtesy of IHG Hotels & Resorts.
IHG Hotels & Resorts has signed a strategic alliance framework agreement with long-term partner Sun Hospitality Group to boost its presence in Vietnam.
The multi-property deal is to develop four hotels across two destinations, offering 2,709 rooms to meet the rising demand from domestic and international guests.
Hot springs and onsen
IHG's Crowne Plaza, Holiday Inn Resort and voco brands will take centre stage in the expansion of Ba Na Hills, Vietnam's highlands entertainment complex, while the Holiday Inn Resort brand will make its debut at Halong Bay in Quang Ninh Province, within Yoko Park – the first large-scale hot spring resort in the country.
The two companies also signed a memorandum of understanding to explore further projects – starting with the development of a range of Vignette Collection onsen-wellness resorts and products across Vietnam, in collaboration with world-renowned spa and wellness consultant Raison d'Etre (RdE).
As part of the agreement, IHG and SHG also intend to collaborate on learning and development, quality assurance, the joint creation of new lines of products and services, and corporate social responsibility efforts in Vietnam.
Landmark deal
Serena Lim, vice president, development, South East Asia and Korea at IHG, said: "Our new landmark portfolio deal of four hotels with 2,709 rooms increases 10-fold the total number of rooms IHG is managing for SHG. I'm delighted that our plans to develop three hotels together in Ba Na Hills cements our status as the leading hotel operator in Central Vietnam with more than 4,000 rooms opened and, in the pipeline, across our InterContinental, Hotel Indigo, Crowne Plaza, voco and Holiday Inn brands in Danang and Hoi An.
"At IHG, we're always thinking about growth, so I'm especially excited by the prospect of taking our relationship with SHG to the next level with an MoU for a strategic alliance framework agreement to collaborate on further projects – starting with the debut of Vignette Collection in Vietnam. I'm certain that the brand's onsen-wellness concept and experience will set a new benchmark for hospitality in the country, and we can't wait to introduce it to our guests."
Pushing boundaries
Nguyen Vu Quynh Anh, CEO, Sun Hospitality Group, said: "We are excited to extend our successful partnership with IHG. Together, we're committed to pushing the boundaries of Vietnam tourism and hospitality by creating world-class destination concepts and experiences.
"SHG and IHG have always aligned with our inherent desire to innovate, do business responsibly and think about the future. We're developing stunning destinations for domestic and international travellers that have long-term sustainability in mind, and will directly create jobs and economic development opportunities for people and communities across Vietnam.
"Together, we'll promote the beauty and potential of Vietnam globally for many years to come with our three new IHG-managed hotels in Ba Na Hills, an outstanding wellness experience at Holiday Inn Resort Yoko Park, and a range of Vignette Collection all-villa onsen-wellness resorts, starting with two in Quang Hanh. Offering one-of-a-kind stays, the Vignette Collection brand is a great fit for our onsen-wellness collaboration, with each hotel serving up a distinct service style and character to emphasise each particular location."
Vignette introduction
This latest collaboration between IHG and SHG introduces Vignette Collection to Vietnam. IHG's newest luxury and lifestyle brand is a collection of luxury, independent and unique hotels that benefit from IHG's global scale and expertise, while retaining their unique identity and experience.
The 178-villa Sun Onsen Village, Vignette Collection and 194-villa Quang Hanh Onsen Village, Vignette Collection, located adjacent to the popular Yoko Onsen, are the first two projects under collaboration. Like others to follow, each project will have its own theme and focus, and feature individual experiences and products tailor-made by Raison d'Etre (RdE), the project's spa and wellness consultant and partner.
Doubling target
Vietnam continues to be a strong growth market for IHG which has 15 hotels in the country and aims to double its estate by 2027 through a pipeline of 20 properties, making more than 6,000 additional rooms available to guests.
Following the recent brand debut of Regent Hotels & Resorts with Regent Phu Quoc, IHG will introduce its premium brand voco hotels by opening voco Ma Belle Danang next year. It is continuing to grow across all market segments and welcoming domestic and international travellers to many new secondary and tertiary destinations, including Ha Long Bay, Sapa, Ba Na Hills, Yoko Park, Phu Quoc and Vinh Yen.
The next generation IntercityHotel brand will feature urban design, lively public space and unique food offerings, while Scandinavian brand, Zleep Hotels, will centre around Danish design and the sensibility of simplicity. International Intercity Deutsche...
With a focus on cosmopolitan cities and luxury leisure destinations, the Fauchon L'Hôtel portfolio will comprise boutique hotels, retreats, beach clubs and residences in exceptional locations with superior culinary concepts and indulgent private services. Fauchon...
KSL intends to invest across the collection, providing guests a greater suite of amenities and more ways to engage with the local communities. Fine five The quintet is located midway between Los Angeles and San Francisco and comprises Avila Lighthouse Suites in Avila...
Field & Stream Lodge Co, inspired by the American retail brand Field & Stream established in 1871, will be a branded hospitality platform aiming to create modern lodging across the USA. Authentic brand Starwood and AJ Capital believe the new brand's origins...
ABOUT THE CHAIN
IHG operates hotels in three different ways – as a franchisor, as a manager and on an owned and leased basis.
Error, group does not exist! Check your syntax! (ID: 3)