Great update for the livecookintable configuration App
Scan the QR code with the photo function and open the link!
The app with augmented reality and memory function, tender preparation and BoQ lists!
Augmented reality builds a bridge between the digital and the real world. The MEC2 design team has developed an app that uses AR technology to provide customers with a unique and forward-thinking service. This app has now gone through a major update and offers the possibility to save configurations, to get bill of quantity lists and tender preparation via email. The app is available in Google Play and on the Apple app store.
With the help of the augmented reality function the buffet lines can be viewed immediately in the properties preferred locations in true size, function, design and spatial effect. The configuration can then be attached as a screenshot to the Function Sheet so that employees can build up the buffet lines without error. In parallel, the banqueting sales teams can use the app as a sales tool to consult with planners and customers on potential buffet set-ups and styles.
MEC2 GmbH, as a manufacturer of the livecookintable system, has clear commitment to support operations across multiple verticals. The app is an important every day companion for Chefs and the greater F+B Team for an error-free work with the product, helping to reduce labor costs and greatly support in increasing revenue in banquet sales.
livecookintable Baukasten Catalog:
livecookintable Tourism Catalog
ABOUT THE SUPPLIER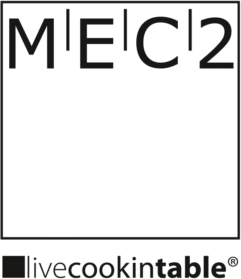 Livecookintable is a German company that produces premium live cooking stations for some of the most exclusive establishments worldwide.