Wyndham maintains EMEA momentum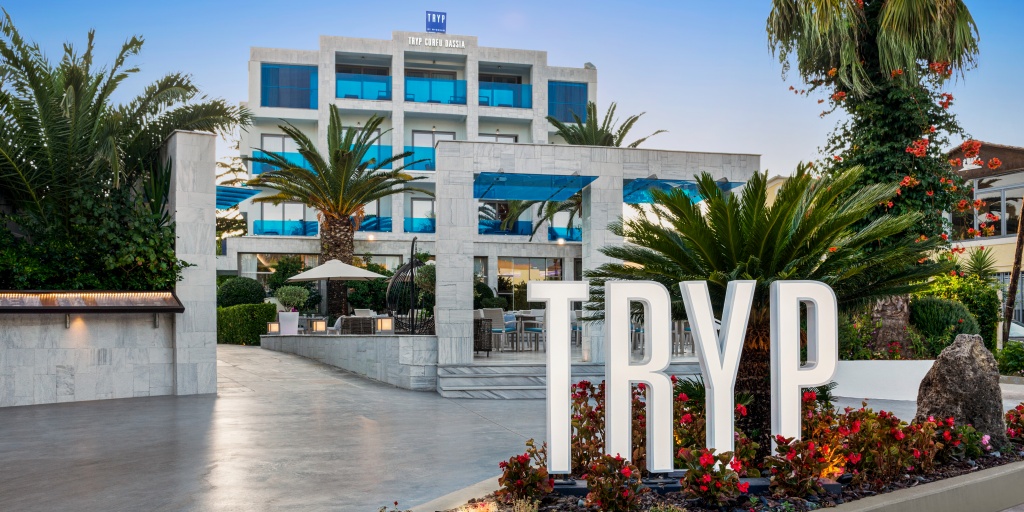 Further Greek sites will join the pictured Tryp by Wyndham Corfu Dassia.
Wyndham Hotels & Resorts is continuing its growth trajectory across Europe, Middle East, Eurasia and Africa (EMEA), with further major projects in the pipeline.
These will join the 550 existing sites across the region and approximately 9,100 hotels across more than 95 countries.
On the slate
EMEA hotel openings expected in the coming months include several sites in Turkey, with four new hotels in Istanbul alone, including Days Hotel by Wyndham Istanbul Esenyurt, and further expansion in Anatolia with an additional hotel in Konya.
New additions to the Trademark Collection will appear in Athens, Greece; Mainz, Germany and the ski resort town of Razlog in Bulgaria. Furthermore a 212-key Wyndham property is planned for Bukhara, one of the most ancient and culturally rich cities in Uzbekistan.
This year's growth
In 2022 Wyndham furthered its European footprint in Germany, one of its largest regional markets with over 130 hotels, with the opening of Ramada by Wyndham Essen and Wyndham Garden Munich Messe in addition to expanding its Trademark Collection brand with two hotels in Düsseldorf.
Earlier in the year, Wyndham entered Poland for the first time through the launch of the upscale Wyndham brand in the historic city of Wroclaw. The rapid expansion in Central Europe was accelerated by the acquisition of the Vienna House brand, becoming Wyndham's 23rd brand, which added approximately 40 upscale and midscale hotels across the region.
European expansion
Wyndham's expansion in Europe included the debut of some of its brands in more countries, including Tryp by Wyndham Corfu Dassia (Greece), Wyndham Garden in Florence (Italy) and a new Trademark Collection in Porto (Portugal).
In Turkey, Wyndham cemented its position as the largest international hotel company by number of properties, with 10 additional openings, including central locations in Istanbul, the debut of the Wyndham Garden brand on the Antalya's riviera as well as additional hotels in Ordu, Samsun, Rize, Mersin and Erzurum.
Asian acceleration
In the Middle East, Wyndham continued to bring more accommodation options to Dubai, with the launch of Wyndham Residences in the Palm Jumeirah, while in Qatar, Wyndham opened the 278-key beachfront Wyndham Grand Doha West Bay Beach.
Other EMEA highlights included continued growth momentum in Georgia with the launch of Tbilisi Chambers and the Grigoleti Beach Resort, both part of the Trademark Collection by Wyndham, in addition to further growth in Azerbaijan and Kazakhstan.
Dimitris Manikis, president EMEA, Wyndham Hotels & Resorts, said: "Travel continues to bounce back and our continued expansion across EMEA is testament to the strength and the resilience of our industry. Our latest expansion marks a key step in our quest to make hotel travel possible for all, which is particularly relevant in a diverse region like the EMEA, where we see strong potential to expand our foothold in both new and existing destinations."
Over the first six months over this year the firm's property, plant and equipment asset portfolio grew 11% from €1.4 billion to €1.6 billion, 5% of which relates to revaluation uplift on existing properties. Pipeline prospects Dalata has a pipeline of 1,141 rooms,...
The keys under development total has therefore grown by 7% in the year from 30 June 2022. Global growth In terms of sites, Hilton's pipeline as at 30 June 2023 stood at a record 3,060 hotels throughout 116 countries and territories, including 29 countries and...
The group has plans for further expansion in 2023 and has already reached 105 open and operating hotels in the Middle Eastern nation. Fifth largest footprint Wyndham's portfolio in Türkiye is now  its fifth largest market globally by hotel count, for a company whose...
Our database shows that a minimum of 45 high end hotel schemes are underway across the northern European country, encompassing 6,660 keys. Rapid bounceback Figures from Statistics Denmark detail that in 2022 foreign and domestic tourists made a record total of 62.9...