Wyndham inks partnership to expand Registry Collection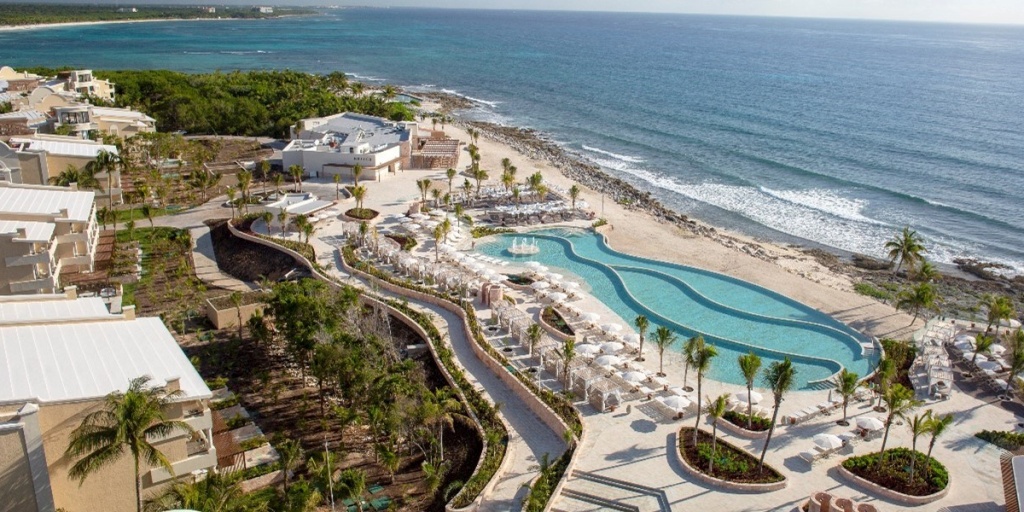 Pictured: TRS Yucatan Hotel – Riviera Maya, Mexico. Imagery courtesy of Palladium Hotel Group.
Wyndham Hotels & Resorts has entered into a strategic alliance with Spain's Palladium Hotel Group to expand its luxury Registry Collection hotels with 14 all-inclusive resorts.
The agreement will add more than 6,500 rooms to Wyndham's Registry Collection, with the TRS Hotels and Grand Palladium Hotels & Resorts-branded sites located in Mexico, Dominican Republic, Jamaica, and Brazil.
Global scale
The hotels will join Wyndham's portfolio under a long-term agreement, leveraging the group's extensive distribution and bringing Wyndham's all-inclusive resort portfolio to 26 hotels.
Through this alliance, both companies seek to strengthen their leadership position in the region and to continue expanding while delivering high-quality standards in key tourist destinations in the Caribbean. By joining the Registry Collection, Palladium Hotel Group's hotels should maintain their spirit and individuality while tapping into Wyndham's global scale. At the same time, Wyndham aims to benefit from Palladium Hotel Group's history as a hotel management company in five-star all-inclusive resorts in America and especially in the Caribbean.
Luxury access
Wyndham president and CEO Geoffrey A. Ballotti said: "Expanding Registry Collection Hotels continues Wyndham's global growth in the luxury space and grants more travellers access to new, preeminent experiences in some of the most remarkable destinations. These unique, all-inclusive hotels are designed to ensure that guests – whether redeeming Wyndham Rewards points or booking directly – will enjoy an elevated vacation."
Palladium Hotel Group CEO Jesús Sobrino added: "This agreement with a hotel company that has one of the greatest distribution capacities in the United States is a great pairing for us. This alliance is part of our commitment to the American market due to its proximity and great air connectivity with the Caribbean destinations where we operate. As a hotel management company, thanks to this agreement, we improve our value proposition to owners, as we add to it a great know-how and experience of operating all-inclusive resorts in the Caribbean."
Upcoming additions
The first four properties to join Registry Collection Hotels under this alliance are all in Riviera Maya, Mexico, comprising Grand Palladium Colonial Resort & Spa, Grand Palladium Kantenah Resort & Spa, Grand Palladium White Sand Resort & Spa and TRS Yucatan Hotel.
Additional Grand Palladium Hotels & Resorts and TRS Hotels properties upcoming this August and September under the Registry Collection as part of the agreement include two in Mexico (Grand Palladium Costa Mujeres Resort & Spa in Cancun and Grand Palladium Vallarta Resort & Spa in Riviera Nayarit), five in the Dominican Republic, (Grand Palladium Palace Resort Spa & Casino, Grand Palladium Punta Cana Resort & Spa, and Grand Palladium Bávaro Suites Resort & Spa, TRS Turquesa Hotel and TRS Cap Cana Hotel), two in Montego Bay, Jamaica (Grand Palladium Jamaica Resort & Spa and Grand Palladium Lady Hamilton Resort & Spa) and Grand Palladium Imbassaí Resort & Spa in Brazil.
In addition to these properties, the Dominican Fiesta Hotel & Casino in Santo Domingo, Dominican Republic, also managed by Palladium Hotel Group, will be joining Trademark Collection by Wyndham.
The completion of this transaction now makes Marriott International the largest hotel company in the Caribbean and Latin America, bringing its presence in the region to over 480 properties. A significant acquisition As Marriott announced the acquisition of the City...
Artotel believes the deal will strengthen its position in becoming a leading Indonesian hospitality management company. Bountiful brands MPHG has six hotel brands: Maxone, Nite & Day, Zia, Ruma Ruma, Marc, and One of a Kind, collectively comprising 45 hotels...
The creation of this team signifies a focus on growing the upper upscale brands of what's become the eighth largest hotel company in the US. Upper upscale growth Sonesta's newly created team will now lead the growth of the company's upper upscale brands, which include...
The company recognises that travellers today are roaming the world differently than they did a few years ago and therefore its rebrand is not just a name change, but is aimed at representing the new reality of travel.  Six times the size Roami intends to shape the...