Top 3 project announcements in August
TOPHOTELPROJECTS researchers have had a busy summer, adding more than 100 projects to the database over the past month.
Here we review three major global additions from August that you need to look out for.
The Ranch Hudson Valley
We start our worldwide odyssey in the Lower Hudson Valley, New York state, USA, where health and wellness brand The Ranch will open its first east coast destination in 2023.
The Ranch Hudson Valley will result from a conversion of the Table Rock Estate, set amidst 200 forested acres in a 40,000+ sq ft estate. It was first built in 1902 by JP Morgan.
New York designer, Steven Gambrel, principal of SR Gambrel, will be overseeing the layout and design of all spaces, including the property's 25 guestrooms, a dining room overlooking the onsite lake and gardens, a spa and the transformation of the 2,000 sq ft ballroom into the gym for afternoon fitness, yoga and meditation classes.
The property will also include a 5,000 sq ft solarium, adjacent to the estate and overlooking the grounds, with year-round exercise and pool facilities. There will also be an outdoor pool, to accompany the property's lake, for water activities to be incorporated into fitness programming in the summer months.
Four Seasons Resort Whistler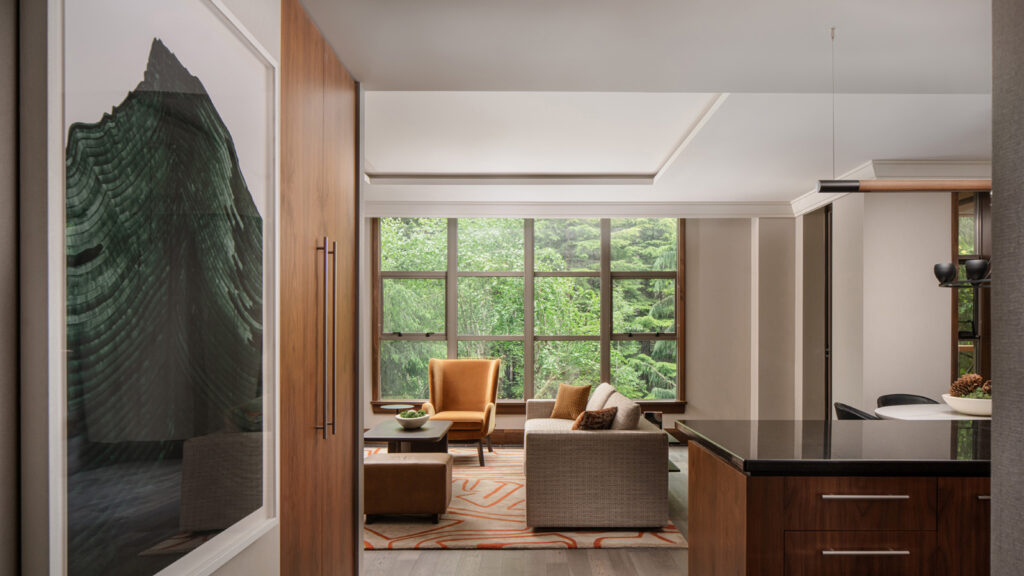 Across the other side of North America, Four Seasons Resort Whistler in Canada is to undergo a refurbishment of its private residences, with a completion date anticipated in December this year.
The renovations by CHIL Interior Design aspire to instil restorative qualities within the newly refined interior spaces. The new design seeks to transport nature's soothing white noise from outside to inside, creating a luxurious, sophisticated, and ultra-relaxing home away from home.
Sleek new furnishings in neutral tones for indoor and outdoor living (including lanterns and planters for the terrace), modern accents and wall coverings, new wood floors, stone backsplash, custom pull-out sofas with integrated shelving, and elegant lighting are some of the enhanced features that will be added to elevate the feel, comfort, and aesthetic excellence of these residences.
Paasha Atelier Bali
Meanwhile, over in Indonesia, Absolute Hotel Services group is introducing its white label management portfolio, Absolute Collection, with the signing of Paasha Atelier Bali, which will involve redeveloping an existing resort in Kuta. It will be relaunched under its new name, post-renovation, and is targeted to open later this year.
The property will feature 175 guestrooms with a sophisticated contemporary design and full facilities including a swimming pool, fitness centre and food and beverage outlets.
Absolute Hotel Services offers unique individual properties under the Absolute Collection with project management guidance and development services, and through proven innovative practices, manages day-to-day hotel operations to best elevate performance in order to deliver memorable guest experiences and positive results for owners and investors under their own name. Absolute Collection focuses on delivering curated local experiences and celebrating the cultures and cities in which its hotels and resorts reside.
The existing La Manga Club sports and leisure destination in Murcia will undergo significant renovation work to become Grand Hyatt La Manga Club and Resort by mid-2023. Refreshed rooms The luxury leisure hotel comprises 192 keys including a 1,679 sq ft Royal Suite and...
The dual-branded property will be part of a larger retail and office park under development by HC Capital Properties (HCCP) on a 5 hectare site. Dual branded A total of 150 keys will be spread across two Accor group brands within the complex, comprising ibis Styles...
Fairmont Shimla Fagu is expected to open its doors in 2026 and will be newly built on a ~2.5-acre hilltop plot of land at an altitude of 2,400 m. Banqueting boon Once launched, the new property will feature ~5,500 sq ft of banqueting and events space, entertainment...
The hotel group signed a long term agreement with the luxury property's owner and key investor, Tyrus Capital, and will rebrand it as Miranda de Pedralbes, named after the local residential area. Enhancing unity The site, located in Barcelona's Pedralbes suburb, will...
Error, group does not exist! Check your syntax! (ID: 3)