Monumental art for hotels and business centres
Whether for luxury hotels, and outdoor installation for your business or corporate lobby and parks a monumental size sculpture is an exciting addition to any art collection.
The imposing and majestic proportions of the monumental sculpture give a sense of power and evoke admiration and drive to meaning prosperity and success, creating emotions and providing visibility that impacts the visitor. They reflect their owner's soul and become emblems of hotels, buildings, companies, châteaux and estates.
In our horse polo art gallery, we work with talented artists from different European countries. Our main theme is modern equestrian art, but our authors work with other animalistic themes as well.
Our artists have the capacity to create sculptures with any material, from traditional bronze to contemporary painted polyester or steel.
Some of the artworks by our artists feature in distinguished public, corporate and private collections around the world, including several royal collections.
Process of creating the bronze sculpture:
In the beginning, we organize a meeting with the artist, and we talk about your needs, the idea of ​​the sculpture, of the space where it can be located. From your part, it will be ideal to present some photos of the place of installation.
Based on your ideas, the artist makes some drawings and then a small wax or clay model. About that little mockup changes are made until it is to everyone's taste.
We do it without any commitment, we care to create an image that you are satisfied with, and give the ideal shape and size.
Once the model is approved, it is delivered to a foundry to make a mold and cast in bronze and assembled the different pieces. Then the sculpture is mounted in its intended place.
We are pleased to represent the next artists:
Edwards Waites (UK):
Edward regularly takes on all sizes of commissions for private and corporate clients around the world. (Her Majesty the Queen and His Royal Highness the Duke of Edinburgh, Sheikh Mohammed bin Rashid Al Maktoum, Ruler of Dubai, Lady Bamford and Lord Anthony Bamford, Sheikh Fahad Al Thani & Qatar Racing).
Marie Ackers (UK):
Initially inspired by the old master and "French Animalier", french artist Marie Ackers has gone beyond realism and tradition to capture a contemporary interpretation of animals. In her work, Marie deconstructs the movements, trip down to pure lines, simplify the shapes and identify the dynamic and the rhythms of the lines to produce contemporary and distinctively elegant sculpture inextricably associated with but yet completely independent of reality.
Her inspiration comes from various sources from the "French animalier" to the simplicity and purity of Brancusi's work, the shapes and presence of Henry Moore sculptures, the sharp and clean lines of Calder metal sculptures as well as Pompom, Lynn Chadwick, architecture old and modern.
Salvador Fernandez Oliva (Spain):
Salvador is an exceptionally gifted sculptor from Madrid, he works with different forms and styles of horses, from realistic to semi-abstract and has the flexibility to transform any image into a masterpiece.
His clients are based all over the world (France, Italy, Singapur, UK, Colombia, Spain, Romania, …).
Salvador has created many monumental sculptures in public spaces in Spain: at both entrances of Madrid's La Zarzuela Racecourse, "Winning horse" and famous jockey Claude Carudel, and the equestrian sculpture to commemorate Pedro Serrano, as well as private collectors.
Ignacio Videla (Spain):
Ignacio Videla is an Argentinean sculptor whose art reflects his long-life passion for horses. His deep love for sculptures has inspired him to model horses from clay. Clay turns into the wax to capture every detail. And finally bronze gives everlasting life to the wild elegance of his art. Ignacio created many sculptures of Arabian horses.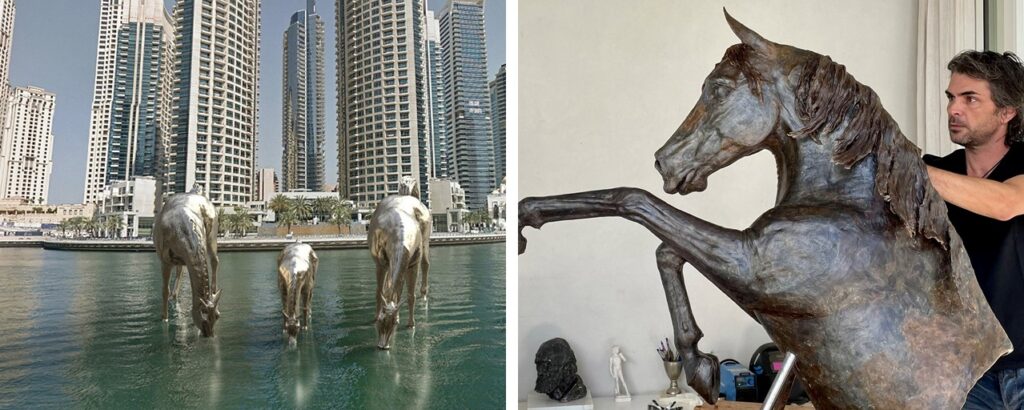 Ninon Art (Netherlands):
Colored sculpture like hippo by Ninon Art: made in a specifically strong polyester, all made by hand with very special high quality lacquer (lacquer is also polished all by hand to give it the special smoothness which is hard to reach).  Suitable for all weather conditions, possible to fix the ground with anchors. Images from 5* hotel in Ghana.
Andrey Kazantsev (Russia):
He works exceptionally well with polygonal steel sculptures, creating the perfect forms of animals. Andrey feels and shows the absolute harmony and beauty of animals.
Strict geometry, the impeccable architecture of flat faces, minimalism, and conciseness combined with elegance have become the artist's hallmark.
The mystery of the Russian soul is transmitted to his creations. The mystique and mystery of polished edges, rough grinding, burnt surface and rust, monochrome and bright colors create a unique microcosm. New collections of "soulful" animals make Andrey Kazantsev a true master of modern art.
His works are very successful and became a worldwide boom, he sends the sculptures to the USA, Europe and the Middle East. One of the works was exhibited at World Expo Dubai.
Some of our artists work also with large monumental art such as mosaics with Venetian glass and wall paintings.
Our art advisors will try to help you find the right solution to your needs for your amazing projects.
Visit the gallery at https://katerinamorgan.art/ or contact us by email [email protected]