Kärcher taking responsibility: sustainable from the outset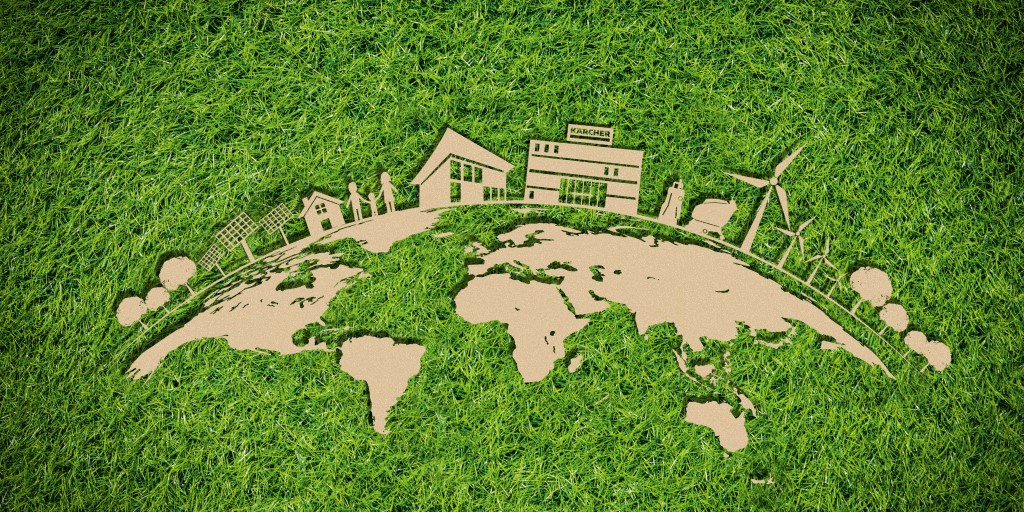 Kärcher was awarded the German Sustainability Award 2022. Environmental friendliness and climate protection are a fundamental part of our actions.
The concept of sustainability is deeply embedded in the family business of Kärcher. Environmental friendliness and climate protection are a fundamental part of our actions. For years now, we have been continuously setting ourselves new targets to systematically make our company more efficient and resource-conserving and to fulfill our role as a social stakeholder. With our targets for 2025, we are taking the next step towards the future.
Our global production has been CO₂-neutral since 2021. In our products and product packaging, we are increasingly focusing on reducing plastic and utilizing sustainable raw materials. Sustainability is also deeply embedded in the global supply chain. When it comes to social and societal issues, we concentrate on preserving values.
For this commitment, Kärcher was awarded the German Sustainability Award 2022. In its statement, the jury particularly praised the "Reduce, Reuse, Recycle" initiative – one of the three pillars of the current sustainability strategy that includes the goal of reaching up to 50% of the plastic recycled in selected consumer and professional products by 2025.
What makes our products sustainable
Produced with low emissions, ecologically conscious material, energy-saving and water-saving usage – products for cleaning and care should be sustainable in many ways.
Saving water
Handling the resource of water responsibly is now more important than ever. Kärcher solutions ensure that less water is consumed in a number of ways. High-pressure cleaners, for example, save around 80% of water due to their high cleaning performance compared to working with a garden hose.
Using energy efficiently
We are constantly improving the energy efficiency of our products – no matter whether they are corded, supplied by a battery or supplied by a combustion engine. An important development in terms of cleaning machines is the Kärcher ecoefficiency mode. It automatically manages functions at the best possible efficiency. This reduces the consumption of both energy, water and cleaning agent.
Reducing emissions
Especially in interior spaces and if users work directly on the machine, it is important to reduce emissions or totally avoid them if possible. So it is particularly important that vacuum cleaners, for instance, capture the drawn-in dust and do not release it again. In other areas, Kärcher counts on efficient filter systems or offers emission-free products such as the machines of the battery platforms.
Responsible use of plastic
Since 2012, we have managed to quadruple the amount of recycled plastic in our machines. In material procurement, we watch out for sustainable resources, allowing us to close the circuit and to reuse the recycled plastic in products.
Conscious use of cleaning agent
A cleaning agent does not always have to be used as plenty of dirt can be removed without the use of chemicals, with steam cleaners or hot water high-pressure cleaners, for example. In many areas, however, use of an efficient and application-oriented detergent is essential. That is why more than 600 Kärcher cleaning agents fulfill the requirements of international, sustainable environmental certificates.
Previous Next Ranges that continue to make an appearance are the ever popular Perdita, Taper, Happy and Perry. The Happy now boasts a new finish, satin gold. A range of elegant metal pendants available in three designs and four finishes with a decorative ring on a...
In an age where wellbeing and vitality play an integral role in the guest experience, the fusion of hospitality and health becomes paramount. One such testament to this is the flourishing partnership between Life Fitness and Hotel Holzapfel. Recognized for over seven...
Previous Next Decora emphasizes the importance of creating museum-quality works of art that go beyond mere decoration and aim to inspire the soul of the viewer, leaving an unforgettable impression. With a wide range of art styles and genres, Decora aligns their...
Previous Next Service robots, digital tools for ordering and check-in, automated shopping experiences in hotel shops: The importance of digitalisation is rising steadily in the hotel and catering industry. This goes hand in hand with a growing interest among...