HOUE furniture on the island of Tinos, Greece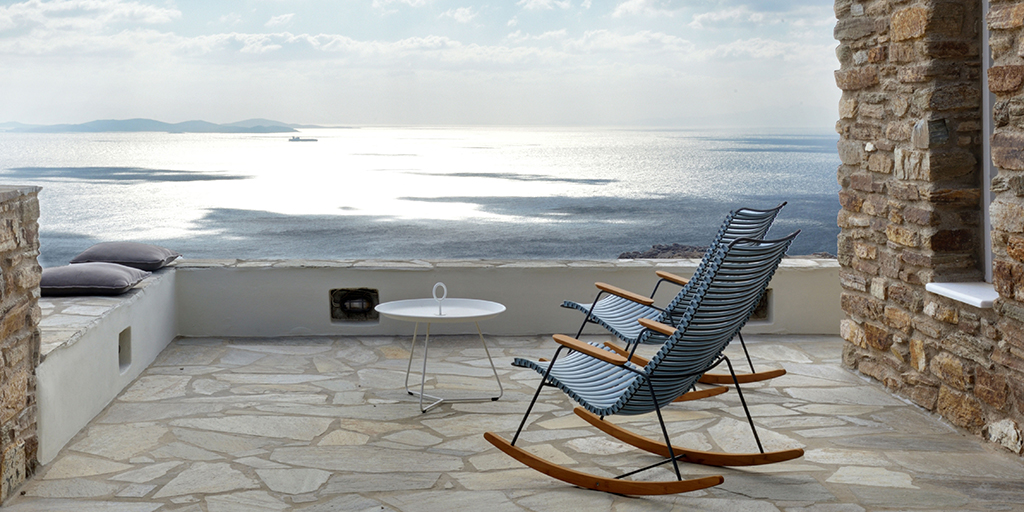 Enjoy the spectacular view of the sea with Danish design furniture from HOUE
Affordable Danish design and high-end functionality, both indoors and outdoors.
Kynara Boutique Village is a small collection of luxury holiday houses located on the Greek island of Tinos. The houses at Kynara village have been tastefully and sustainably built and furnished to create a beautiful balance between high-end luxury and traditional Cycladic accommodation in a contemporary context. Each house has its own gardens and terraces – where HOUE furniture is a perfect match in regard to the lifestyle philosophy and aesthetics, with high-end comfort and functionality in fully tuned colours.
Karybu Concept Store & Interior Design, located on Tinos, has – in collaboration with Danish furniture design house HOUE – made the fantastic décor in the luxury holiday houses, the indoor and outdoor restaurant / bar, as well as the common leisure areas at Kynara Boutique Village.
HOUE is a Danish furniture design house and draws on a proud heritage from Danish design and craftsmanship with mass attraction. HOUE combines great comfort and design in product development and strives to live up to high standards in terms of design, price and quality.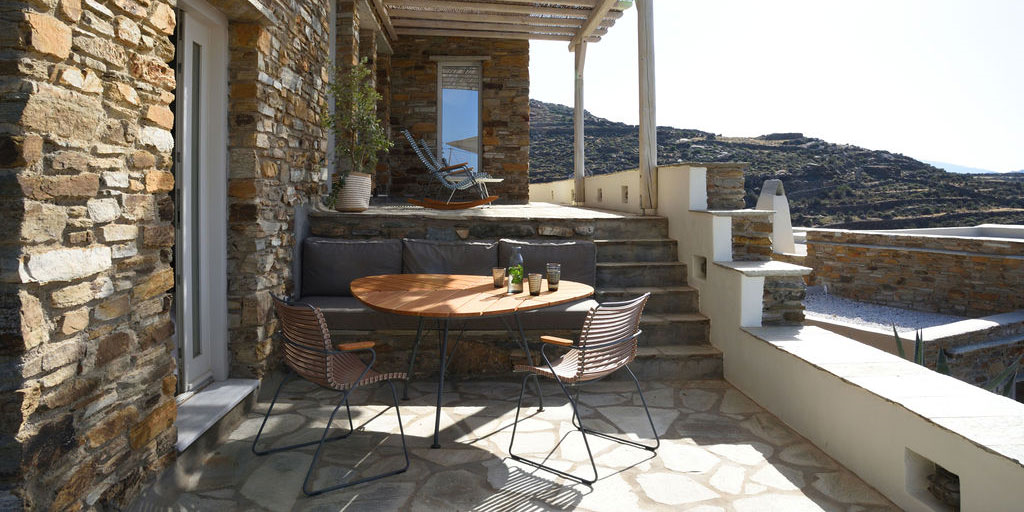 Click dining chair with Leaf dining table
The Click collection, designed by Danish designer Henrik Pedersen, is made in intelligently designed plastic lamellas combined with powder-coated frames and beautiful bamboo armrests and runners. The lamellas have exactly the right strength and resilience to provide excellent cushion-free comfort.
The Click rocking chair lets the body rest in dynamic rocking movements, perfect for enjoying the spectacular views of the sea, surroundings and sunsets.
The Click dining chair is simple, honest and ergonomically well thought out. It is beautiful in its repetition around the table, supports the back and provides comfort.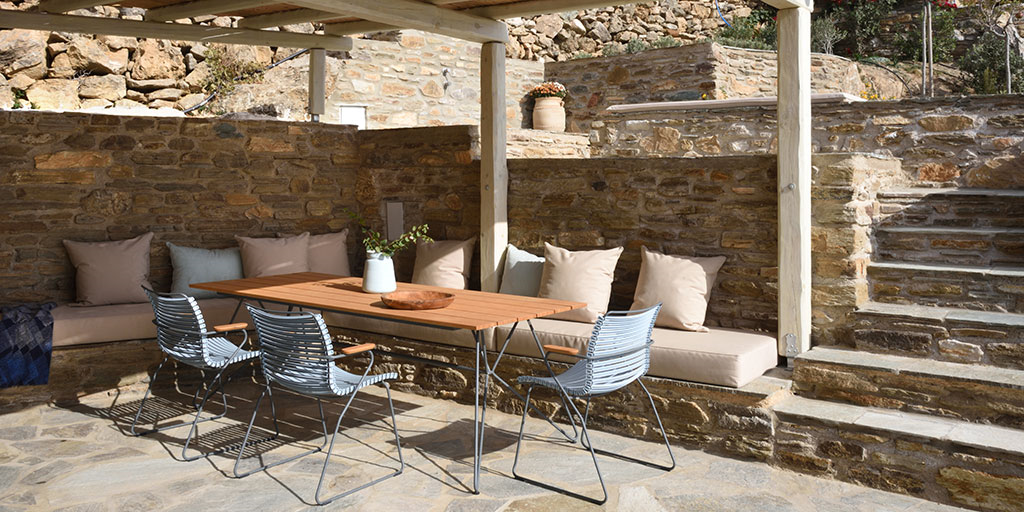 Click dining chair with Sketch dining table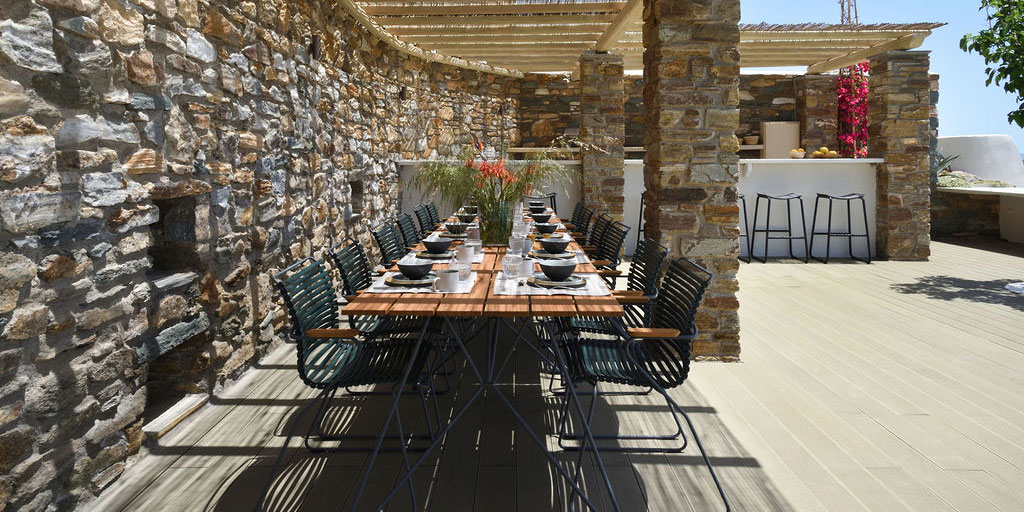 Click dining chair with Sketch dining table
HOUE outdoor tables, designed by Danish designer Henrik Pedersen, have a form and shape that not only pleases the eye but have stability and functionality for any occasion.
The Eyelet tray table is a graphic, beautiful side table, easy to move and suitable for both indoor and outdoor use.
The Sketch dining table and Leaf dining table, both with bamboo tops and elegant powder coated grey frames, invite dining and cosy togetherness. Bamboo is a very strong and hard material, stronger than traditional woods. The bamboo fits perfectly into the Kynara village's focus on sustainability.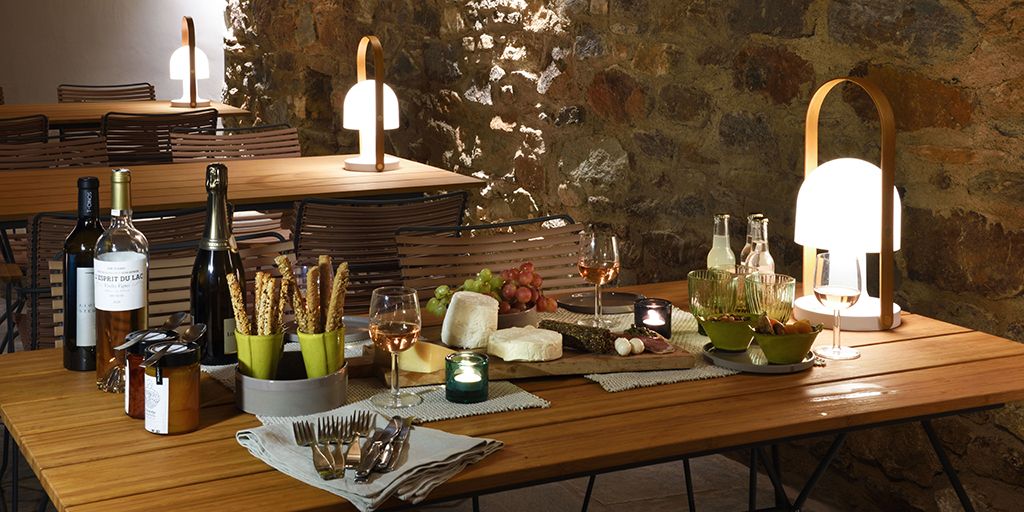 Click dining chair with Sketch dining table
Previous Next Ranges that continue to make an appearance are the ever popular Perdita, Taper, Happy and Perry. The Happy now boasts a new finish, satin gold. A range of elegant metal pendants available in three designs and four finishes with a decorative ring on a...
HOUE / Jette Andersen
HOUE
Enjoy the spectacular view of the sea in Danish design furniture from HOUE