HOUE furniture at Radisson Blu Zaffron Resort, Santorini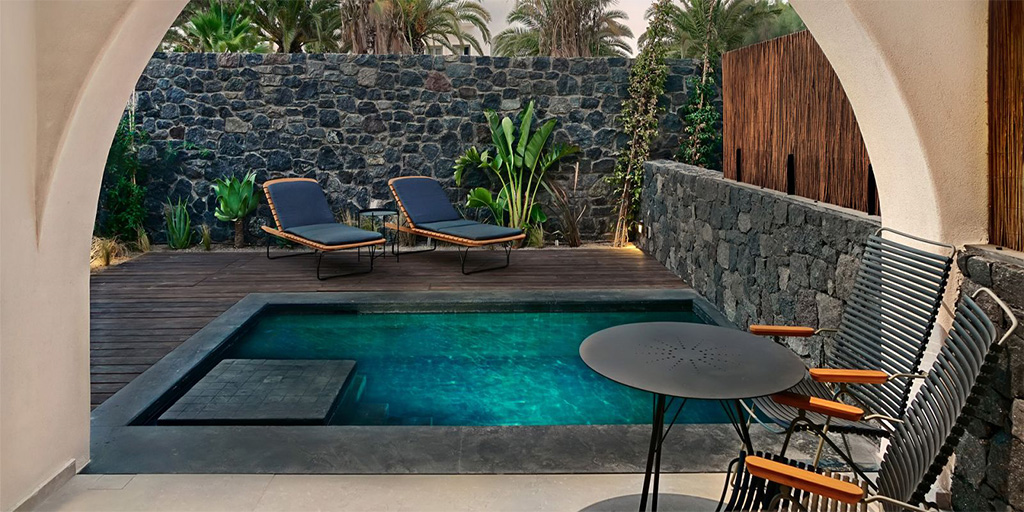 Your own paradise with Danish design furniture from HOUE
HOUE – Danish design in stunning surroundings, Santorini.
Many consider it the ultimate romantic destination – and rightly so. For years, Santorini has been an irresistible attraction for visitors from all over the world. Hooked firmly on the Thera rock, Fira – the island's capital – with the nearby settlements of Oia, Imerovigli, and Firostefani, are the ideal setting to enjoy two unique images: the volcano and the colorful sunset.
Ikiakos Exoplismos S.A. from Athens has recommended the appropriate decor for Radisson Blu Zaffron Resort's rooms, suites, villas, and the common outdoor areas.
CLICK Position chair and CIRCUM Café table // MOLO Sunbeds and EDGE Tray table
In the heart of Aegean
With its characteristic crescent-like shape, Santorini stands as both the creator and the guardian of the nearby volcano. Together with Aspronisi and Thirasia, it is what is left of the volcanic island of Strongyli, including Palea and Nea Kameni, as well as the active underwater volcano known as Santorini Caldera. Waking up in one of Radisson Blu Zaffron Resort's 103 luxurious rooms, suites or villas is the perfect way to start a perfect day. "Good morning" has a new meaning thanks to the discreetly elegant aesthetics of this adults-only resort, with the dominant Cycladic identity in its most subtle form: white surfaces, natural materials, discreet complementary tones, harmonized with the palette of Thera's land. An accommodation dream comes true, regardless of the room type you'll choose.
Zaffron Resort location – where Blu meets black
How does it feel to enjoy your vacation in one of the most iconic landscapes of one of the most unique destinations in the world? The answer is every moment you're spending at Blu Zaffron. The spectacular character of the area is a point of reference, thanks to the emblematic Kamari beach with its black volcanic sand, just a few steps away. Plus, the resort is just 6 km from the airport and 10 km from the capital Fira and its cosmopolitan vibes, which places the visitor in the island's best spot.
CLICK Position chair and CIRCLE table // CLICK Sunlounger and MOLO Sunbed
HOUE furniture at the Radisson Blu Zaffron Resort
Throughout the resort of Radisson Blu Zaffron, you find the HOUE collection of outdoor furniture.
The CLICK collection, designed by Danish designer Henrik Pedersen, is made in intelligently designed plastic lamellas combined with powder-coated frames and beautiful bamboo armrests. The lamellas have exactly the right strength and resilience to provide excellent cushion-free comfort. CLICK Dining and Position chair are simple, honest, and ergonomically well thought out. It is beautiful in its repetition around the table, supports the back, and provides comfort.
CLICK Sunlounger with bamboo armrests and 7 positions enhances the pleasure of sunbathing and relaxation. MOLO Sunbed, designed by Danish designer Henrik Pedersen, is made with soft rounded bamboo. It is versatile with an adjustable back and 5 positions – and can be used as a daybed too.
HOUE outdoor tables, designed by Danish designer Henrik Pedersen, have a form and shape that not only pleases the eye but have stability and functionality for any occasion and complement HOUE outdoor chairs perfectly. CIRCLE Dining table with bamboo tabletop and elegant powder-coated grey frames, invite for dining and cozy togetherness. Bamboo is a very strong and hard material, stronger than traditional woods. CIRCUM Café table is an elegant and light café table, which can be placed and used everywhere. EDGE Tray table, designed by Roee Magdassi, is a table that is easy to move and can be used in- and outside.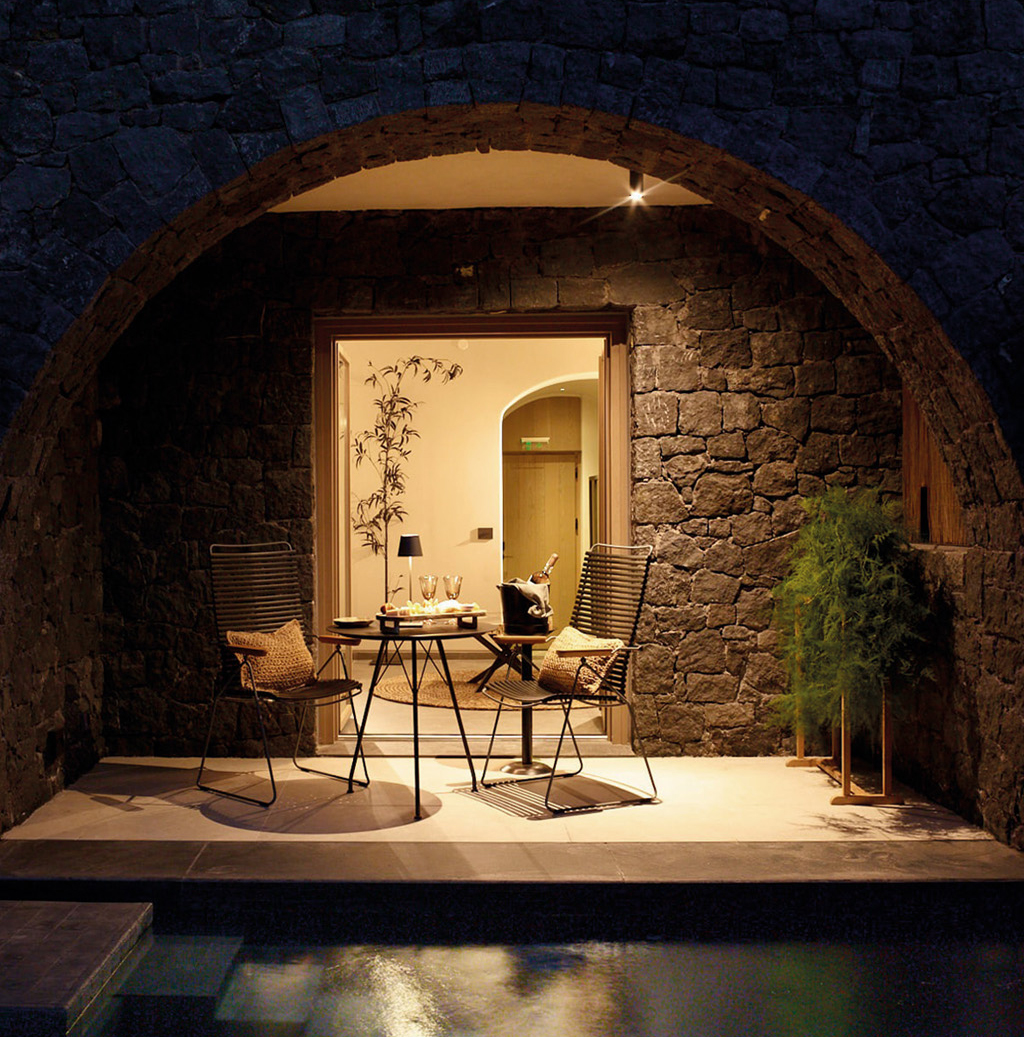 CLICK Position chair // CIRCUM Café table.
Previous Next Ranges that continue to make an appearance are the ever popular Perdita, Taper, Happy and Perry. The Happy now boasts a new finish, satin gold. A range of elegant metal pendants available in three designs and four finishes with a decorative ring on a...
In an age where wellbeing and vitality play an integral role in the guest experience, the fusion of hospitality and health becomes paramount. One such testament to this is the flourishing partnership between Life Fitness and Hotel Holzapfel. Recognized for over seven...
Previous Next Decora emphasizes the importance of creating museum-quality works of art that go beyond mere decoration and aim to inspire the soul of the viewer, leaving an unforgettable impression. With a wide range of art styles and genres, Decora aligns their...
Previous Next Service robots, digital tools for ordering and check-in, automated shopping experiences in hotel shops: The importance of digitalisation is rising steadily in the hotel and catering industry. This goes hand in hand with a growing interest among...