Hilton heading for 'unprecedented growth' in APAC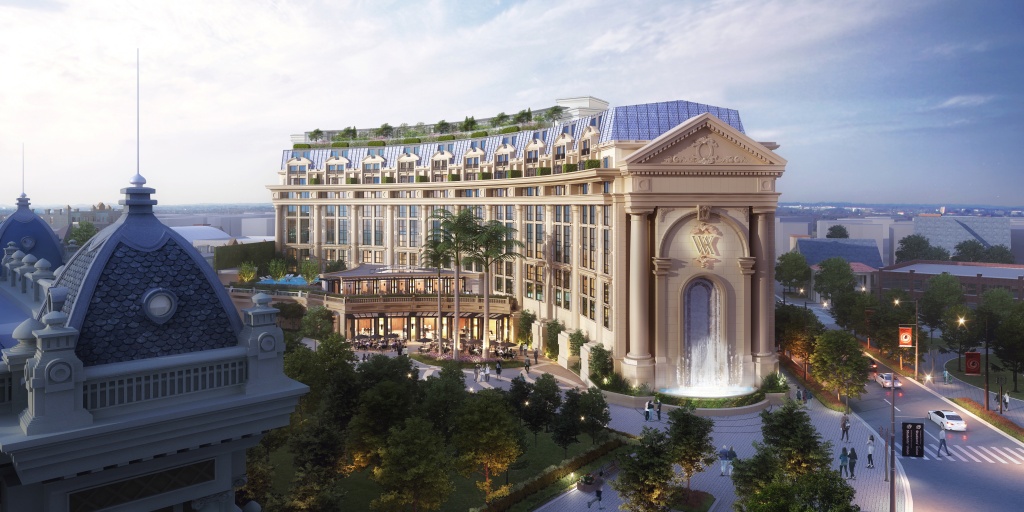 Imagery © 2022 Hilton. Pictured: Waldorf Astoria Hanoi.
At the recent Hotel Investment Conference Asia Pacific in Singapore, Hilton Worldwide's regional president outlined the group's opportunities for growth in the territory.
Alan Watts participated in a panel called 'Views from the Boardroom' where he discussed how business strategy, owner relations and consumer trends in Asia Pacific (APAC) have evolved post-pandemic.
Immense opportunities
He commented: "Having had the chance to attend the Hotel Investment Conference Asia Pacific (HICAP) live again after two years, I was deeply encouraged by the strong sense of optimism expressed by APAC's hotel investment community.
"It is clear that despite some macroeconomic headwinds across the region, we are seeing a fast return to normalcy as pent-up travel demand is unleashed and hotel occupancies strengthen. With a growing consumer class and rising spending power based right where some of the world's largest lodging markets are, APAC is a region that presents immense opportunities for growth."
Partner search
Watts was also positive about potential development partnerships, saying: "With hotel investments staging a comeback and operating performance approaching pre-pandemic levels, owners are now on a lookout for the best partners to tap this growth in a post-pandemic era.
"As one of the world's leading hotel companies, Hilton is in prime position to work with emerging and established owners to identify the best brands to capture travel demand in the region's most sought-after destinations. Our recent luxury signings with long-term partners in Hanoi and Singapore are testament of that – our signing to convert Hilton Hanoi Opera into a Waldorf Astoria Hanoi with BRG Group and with Pontiac Land Group and Kajima Development to rebrand the Regent Singapore into our second Conrad in the country were prime examples of the confidence that our partners have in Hilton to grow their assets in the next era of travel."
Huge ambitions
He further revealed the group's regional aims, detailing: "Hilton is leading the industry with unprecedented growth in the region, and we have huge ambitions to capture the opportunities in APAC as travel recovers. With a target to exceed 1,000 trading hotels by 2025, we look forward to meeting the next phase of growing demand in APAC and welcoming back the golden age of travel."
Projects already underway include Waldorf Astoria Kuala Lumpur and Waldorf Astoria Jakarta – set to be the city's tallest building – marking the entry of the Waldorf Astoria brand into Malaysia and Indonesia, with both sites due to open in 2024. Nagoya, the manufacturing and craftsmanship capital of Japan, will welcome the opening of its first Conrad hotel (Conrad Nagoya) in 2026; and set to open as the first LXR-branded resort in South East Asia in 2023, LXR Hotel Uluwatu a 72 all-villa resort in Bali, Indonesia, will join a collection of independent luxury properties around the world.
Imagery of Saadiyat Rotana Resort & Villas, courtesy of Rotana. UAE-headquartered Rotana is expanding across the Middle East, North Africa and Türkiye (MENAT) territory with a robust hotel pipeline. Rotana currently operates 72 hotels in this region, including...
Pictured: Holiday Inn Horizon Hotel & Resort Szklarska Poreba. Polish hotel development prospects could receive a real boost with the construction of a high speed transport project between Warsaw and Łódź, integrating air, road and rail. The planned Centralny Port...
Accor's upscale Pullman Hotels & Resorts brand is continuing to stretch its legs across Greater China. A new Pullman hotel development has just been signed for biomedical innovation hub Tianfu International Health Town, in the vicinity of Chengdu. New in Tianfu...
Pictured: The recent opening of Marriott International's new headquarters in Bethesda, Maryland. Marriott International is continuing to up its development rate, with a further 14,000 keys added during Q3 2022. The latest signings included approximately 8,700...
ABOUT THE CHAIN
Hilton Worldwide is a leading global hospitality company with a portfolio of brands spanning more than 6,000 properties around the world.