Hilton accelerates luxury segment momentum in Asia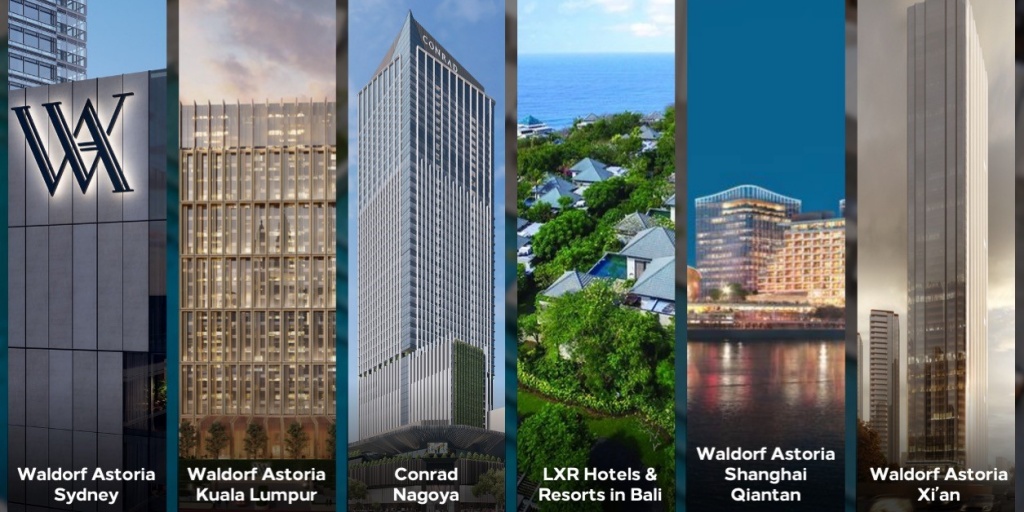 Imagery © 2022 Hilton.
Hilton Worldwide has boosted its pipeline of luxury hotels in the Asia Pacific region to 20 properties.
With multi‑market debuts of the Waldorf Astoria, Conrad and LXR brands, Hilton will offer more than 50 luxury hotels in the region over the coming years.
Latest six
Marking growing optimism in luxury travel across Asia Pacific, the major hotel group has added six major signings in the year to date, comprising: Waldorf Astoria Xi'an, Waldorf Astoria Shanghai Qiantan, Waldorf Astoria Kuala Lumpur, Waldorf Astoria Sydney, Conrad Nagoya and an LXR Hotels & Resorts property in Bali.
Post-pandemic recovery has prompted increasing owner and developer interest in hospitality real estate, as the APAC hotel investment volume in 2021 grew 46% year-on-year to exceed US$12 billion, and investors focused on acquiring luxury or resort assets. The luxury travel segment is also expected to burgeon as 42% of APAC consumers who intend to take an international trip will seek out luxury experiences.
Fastest growing
Alan Watts, president, Asia Pacific at Hilton believes: "Hilton is Asia Pacific's fastest growing hospitality company, and that signals the confidence that owners and developers have in our ability to capture growing demand and deliver strong returns in APAC's most sought-after destinations.
"We share the optimism that owners and developers have about the future of luxury travel and appreciate the importance they place on partners and brands that will optimise their yield. As we continue to pursue quality organic growth and enhance our network effect, we too stay focused on prioritising the right partnerships to deploy the right brands in the right locations."
Showcasing innovation
Dino Michael, senior vice president and global category head, Luxury Brands, Hilton, added: "These signings mark an incredible moment for our luxury brand portfolio as we expand Waldorf Astoria, Conrad, and LXR throughout five countries in the region, offering even more opportunities for travellers to immerse in our authentic approach.
"From Waldorf Astoria's intuitive service, to Conrad's bold design and LXR's culturally immersive experiences, the hotels continue to showcase innovation and deliver on what guests are looking for in their stay. This expansion reinforces the appeal of the brands globally, and is a true testament to the team members who bring luxury to life."
Closing city gaps
Hilton's latest signings mark a further closing of key city gaps as its luxury brands debut or expand in key travel destinations such as Japan, Australia, Malaysia, Indonesia and China. The group feels that China in particular holds great potential in shaping the future of luxury travel as it is home to the world's largest consumer economy and is set to become the largest luxury goods market by 2025.
The signings of Waldorf Astoria in Xi'an and Shanghai Qiantan put the brand on track to double its portfolio in China, with eight hotels. When open, Waldorf Astoria Xi'an will be one of the tallest buildings in this ancient city. Designed by Yabu Pushelberg, the hotel will draw inspiration from the city's millennia-old culture and integrate oriental elegance into modern design. While Waldorf Astoria Shanghai Qiantan will mark the city's second Waldorf Astoria hotel. Located in Shanghai's new CBD, the New Bund area, the hotel will feature panoramic views of the Huangpu River.
Today, there are more than a dozen Conrad hotels operating in China. There are nine further hotels in the country's pipeline, including Conrad Shenzhen and Conrad Chongqing next year.
New market entries
Waldorf Astoria will more than double in presence in Asia Pacific over the next 5 years. Set to open in 2024, Waldorf Astoria Kuala Lumpur and Waldorf Astoria Jakarta – set to be the city's tallest building – will mark the entry of the Waldorf Astoria brand into Malaysia and Indonesia. A year later, Japan will welcome the country's first Waldorf Astoria hotel in Osaka (Waldorf Astoria Osaka). In 2026, Hilton will introduce this luxury brand to Australia and Sydney's Circular Quay with Waldorf Astoria Sydney.
Conrad Kuala Lumpur, slated to open next year, will mark the brand's debut in Malaysia, while Nagoya, the manufacturing and craftsmanship capital of Japan, will welcome the opening of its first Conrad hotel (Conrad Nagoya) in 2026. Today, almost 60% of the global Conrad estate is in Asia Pacific. The brand commands the largest share in Hilton's APAC luxury portfolio and will grow by almost 50% when hotels in its pipeline open.
Set to open as the first LXR-branded resort in South East Asia in 2023, the 72 all-villa resort in Bali, Indonesia will join a collection of independent luxury properties around the world, which includes the recently opened Roku Kyoto, LXR Hotels & Resorts in Japan.
As Hyatt continues to build net rooms growth globally, it believes this strategic and intentional growth in Canada reflects its focus on listening and developing in destinations that matter most to guests and owners. Canadian targets With nearly 20 hotels currently...
Two sites will open next year, another four will follow from 2025 and a further duo are due to complete in 2027. Immediate openings In early 2024, the first upcoming Alula hotel openings will comprise Dar Tantora and Hegra Boutique Hotel. Dar Tantora is an upscale...
Our database contains records of 30 high end hotel projects underway, representing a collective 6,714 keys. Helsinki hotspot Capital city Helsinki is far and away the country's hotel development hub, with at least 18 premium projects on the slate - that's 60% of this...
The group's latest regional signings are for hotels across the Philippines, Sri Lanka, Thailand and Vietnam. Boosted brands RHG will expand its upper upscale Radisson Red brand in Danang, Vietnam; Phuket, Thailand; and Cebu City in the Philippines, featuring stylish...