Curio Collection to make its debut in Vietnam
La Festa Phu Quoc, Curio Collection by Hilton (imagery: © 2021 Hilton)
Plans to create the first Curio Collection by Hilton-branded property in Vietnam have been announced, with a stylish Mediterranean-inspired scheme due to open in 2023.
One of Hilton Worldwide's most prestigious flags is set to enter a new geographic market.
A milestone development
Hilton has signed a management agreement with Vietnamese hospitality and real estate development company Sun Group that paves the way for the creation of La Festa Phu Quoc, Curio Collection by Hilton. On opening, the 197-key scheme will be the Virginia-headquartered hospitality company's inaugural resort in the country, joining three managed hotels: Hilton Hanoi Opera, Hilton Garden Inn Hanoi and Hilton Da Nang.
Guy Phillips, senior vice president of development in Asia and Australasia for Hilton, said: "We are delighted to have the opportunity to establish our presence in Phu Quoc with a stunning new resort together with our partners Sun Phu Quoc Limited Liability Company. With its ideal beachfront location in south Phu Quoc, we are confident La Festa Phu Quoc, Curio Collection by Hilton will be a welcome addition to the locale for both domestic and international visitors when it opens in two years."
Mediterranean-inspired lifestyle
The new resort will be located within the Sun Premier Village Primavera attraction that reflects elements of the Italian town of Amalfi, facing Kiss Bridge, just 20km from Phu Quoc International Airport. In a nod to its setting, the resort will exhibit Mediterranean-inspired architecture.
Guests staying here will benefit from views of the sunset and ocean and direct access to the beach, as well as the opportunity to refuel at an all-day dining restaurant, specialty restaurant, lobby lounge and bar. Additional amenities will include a pool, fitness centre, spa and kids' club.
Alexandra Jaritz, senior vice president of brand management in Asia Pacific, said: "With a distinctive design and identity, La Festa Phu Quoc, Curio Collection by Hilton will stand out against the backdrop of accommodation in Phu Quoc, appealing to inquisitive travellers seeking to explore the world."
Nguyen Vu Quynh Anh, CEO of Sun Hospitality Group, added: "Together with Hilton, one of the world's largest hospitality companies, Sun Hospitality Group will be bringing yet another five-star resort masterpiece to Phu Quoc, a leading tourist destination in Vietnam. By doing so, we will be elevating the international hotel service standards in Vietnam, helping to improve service quality and customer experience."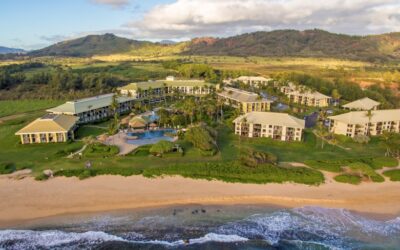 The Pacific hotel firm has acquired Kauai Beach Resort & Spa and plans to enhance the resort and provide an exceptional experience for both its employees and guests. Pivotal step Located in the picturesque town of Lihue on the 'garden island' of Kauai, the resort...