Covid-proof catering with 'Be Safe' from livecookintable
At livecookintable, we may not have predicted the Covid19 pandemic, however, we have responded with particular creativity and speed to what's likely to be the global hospitality industry's new normal for the foreseeable future.
Since 2008, livecookintable has grown to become a world leader in modular catering equipment for the hospitality industry. Anticipating trends and responding quickly with innovative product design has always been a key factor in our success. Though it's probably fair to say that no one could have anticipated coronavirus and the impact it would have on everything from traditional buffet tables to corporate event planning.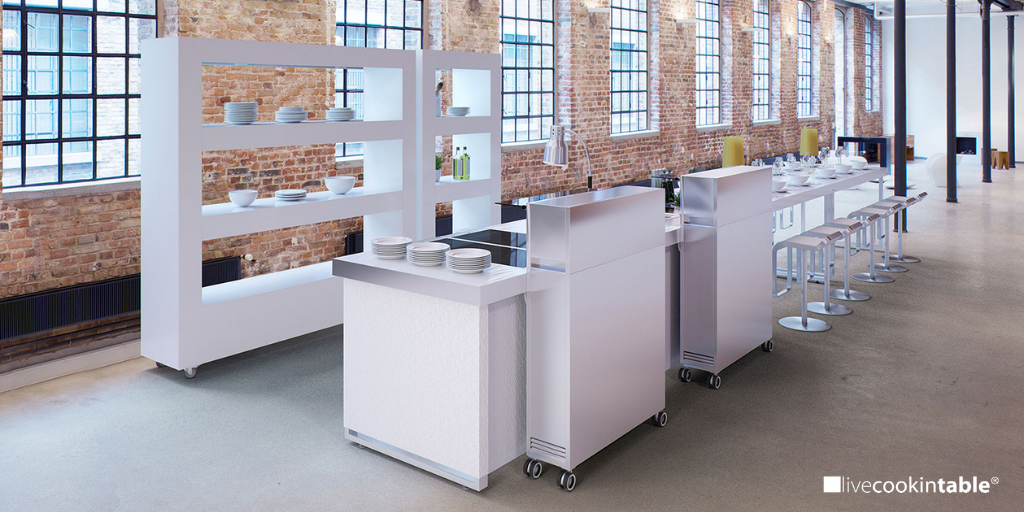 But balancing a good guest experience with keeping staff and customers safe and healthy isn't a new challenge for catering professionals. To that end, livecookintable have always designed advanced hygiene as standard into our Baukasten system – right down to the use of antibacterial and antimicrobial materials in the manufacture of all our products. Not only is this one of many reasons we regularly win major international awards for our modular cooking equipment, but it's also played a vital role in developing our 'Be Safe' hygiene concept in response to the unprecedented COVID 19 crisis.
Crisis-proof livecookintable equipment is the safest investment
As a company, we're committed to designing and engineering sustainable products which always represent an excellent, long term investment to catering professionals and our 'Be Safe' crisis-proof equipment is no exception.
From sneeze guards to sanitiser dispensers, all 'Be Safe' products are manufactured to integrate with the Baukasten modular system. The result is a seamlessly sleek and attractive aesthetic which is also exceptionally user friendly for staff and guests. And naturally, each element is durable, yet designed for easy alignment with any changes to government regulations or HACCP directives, at both national and international levels.
A guest-friendly, server-safe approach to social distancing
Hospitality is a sociable industry by definition and social distancing restrictions have presented an enormous challenge right across the sector. But again, pioneering livecookintable have been quick to respond and introduce innovative 'Be Safe' products to counter issues inherent in high-risk catering areas such as buffet tables and live cooking stations.
Our hardwearing protective server screens, barriers and portable sinks also comply with stringent safety standards and link effortlessly with existing Baukasten equipment. Thoughtfully designed distancing screens allow hospitality professionals to easily create warm, welcoming spaces while sticking to the rules and keeping guests safe.
Intelligent air filters are a smart choice in testing times
Certified by Germany's Fraunhofer Institute and aligned to the demands of our times, Airwall is another outstanding 'Be Safe' product developed by livecookintable. Incorporating a new generation of intelligent air filters it's an ideal solution for enclosed cooking spaces; uses plasma ozone technology to eliminate airborne bacteria; integrates with our modular system products and even filters food smells, as well as water and grease particles.
Contact us on [email protected] and find out more about livecookintable and the 'Be Safe' hygiene concept developed to integrate with our Baukasten modular system and help crisis-proof the global hospitality industry.