Central American hotel brand to make European debut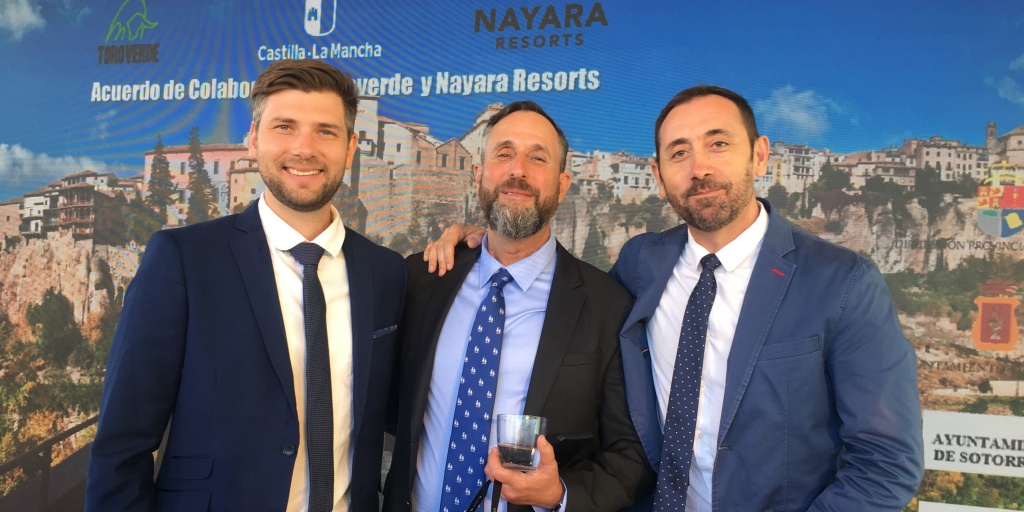 Pictured at the project's launch event, l-r: Duane Webb, senior architect at Luxury Frontiers and project lead for ToroVerde Cuenca; Graeme Labe, MD and principal at Luxury Frontiers; and Luis Noé Sánchez, director at IPEX Castilla-LaMancha.
Costa Rican brand Nayara Resorts is to partner with Puerto Rican adventure park operator, ToroVerde, to create its first European site.
Hotel Parque Ecológico ToroVerde de Cuenca will be one part of a multi-faceted ecological resort to debut in 2025 in Cuenca, Spain – a 2-hour drive from Madrid within the Sierra de Bascuñana mountains.
Tented retreat
Operated by Nayara Resorts, the hotel component of the scheme will host a five-star 60-key luxury tented retreat with panoramic views and sensitive integration into the landscape and natural forests.
Other strands to the €37 million resort development will comprise a retail village, outdoor activities, and an Eco-Track experience.
Sensitive design
US- and South Africa-based architect Luxury Frontiers has been appointed as master planners, architects, and interior designers for the flagship project, and the company will draw upon its history with Nayara Resorts and its current project with ToroVerde in Puerto Rico.
Graeme Labe, MD and principal of Luxury Frontiers, commented: "We are honoured to be part of such a significant project and look forward to applying our expertise around sustainability and context-sensitive design to this best-in-class development."
Retail village
The retail 'village', with design led by Luxury Frontiers, will be integrated into the mountaintop between rock outcrops and cliff faces, with special emphasis on the scenic backdrop and natural features. This will be the central hub for all day visitors, playing host to multiple restaurants and retail offerings.
Ricardo Vélez, executive chef of Moulin Chocolat & Maison Glacée, will oversee the gastronomic programming and operations.
Resort activities
The activities will be designed by José Manuel Pizarro, director of Pizarro Línea Vertical, and will comprise zip lines, adventure tours, and rope courses.
The final component of this project will be the Eco-Track. This is envisaged to be an experiential and interactive trail network through the site's forests. Along this trail, which can be accessed by hiking on foot, e-bike, or eco-cart, there will be a series of stops and attractions for guests to interact with, including a food and beverage offering with a beach club and swimming reservoir.
The TOPHOTELPROJECTS team have had another busy month, adding over 200 entries to our database. Here we profile three of the most important recent additions now available to view. Mercure Phnom Penh Beung Keng Kong 1 L-r: Lok Oknha Lim Kok Loong, CEO of The...
Greece-based Metaxa Hospitality Group is to launch a five-year refurbishment and redevelopment plan for its flagship hotel in Crete. Creta Maris Resort will be transformed with a new elevated offering and positioning. The family-owned all-inclusive resort first opened...
Hyatt Hotels Corporation will be debuting its luxury Inclusive Collection in Portugal with the rebranding of an existing property in the Madeira archipelago. The new deal marks the all-inclusive brand's entry into a fourth European country, representing the latest...
Our latest Project of the Week is a Zaha Hadid-designed unorthodox 46-floor tower which is set to become Tehran's first 'truly five-star' hotel conforming to international standards. Fereshteh Pasargad Hotel is being developed by a local Iranian private company,...
ABOUT THE CHAIN
Nayara Resorts is a collection of three sister properties set in Arenal Volcano National Park, Nayara Gardens, Nayara Springs, and Nayara Tented Camp connected to one another by footbridges.