Anantara ventures into Brazil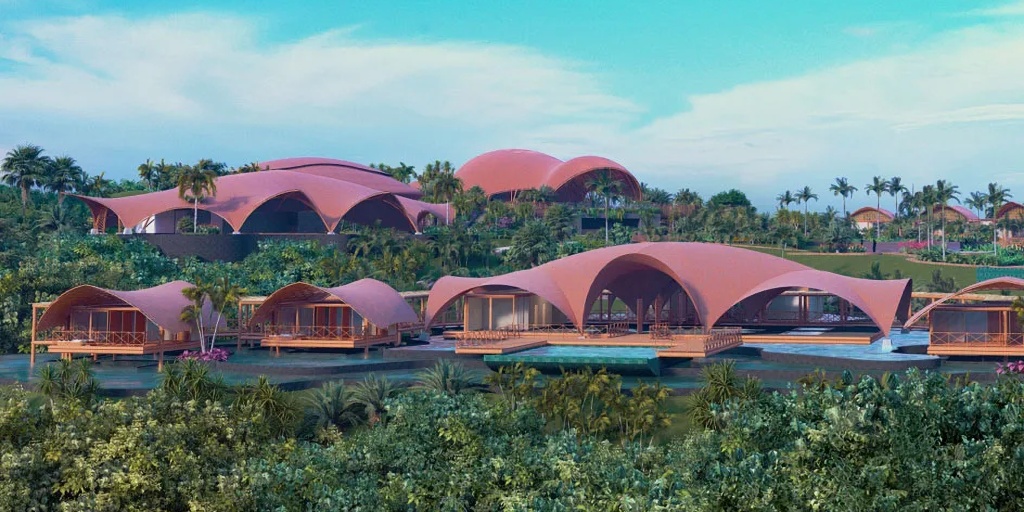 Imagery courtesy of Anantara Hotels, Resorts & Spas.
Anantara Hotels, Resorts & Spas is to make both its South American and Brazilian debut with the announcement of a development completing in 2025.
The luxury brand will launch the Anantara Mamucabo Bahia Resort in Baixio, a district on the northern coastline of Bahia in eastern Brazil.
Extensive grounds
The resort will be spread across a 500,000 sq m site, with construction slated to begin in 2023.
Anantara Mamucabo will offer a total of 116 guestrooms, suites and pool villas, with sizes varying from 70 to 163 sq m. The resort's innovative and unique architecture and interior decoration is being designed by Sidney Quintela Architecture + Urban Planning, with landscaping by Alex Hanazaki.
Leisure areas will be distributed throughout the vast grounds and will include three restaurants, two outdoor swimming pools, a beach club and water sports area, a kids club and an area for babies and infants. The main pool will feature a multi-level 'waterfall' design, creating different environments for relaxing and enjoying the pool and water.
Inside the beach club, a restaurant and a bar will serve regional cuisine from Bahia, while the hotel's main restaurant will offer contemporary international and Brazilian cuisine with a view overlooking the entire grounds. An Asian restaurant will be located in the central area of the resort that will boast a picturesque view of the Mamucabo River, from which the resort gets its name.
Exercise and enjoyment
Additional facilities at the resort will include a substantial sports area, including both a tennis court and a paddle tennis court, a well-equipped fitness centre, a yoga terrace and a relaxation area. Children's entertainment will be provided by a kids' club including an exclusive playful space in a large green and wooded area.
With its design complementing the tranquil character of the local area, the resort will feature an Anantara Spa focused on both body and mental health, offering an extensive range of treatments and wellness offerings. Integrated and isolated environments, such as a swimming pool, massage rooms, a sauna and a hydrotherapy circuit, will promote total relaxation. For corporate and social events, adaptable spaces with state-of-the-art facilities will allow for various sizes of meetings.
Expanding footprint
Dillip Rajakarier, CEO of Minor Hotels, Anantara's parent company, and group CEO Minor International, commented: "We are excited to announce the development of this future Anantara in Brazil, which will represent the brand's debut on the South American continent. It is a part of the world we have been keen to expand Anantara's footprint into and this exciting project represents the perfect opportunity."
Anantara will further grow its global presence, with at least 18 hotels in its pipeline, according to data from TOPHOTELPROJECTS. This includes Anantara Al Houara Tangier Resort arriving in Morocco in Q4 this year; Anantara Plaza Nice slated to open in the south of France in the same quarter; and Anantara Hotel Anji in Zhejiang, China, delivering in Q3 2025.
Imagery courtesy of Black Creek Mexico. Westin Resort & Spa, Puerto Vallarta in Mexico is to undergo a transformational capital improvement plan after changing hands. Marriott Vacations Worldwide sold the luxury Pacific coastal property to Grupo Alojica, Black...
Pictured: Andaz Condesa Mexico City. As one of the three host countries of the 2026 World Cup, Mexico is stacking its hotel pipeline to cater to demand from football devotees who will flock to the stadiums involved. The major sporting event will kick off in June 2026...
Imagery courtesy of Hyatt Hotels Corporation. Hyatt Hotels Corporation will debut The Unbound Collection by Hyatt brand in India with the renovation of an iconic palace in Bhopal. Noor-Us-Sabah Palace is one of the city's oldest and most sought-after hotels, and will...
Imagery courtesy of Nobu Hospitality. Our Project of the Week title goes to Nobu Hospitality's forthcoming fourth Spanish site, situated in the culinary mecca of San Sebastián. Nobu Hotel and Restaurant San Sebastián will be the result of renovating the famed Palacio...
ABOUT THE CHAIN
Each Anantara resort draws its strength from the rich cultural traditions, historic heritage and natural beauty of its destination.