Three radical ideas from Luca Franco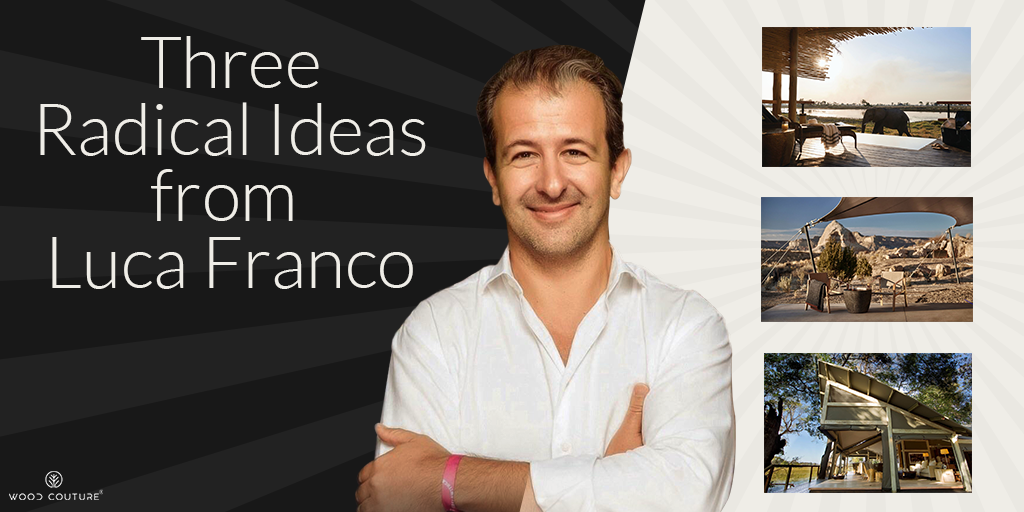 Episode two of The Wood Couture Podcast features Luca Franco
Inspired by immersive encounters in his many travels, Luca sought to give back to the communities that have introduced him to 'genius loci' or the spirit of the place, and so created Luxury Frontiers.
Most of us around the globe had been locked away during the better part of the last year. And as the world slowly opens up once again, we are finding new perspectives in the way everyday things work – our interactions with other humans, our surroundings, and even within ourselves.
Someone passionate about all the above through his life and work is Luca Franco, CEO of Luxury Frontiers. Wood Couture's co-founder Filippo Sona interviews Luca on the latest episode of The Wood Couture Podcast. Here are some of his perspectives on business, curating meaningful experiences and the future of travel.
Sustainability drives good returns
Sustainability is the 'it' word these days, something that organisations are being pressured more and more to integrate into their businesses. It is a tool to push the business forward, however, what is often the case is it does not make the type of social and environmental impact that advocates of sustainability aim for. Such as in the case of 'greenwashing'.
There are many layers to why this happens but one of them is possibly the misconception that sustainable initiatives are extra costs that thin out the bottom line.
Luca's view is that the hospitality and travel industry has a great opportunity to make a difference in the sustainability agenda. He recognises that honouring the heritage of a community and the natural beauty of a location can be conflicting with key business drivers such as availability of materials and ease of logistics. He proposes that the key is looking for a model that works and creating smart solutions for unique challenges.
Luca illustrates, as an example, how one can leverage existing infrastructure to reduce capex and in turn focus instead on opex – marketing and managing operations in such a way that the guest experience is elevated. Further, he posits that people pay for unique encounters especially when they are paired with purpose and meaning.
Luxury travel ≠ glamping
Although he is often associated with the term glamping, Luca wants to be distinguished from it by defining luxury as an experience rather than appearance. Luca talks about flipping the script from creating a nice box and filling it with nice things to creating a narrative that is within the context of the place.
Luxury Frontiers focuses on how guests will use facilities and modern comfort to experience the location in an immersive way, after which they build the structure that supports this.
He often mentions in the interview how experiencing nature, culture and community is curated and built into his projects. It is not simply pitching a fancy tent in an outrageous setting, ie glamping. When appearance comes secondary to the narrative of the place, a 'four-star product' can make a six-star experience, supported of course by great service.
Disconnect to connect
With today's technology and pace of life, our normal state consists of being wired into 'the world' – our phones, computers, to-do lists and responsibilities. Immersive travel aims to take us away from the everyday hustle and bustle.
Luca himself finds going back to nature to refresh, recalibrate and rebalance when he loses focus. As a runner, he loves to go on runs and marathons where he can feel the elements, even in what others consider as harsh conditions. He affirms that allowing ourselves to disconnect gives us the freedom to reconnect with ourselves and what matters in life.
It can seem extreme sometimes, in the sense that we are pushed beyond the comforts of modern living when we come back to nature. However, he predicts that experiential and regenerative travel will spike soon as consumer and capital markets shift, accelerated by the global pandemic.