Waterpark resort poised to flow into Texas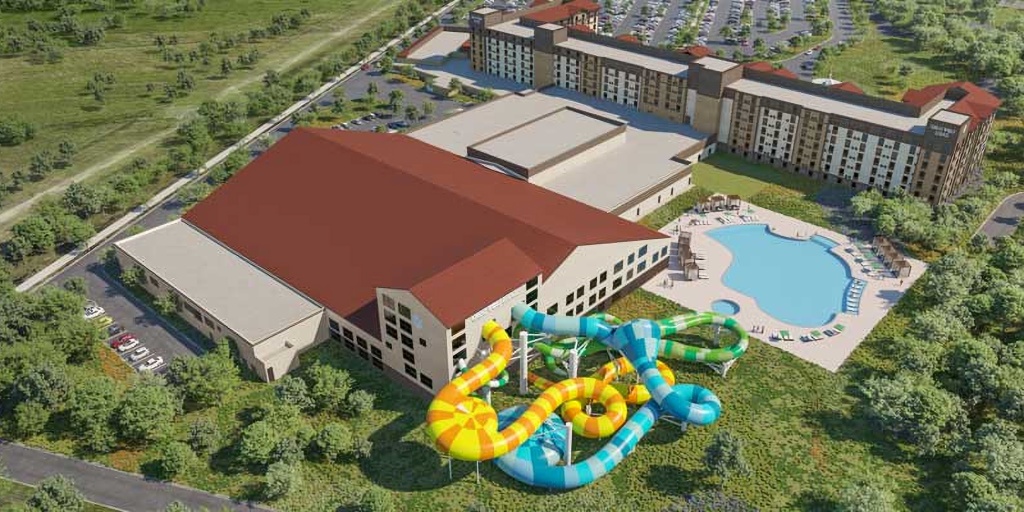 Waterpark specialist Great Wolf Resorts is to double its presence in Texas, USA, with a new resort heading to the city of Webster, near Houston.
Due to open in mid-to-late 2024, Great Wolf Lodge Gulf Coast Texas will feature a 532-room hotel and a 95,000 sq ft indoor waterpark.
Log cabin lodging
For the accommodation, family-friendly suites will feature in a variety of categories and styles including Great Wolf-themed suites with separate sleeping quarters for kids designed as either a log cabin or wolf den and outfitted with bunk beds and Great Wolf character theming. The resort will also feature suites with multiple bedrooms for large families or multi-generational groups.
Several dining options will be available that will appeal to a variety of culinary styles ranging from pizza and burgers to upscale dining and premium ice cream at Wood's End Creamery.
Fun and functions
The waterpark will feature a variety of body slides, tube slides, raft rides, activity pools and splash areas, while a 58,000 sq ft family entertainment centre known as the Great Wolf Adventure Park will offer a variety of family-friendly attractions.
Meeting and event facilities include more than 11,000 sq ft of flexible conference space with breakout rooms, built-in A/V technology and customisable catering options.
As part of Great Wolf Lodge's environmental initiative, Project Green Wolf, Great Wolf Lodge Gulf Coast Texas will feature a number of energy and water conservation measures, such as energy saving LED lighting and special water filters to reduce consumption.
Financing factions
The resort is being constructed thanks to an investment of more than $200 million from Great Wolf's shareholders Blackstone and Centerbridge Partners, as well as a $127 million mezzanine loan from VICI Properties.
The latter transaction represents VICI Properties' third mezzanine loan investment with Great Wolf for a total capital commitment of $265.5 million as part of the company's strategic arrangement to provide up to $300 million of mezzanine financing to support the funding of the development of Great Wolf's US domestic and international indoor water park resort pipeline. This includes the upcoming Great Wolf Lodge South Florida, which will bring a 500-room hotel and 100,000 sq ft indoor water park to Naples in Q3 2024.
Second site
Murray Hennessy, CEO for Great Wolf Resorts, commented: "With millions of families visiting our resort in Grapevine, we know Texas families love the Great Wolf Lodge experience and we're excited to introduce our second resort to the Lonestar State. A hallmark of Great Wolf Lodge is that we help families strengthen their pack by offering a fun-filled getaway that is close, convenient and carefree, and with this new resort, we will be able to better serve families in the Houston area and southeastern portions of the state.
"This second Great Wolf Lodge resort in Texas would not have been possible without the tremendous support of the city of Webster and Harris County, as well as our shareholders Blackstone and Centerbridge Partners. We're excited to get this resort underway with the ground-breaking and help contribute to the growth and prosperity of this community."
Originally announced in 2018, Amari Vientiane was put on hold during the pandemic period, but is now moving forward, with opening scheduled for Q3 2024. Developer swap The newbuild project has switched developers, having begun with Asia Investment, Development &...
Occupying a prime location in the city centre, the 124-guest-room Hilton Lille will continue to welcome guests and trade as a Hilton affiliated hotel before fully rebranding under Hilton Hotels & Resorts in 2024, following a multimillion-euro renovation. Dual...
Within these, we profile three stand out developments, spanning from a new towering Vietnamese landmark to a one-of-a-kind shipping container hotel in a Californian national park. L'avenir Quy Nhon L'avenir Quy Nhon is a towering 'condotel' taking shape on...
Envi Al Sifah - on the shores of Al Sifah, an hour away from Muscat - is due to open in late 2025, swiftly following compatriot mountain ecolodge Envi Al Jabel Al Akhdar into operation. Sand and sea The latest eco-retreat will be located on a preserved sandy beach...