Water is preferred after using the toilet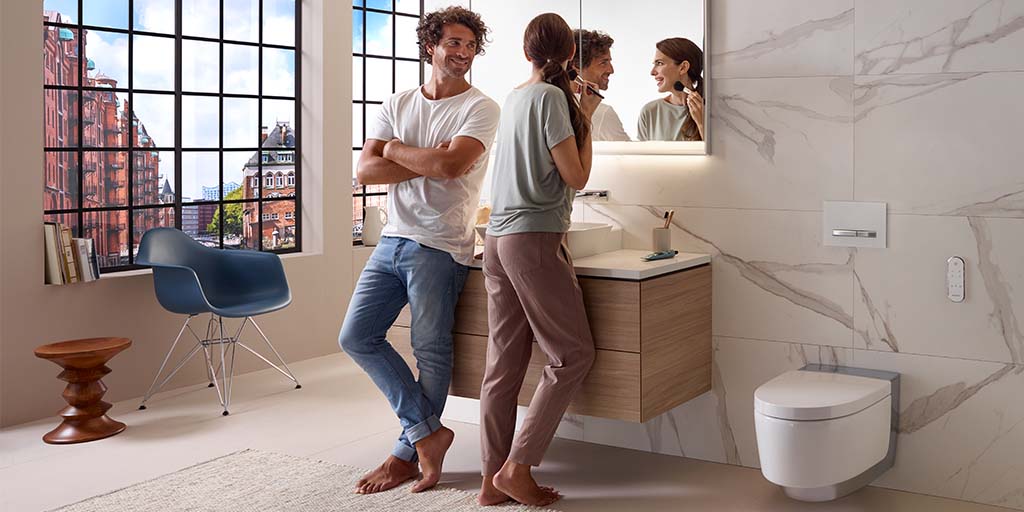 For people across Europe, hygiene and a fresh, clean feeling in their intimate area are high on the priority list. But what does that actually mean and how can we guarantee a fresh and clean feeling after going to the toilet? Geberit has conducted a survey in several European markets and has the right solutions for hotels.
An international survey conducted by Geberit on the subject of hygiene produced the probably unsurprising result that most people consider personal hygiene to be very important. In fact, 98% of the 18,000 people surveyed said it was important or very important to them to feel clean from head to toe, including in their intimate area.
Unfortunately, feeling clean after going to the toilet is not always a given. This is why more than one in two people use moist towelettes, which pose the risk of clogging discharge pipes.
Water: the front-runner for cleanliness
According to 40% of those surveyed, shower toilets are the best option for feeling cleaner after going to the toilet since a gentle jet of water reliably cleanses the intimate area. Modern toilet technology is clearly coming out on top compared to bidets and the like when it comes to cleaning with water. What is particularly noticeable is that shower toilets are usually bought by people who have tried them out beforehand; in other words, once people have experienced a shower toilet for themselves, they can't deny the positive impact on their personal feeling of cleanliness.
Shower toilet solutions for hotels
Did you know? Geberit has the right product for every hotel. The centrepiece is the patented and revolutionary shower spray. Regardless of the model, it gives every guest a convincing feeling of freshness that will remind them of their hotel stay for a long time to come. 
You can find more information on Geberit AquaClean here: https://www.geberit-aquaclean.co.uk/en_uk/produkte/product_overview.html
AquaClean Sela is elegant and convenient, without standing out as a shower toilet.
Geberit International AG
Geberit International AG
©Andy Liffner