Talenti stars in the Gran Hotel Alassio Beach & SPA Resort
Overlooking the coast of the western Riviera, Grand Hotel Alassio Beach & SPA Resort is a luxury restort in the heart of Ligurian history.
Today, the ancient charm of its beautiful architecture, which has recently undergone a conservative restoration, is combined with high-tech services, the most modern comforts, and contemporary chic interiors that combine minimalist lines and beachy design.
For the design of the exteriors, it was decided to combine the neoclassical style of the luxury hotel with the modern furnishings of Talenti with the nautical appeal of cruise teak with an elegant-retro look and rounded lines, combined with several tables of the same line.
The spacious living areas of the terraces, on the other hand, are furnished with a mix of Moon alu seating with fabrics in soft, sober and refined colours.
SELECTED COLLECTIONS:
CRUISE ALU by Ludovica+Roberto Palomba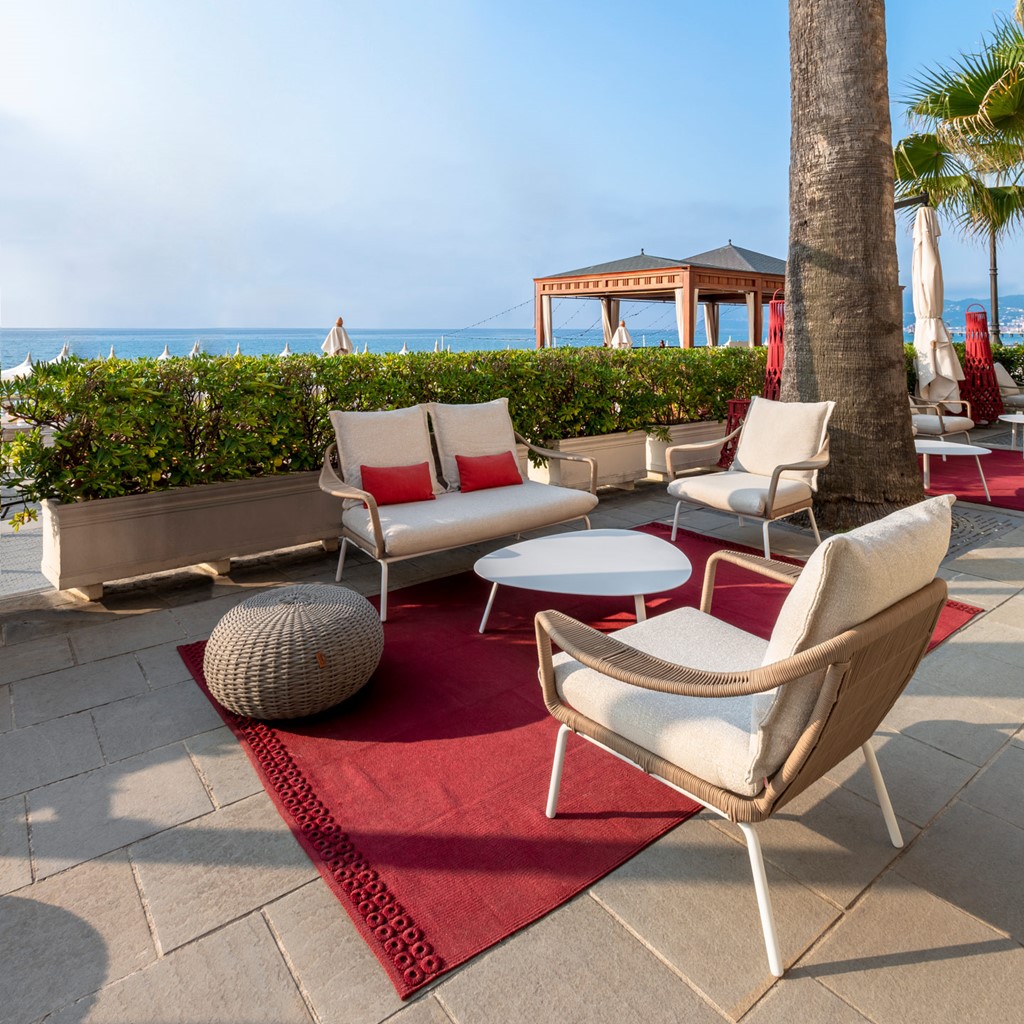 The elegance and sophisticated appeal of the Cruise Teak collection combined with the contemporary aluminium of the structures give rise to Cruise Alu.
The collection features an aluminium base with die-cast feet.
The die-casting technique has made it possible to design the foot in detail, which becomes a distinctive element of the collection, giving the upholstery and tables a greater aesthetic impact.
MOON ALU by Christian Visentin
The elegance and sinuous forms of the Moon TEAK collection combined with the practicality of the aluminium structures give life to the Moon ALU collection. Understated lines enriched by soft upholstery proposed in the colour variants of grey that adapt well to any type of furnishing. A warm, inviting, chic and intriguing collection. Highly functional armchairs, sofas and tables with timeless charm
TRIBAL by Ludovica & Roberto Palomba
Created by designers Ludovica & Roberto Palomba, the Tribal lamp is characterised by a strong ethnic inspiration. Perfect for creating evocative and relaxing atmospheres in open spaces.
The Tribal Talenti lamp projects plays of light and shadows thanks to the interweaving of synthetic nautical rope. The supporting structure is made of aluminium. It uses LED lighting and the battery is rechargeable.
Tribal by Talenti is a contemporary floor lamp available in different sizes.
MILO by Marco Acerbis
Romantic elegance, attention to detail, Milo is tailor-made like a dress.
Touching is allowed, indeed, it is compulsory. The end result is a family of objects that all have a strong soul, yet fit into the decor without arrogance. The line is soft yet rigid, colourful yet balanced, modern yet timeless.
PR & Press Office:
Ghénos Communication
Milano – Barcelona – London
[email protected]
www.ghenos.net
Talenti, outdoor living
Talenti is an Umbrian company specialized in the design and realization of outdoor furniture that combines elegance, functionality and quality. The Talenti collections, signed by international designers, such as Ludovica + Roberto Palomba, Ramón Esteve, Karim Rashid, Marco Acerbis, Jean Philippe Nuel and Nicola De Pellegrini, offer products for dining and living characterized by a strong reference to the indoor world, suitable both for contract projects and for residential ones. Over the years the company has shown increasing attention to the world of design and today offers with its collections products that can satisfy not only the most classic tastes, but also the most contemporary ones. In consolidating its identity Talenti has proven over time to be very attentive to the global market and currently is present in more than 65 countries with a qualified and articulated sales network. Every year the company also participates in the main trade fairs in the sector and its products are chosen for international fit out. www.talentispa.com