Scandic signs for new meeting hub near Oslo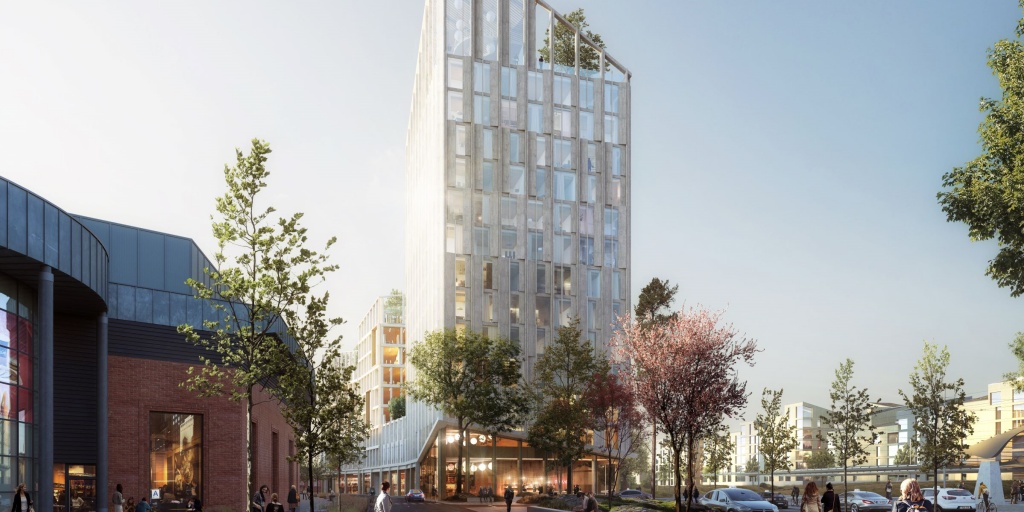 Scandic Hotels has inked an agreement for a new 220-room hotel in Ski, near Oslo in Norway.
The building will be centrally located beside the train station, and with 15 floors, it is aimed at being a new landmark in the city.
Meeting hub
Scandic Ski is expected to open in 2026, offering meeting facilities and a rooftop bar with panoramic views of the city.
The property will house both the hotel and offices, designed to be a new meeting hub for Ski and attract business and leisure travellers alike, given its proximity to the Norwegian capital.
Environmental design
Like the majority of Scandic's hotels, it will be ecolabeled according to the Nordic Ecolabel's new, tougher environmental requirements. The hotel's use of ecolabeled products and chemicals and 100% renewable electricity, the absence of single-use disposables, reduced water consumption, a climate-friendly menu and reduced food waste formed the basis for certification.
The rooms at the new hotel will be designed with circularity in mind and parts of the room interiors will be environmentally certified or made from recycled materials, most of which can be reused or recycled during renovations. The property will also be constructed according to a high environmental and technical standard with the goal to be certified according to BREEM Excellent, one of the highest levels in environmental certification for buildings.
Rapid development
Asle Prestegard, head of Scandic Hotels Norway, said: "We are very happy to have had this opportunity to open a new Scandic hotel in Ski. This agreement will strengthen our position in the region surrounding Oslo, which is undergoing rapid development, and at the same time create an exciting new meeting place for people who live and work in the city."
Morten Austestad, development director at the project's development firm, Bane NOR Eiendom, added: "We see great potential for hotels at public transport hubs. Together with Scandic, we are developing a hotel property that will have a high environmental performance and we're extremely happy that Ski is being added to the list of cities where we're establishing hotels."
Strengthened presence
The new hotel will further strengthen Scandic's presence in the hotel market in the growing region around Oslo. Scandic already operates 19 hotels with a total of 4,211 rooms in and around the capital.
Furthermore, the group is expanding its presence elsewhere in Norway, with the upcoming Scandic Tromsø Vervet District. The waterfront property in downtown Tromsø will feature 305 rooms, a restaurant, a sky bar, a rooftop terrace and meeting facilities that can also be used for private events. The site is scheduled to complete in 2025.
Imagery courtesy of IHG Hotels & Resorts. IHG Hotels & Resorts has signed a management agreement with Saudi Investment Group and Marketing Co (SIGMAC), a subsidiary of Ghazzawi Group, for its second Hotel Indigo in Jeddah. Opening in Q1 2028, Hotel Indigo...
Accor's Sofitel Hotels & Resorts brand is expanding in Shanghai with the agreement of a 293-key luxury urban resort, set to open in 2025. The hotel group is partnering with Shanghai Xinguang Technology Development Group on the development of Sofitel Shanghai South...
Imagery © 2022 Hilton and LL Holdings. Hilton Worldwide has signed the first site for its newest brand, Tempo, in the iconic location of New York City's tourist hub, Times Square. The lifestyle strand will premiere in Q4 2023 with the opening of Tempo by Hilton Times...
Cheval Collection has signed a management agreement with Nakheel which will see the debut of its Cheval Maison brand in Dubai. The 131-serviced apartment property, called Cheval Maison - The Palm Dubai, is due to open in Q1 2023. Contract expansion It will feature a...