Sam Grabush named COO of Schulte Hospitality Group
The hotel management and development company has appointed a high-profile figure who previously worked for Highgate Hotels and Hilton Worldwide to its executive leadership team.
Schulte Hospitality Group has bolstered its ranks by hiring a 25-year hotel operations veteran.
Proven expertise
As Schulte Hospitality Group's new chief operating officer, Sam Grabush will oversee operations for the company's collection of almost 175 hotels across the US. He takes on this influential position following his most recent role as president of operations for Highgate Hotels.
"We are honoured to welcome Sam to the Schulte Hospitality team. He is a well-respected leader in the hotel industry, and we look forward to tapping into his expertise and passion to strategically grow our portfolio of companies," said Darryl Schulte, chairman and CEO of Schulte Hospitality Group.
"His more than 25 years of experience working in positions ranging from general manager to president of hotel operations makes him the perfect leader to help us provide a high level of guest satisfaction and associate loyalty."
A wealth of experience
Grabush spent 14 years with Highgate Hotels, where he was responsible for overseeing the company's 118 legacy properties in the US and CALA while leading a team of more than 20 senior operations leaders. During his time there, Grabush also served as senior vice president of operations, overseeing a New York City portfolio encompassing no fewer than 40 hotels.
Before joining Highgate, Grabush worked at Hilton Worldwide for almost 14 years, holding various property-level leadership positions in New York and Boston. A graduate of Cornell University's School of Hotel Administration, he'll be moving from the Big Apple to Louisville along with his wife and two children.
"I am sincerely thrilled to be joining such a venerable and respected organisation," said Grabush. "I've been extremely impressed with the remarkable growth of Schulte Hospitality Group these last few years and can't wait to bring my skill and experience to the company and contribute to the next chapter in its evolution.
"I look forward to partnering with the talented team at Schulte to distinguish ourselves as the very best operator in the industry."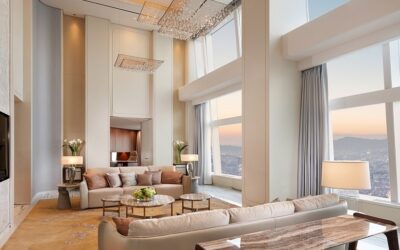 Lotte Hotels & Resorts' premier brand hotel, Signiel Seoul, was selected on its list of 'The Best Hotels in the World' for the first time among domestic hotels in an award hosted by global travel magazine Condé Nast Traveler on October 3 (local time). Condé Nast...