Radisson plots worldwide growth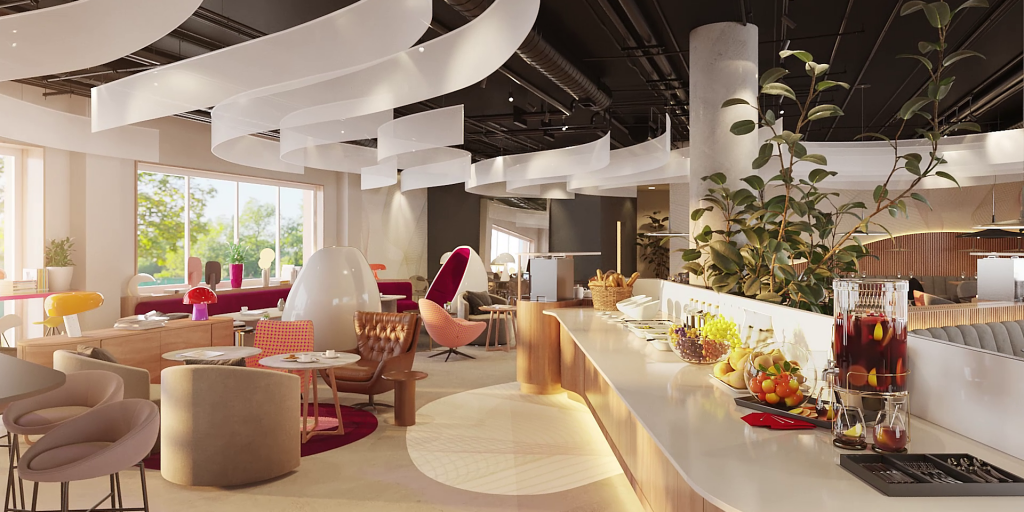 ​prizeotel flexible social area design. Imagery courtesy of Radisson Hotel Group.
Radisson Hotel Group is establishing regional offices across the globe as it pushes forward with its ambitious expansion plans.
Building on a strong start to 2022, the group is focusing on key markets across EMEA and APAC.
Record target
Last year, Radisson Hotel Group recorded its strongest ever year of signings, and recently announced targets for 2022 to outperform the previous year. The group also announced its intentions to drive significant growth in APAC by 2025. This includes plans to exponentially expand its portfolio in Thailand by adding 100 hotels and resorts in the country by 2025.
The group's wider expansion strategy targets growing its current portfolio of 400 properties to over 2,000 hotels and resorts in operation and development by 2025.
Rapid year
To date this year, Radisson Hotel Group has signed and opened over 100 properties in key countries such as Turkey, Greece, Madagascar, and China. In its lifestyle segment, the group opened and signed Radisson Collection properties in Germany, Turkey, Spain, Saudi Arabia, Croatia, and Estonia, bringing its Radisson Collection portfolio to just under 50 hotels.
Radisson Blu, said to be the largest upper upscale brand in Europe, signed and opened several new hotels in key tourist destinations such as Barcelona, Mykonos, Madagascar, Jordan, Lanzarote, and Galle, bringing the total portfolio to 394 properties.
New resorts
Ahead of the summer season, the group added resorts in Greece, Senegal, Turkey, and Egypt. In Croatia, the company opened its first Radisson Collection hotel on the Adriatic coast, Grand Hotel Brioni Pula, A Radisson Collection Hotel. In Spain, Radisson Hotel Group continued to grow its footprint with the opening of Radisson Blu 1882 Hotel, Barcelona Sagrada Familia and Radisson Collection Hotel, Gran Vía Bilbao, ahead of the planned opening of Radisson RED in Madrid.
The group's affiliation brand, Radisson Individuals, made its debut in new markets such as Egypt and Turkey, and expanded its presence in the UK, Ghana, Poland, and Norway, bringing the brand's total portfolio to over 60 properties in operation and under development. In India, the Group launched brand extension Radisson Individuals Retreats as part of its plan to double its footprint to 250 hotels in the country by 2025.
Market entries
Radisson, the group's brand known for its signature minimalist Scandinavian style, debuted in new markets, including Belgium with the opening of Radisson Hotel Liège City Centre, the 15th hotel in the country. The Radisson brand signed and opened other properties across EMEA and APAC in France, Poland, Senegal, Sri Lanka, Greece, Turkey, and the Maldives, bringing the brand's portfolio to 290 hotels in operation and under development.
In May, the group announced the extension of its strategic partnership with PPHE Hotel Group to develop a portfolio of premium lifestyle art'otels in key gateway cities and to collaborate on growth opportunities across its brand portfolio in Europe.
A particular focus for growth across EMEA is the expansion of the group's midscale lifestyle brand, prizeotel, with 45 projected new signings in select countries in the next five years, including the introduction of the brand to the UK. The brand opened its first hotel in Vienna earlier this year.
Office openings
To deliver its ambitious expansion plans and offer expert support in core markets, the group will open a regional office in Riyadh later this year, and has also established new dedicated business units in Bangkok, Ho Chi Minh City, Jakarta, and Sydney to further build local development and operations teams.
Elie Younes, global chief development officer, said: "As restrictions ease across China and APAC, we aim for significant growth in these markets in the second half of this year. China has proven to be a resilient market with strong domestic demand, and we look forward to the reopening of business across the country. We thank our owners and investment stakeholders for their continued support and look forward to further exploring opportunities together."
Michel will remain the owner and landlord of the sites while Achat operates them and will retain all hotel employees. Further cooperation The deal means that Achat is expanding its presence in new tourism and leisure destinations in Germany, including the Bavarian...
Field & Stream Lodge Co, inspired by the American retail brand Field & Stream established in 1871, will be a branded hospitality platform aiming to create modern lodging across the USA. Authentic brand Starwood and AJ Capital believe the new brand's origins...
The 10 boutique sites across the US will now be operated by Staypineapple Hotels Inc, with the portfolio opening the doors to third-party licensing and property management. Brand history Pineapple Hospitality began managing and operating privately-owned boutique...
Sonesta Essential is designed to offer franchisees easier new builds and conversions with modest brand standards, limited food and beverage requirements and simplified conversion processes. Brand pillars The brand pillars focus on offering guests a comfortable, clean...
ABOUT THE CHAIN
Radisson Hotel Group is one of the world's largest hotel groups with several distinctive brands and more than 1,400 properties in operation or under development globally.
Error, group does not exist! Check your syntax! (ID: 3)