Pan Pacific and Tokyu team up for Tokyo double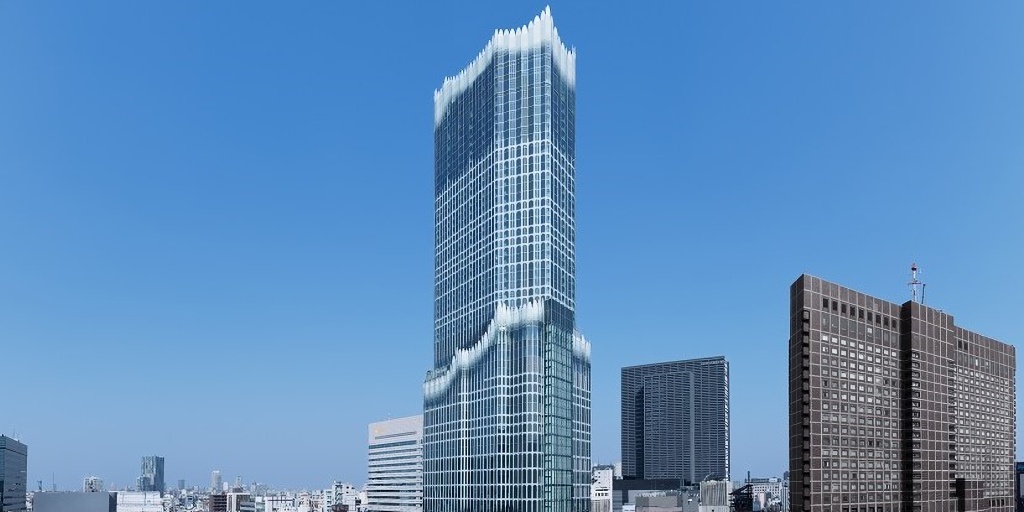 Pan Pacific Hotels Group is aiming to accelerate its expansion in Japan by signing a strategic partnership with Tokyu Hotels for a dual Tokyo site.
The agreement will see two hotel concepts created within Tokyu Kabukicho Tower, a skyscraper taking shape in the city's Shinjuku ward.
Brand duo
The complex is being designed by architectural firm Kume Sekkei and is slated to open in the first half of 2023.
The two hotels onsite will be Bellustar Tokyo, a luxury Pan Pacific property, and Hotel Groove Shinjuku, an upscale Parkroyal hotel.
Height of luxury
Bellustar Tokyo will be situated on the 39th to 47th floors and will offer an exclusive 97 keys. Each room will present the rare luxury of space in Tokyo, ranging between 42 sq m and 277 sq m, with windows spanning seven metres in width for sweeping views of the horizon.
At the peak of the tower are five ultra-luxurious suites, ranging from 114 sq m to 277 sq m. On the topmost 47th floor will sit the largest penthouse, furnished with a personal spa treatment room for two people, a kitchen and a jacuzzi with skyline vistas. A double-storey duplex suite spans the 45-46th floor, featuring a plush living room, kitchen and bar.
Sky dining
The 45th floor will present a 'sky dining' experience, with three storey-high, floor-to-ceiling windows in the main restaurant. This will be accompanied by teppanyaki, sushi, bar and lounge offerings. On the topmost 47th floor, luxury facilities include a 'sky spa' overlooking the Tokyo cityscape, and a 138 sq m private sky lounge reserved for guests of the penthouse suites.
The hotel will have a dedicated lift and check-in counter, and a private gym with direct elevator access.
Art and music mix
Below Bellustar Tokyo, Hotel Groove Shinjuku will occupy the 18th to 38th floors of the tower. Sized from 21 sq m to 61 sq m, the 538 rooms will be furnished with an eclectic mix of unique art and music, inspired by the entertainment scene of Shinjuku's Kabukicho district. Among its sizeable rooms, the family suite is a double-twin, 61 sq m space featuring a large wall-mounted screen that enables guests to connect their own devices and enjoy their favourite media.
On the 17th floor is a bar and the hotel's main dining restaurant, serving a medley of cuisines and seating 130 diners. The same level will also house private event rooms and an open-air East Terrace, featuring an outdoor LED screen for movie events and media showcases. The hotel also provides access to Tokyu Kabukicho Tower's entertainment facilities such as live performance venue Zepp Shinjuku (Tokyo), Theater Milano-Za, and 109 Cinemas Premium Shinjuku.
Major draw
Pan Pacific Hotels Group CEO Choe Peng Sum said: "We are delighted to strengthen our partnership with Tokyu Hotels. This will add another two hotels to the success of Cerulean Tower Tokyu Hotel, A Pan Pacific Partner Hotel, established in 2019. Our two new hotels are situated right in the heart of Shinjuku, which will be a major draw for international travellers and a prime location for us to capture the global tourism demand."
Jun Murai, president and representative director, Tokyu Hotels, added: "Managed by Tokyu Hotels, Bellustar Tokyo and Hotel Groove Shinjuku will carry our strong service experience in Japanese hospitality, combined with Pan Pacific Hotels Group's powerful global platforms. We are poised to welcome guests from around the world, providing them with a unique stay experience in Kabukicho, Shinjuku Japan."
Wynn Al Marjan Island in the UAE's Ras Al Khaimah will be a multi-billion-dollar integrated resort due to debut in Q1 2027 as the largest project of its kind in the Emirate's growing hospitality sector. Beachfront first The Las Vegas-based hotel and casino operator is...
Arjaan Hotel Apartments by Rotana is expected to be completed by 2026.  Full facilities The aparthotel will offer fully furnished spacious studio, one- and two-bedroom apartments. Residents will have access to the Bodylines Fitness & Wellness Club featuring a...
NH Sydney Airport is due for completion in Q3 2026 near Sydney's international and domestic airports, 7 km from the heart of the city's central business district. Upscale plan The overall design and vision for the AUD55 million newbuild upscale property was placed in...
Formerly referred to as Mantra Tullamarine, the hotel has recently been renamed Mantra Melbourne Airport to provide greater clarity and make it easier for guests to identify the hotel's convenient location at the airport. Dining and room refresh The Pacific-focused...