NATURE INSPIRES DESIGN
TALENTI PRESENTS LEAF, THE NEW 2022 COLLECTION BY MARCO ACERBIS
Milan, 2023 – An innovative and intriguing concept and design, nature as a source of inspiration of inexhaustible fascination. Just a few of the ingredients that have allowed Leaf, the new collection designed by Marco Acerbis for the Talenti brand, to win over the public from the very first glance.
An idea that confirms the evolution of a brand that is beating all records with proposals that are always avant-garde and of great aesthetic impact.
Leaf is therefore no exception, the latest creation from the pencil of Marco Acerbis, inspired by nature with which the outdoor world is in constant dialogue. The lightness of the petals of a flower and their elegance have been the incipit for a new vision where the careful but generous proportions are combined with the comfort of a cushioning of great softness and sensuality. Few elements, very light and balanced. Slender, slender legs raise the volume of the sofa and create a strong sense of suspension, almost floating in the air just like a flower on its stalk. The seat becomes a big embrace.
"Not all companies are able to work with me because my projects are designed to interpret reality in a different way," says Marco Acerbis, "to push the envelope and, as they say, raise the bar. I am not afraid to do research, and indeed the stimuli that come from my designs are transformed into challenges and paths that lead to new interpretations, new materials and new forms".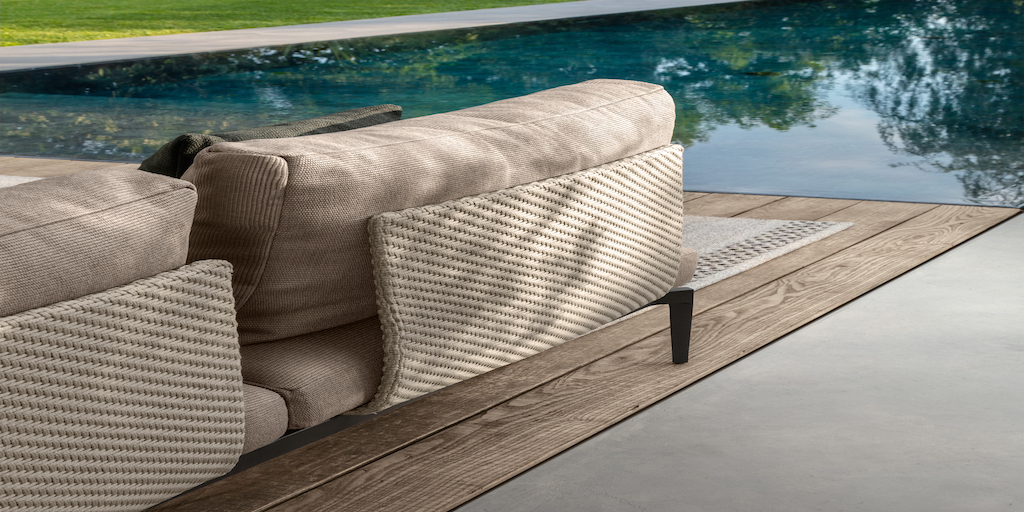 From the point of view of materials too, Leaf reflects the process of continuous research and experimentation that has always run through the company.
For the various tables in the collection, the usual aluminium structure is accompanied by a top in Vitter, a durable, latest-generation compact laminate made without formaldehyde and whose exclusive feature is that it is all colour, inside and out. Completely waterproof, fireproof and self-extinguishing, it boasts a very high resistance to shocks and scratches, resisting the use of aggressive chemical detergents as well as being suitable for direct contact with food.