MGallery announces upcoming hotel opening in Sydney
Imagery courtesy of Accor.
Porter House Hotel Sydney – MGallery is on track to open in one of Sydney's most recognisable buildings this July.
This $94 million boutique hotel takes up the first 10 floors of a 36-storey mixed-use tower within the $184 million Porter House precinct.
A historic site
The new MGallery hotel is topped with several floors of residential apartments and joined by a multi-level food and bar destination that's been built within the restored heritage building.
The 1870s site was originally built as Dixson & Sons tobacco factory and warehouse before being leased by furniture manufacturer WW Campbell & Co and famous leather merchant George Johnson & Sons in 1891.
General manager, Joleen Hurst, commented: "Emanating an effortless duality, the redeveloped Porter House precinct plays with the concept of intriguing contrasts."
"By placing two extraordinary buildings together, we have created something remarkably original that we hope local, interstate and international guests will be fascinated by."
Heritage meets modern design
The hotel is designed as an urban sanctuary fusing modernity with the site's heritage. The award-winning architect Angelo Candelapas of Candelapas Associates led the design of this property in which an ultra-modern tower has been built around the heritage-listed building.
Paying homage to the site's heritage, the hotel is designed with modern features that draw on the historic design, such as curved windows that reference the brick archways.
A walkway made from glass balustrades and rails now runs between the two buildings, so the hotel is linked to the Porter House next door. The new tower's exterior is then set apart by a 335-sq-m abstract mural by the renowned artist, Maria Fernanda Cardosa.
The hotel's interiors combine a colour palette of dusty pinks and mushroom grey tones with natural textures, hardwood flooring, gold and brass fixtures and leather accents. Soft curves, arches and circles feature throughout.
A lifestyle hub
Guests staying at this soon-to-open hotel will be accommodated in 122 guest rooms and suites, with all suites facing Castlereagh Street and some capturing a glimpse of Hyde Park. This accommodation offering includes six interconnecting rooms, six disability rooms and one pet-friendly room.
Amenities within the property include a well-appointed fitness centre and 11th-floor heated pool and guests also have access to the amenities of the mixed-use development as a whole.
The Porter House building will host guests in several food and beverage venues: Henry's Bread and Wine featuring the flowers of an in-house florist, a central bar featuring a four-metre wine wall, Spice Trader cocktail bar and Dixson & Sons restaurant featuring banquette seating and a six-metre bar.
These restaurants and bars are joined by multiple break-out rooms for meetings and private dining rooms including two with fireplaces and libraries.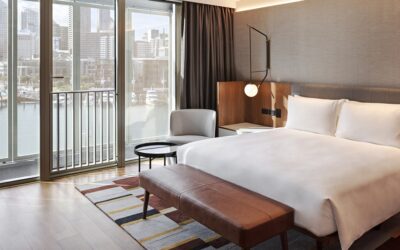 Imagery © Vidhya Raithatha. This week's TOPHOTELDESIGN focus looks at the 2020-opened Park Hyatt Auckland in New Zealand. Bossley Architects and ar+d designed the architecture of this property and Conran and Partners was responsible for the interior design. A sense of...
Imagery © Scandic Hotels Scandic Nørreport is now welcoming its first guests in central Copenhagen, with highlights including a rooftop bar overlooking the city. The 100-key property is the first Danish hotel to be certified according to the Nordic Swan Ecolabel's...
Imagery © Selina Selina Union Market is now hosting its first guests in Washington, D.C.'s burgeoning Union Market neighbourhood. The experiential lifestyle hospitality brand catering for millennial and Gen Z travellers now has seven hotels across the U.S. and a...
In collaboration with TOPHOTELDESIGN we delve into the architecture and interiors of ME Barcelona. OUA Group and Fito Arquitectes S.L.P. worked on the architectural design of the 2021 completed property, with Alvaro Sans Arquitectura Hotelera then designing its...