Meliá sails on favourable wind to double growth rate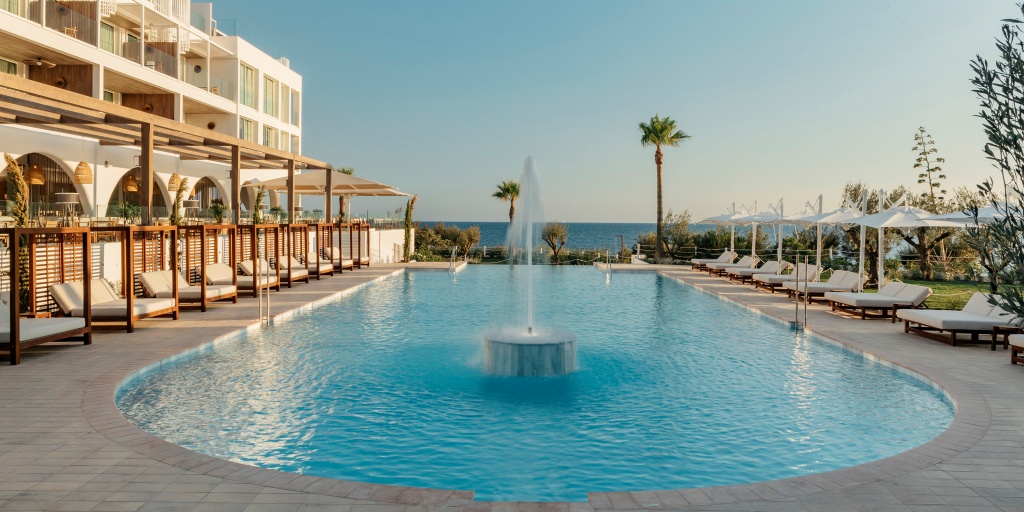 Pictured: The recently-opened Gran Meliá Villa Le Blanc Hotel in Menorca. Imagery courtesy of Meliá.
Spanish chain Meliá Hotels International is on track to sign up at least 40 new hotels with more than 9,000 rooms in 2022.
The company reported in its latest half year results that its opening pace has intensified, with 18 additions in 2022, 11 of which were in Vietnam.
Resort segment leverage
Meliá feels it has leveraged its leadership in the resort segment to grow its managed and franchised hotel portfolio, under its Meliá, Gran Meliá, Meliá Collection and Affiliated by Meliá brands.
The company has continued to add hotels in the Mediterranean, Caribbean, Middle East and southeast Asia, with a total of 25 to date (15 in Vietnam, three in Albania, three in Mexico, two in Spain, one in Portugal and one in Italy).
Meliá also sees significant growth opportunities for well-known brands with strong distribution capabilities, viewed as a 'safe harbour' for independent hotels and small hotel chains. Considering hotels in operation and those in the pipeline, the company already has 58 'Affiliated by Meliá' hotels and eight 'Meliá Collection' hotels.
Return to cities
Looking at the company's performance in H1 2022, in terms of market segments, city hotels bounced back somewhat. This was due to greater international travel and more large-scale business events, although the chain reports levels are still mostly behind 2019, with mediterranean cities such as Palma, Barcelona and Valencia as notable exceptions.
Resort hotels have recovered for the brand, which brought forward its opening in the Balearic Islands to capitalise on huge last-minute demand from both individual travellers and groups. However, it is the luxury hotel segment leading the way in terms of revenues and rate rises, and the demand for superior rooms and suites is also increasing.
Asset enhancement
According to Gabriel Escarrer, executive vice president and CEO of Meliá: "The trends behind our results in the first half of the year are undoubtedly the very strong growth in travel demand, described by some as 'revenge travel' as a reaction to the travel restrictions experienced by the world's population.
"Given the complexity and uncertainty in the business environment, at Meliá we've taken full advantage of this 'favourable wind' to consolidate our strengths, enhance our assets and adapt them to the new requirements and expectations of travellers who are eager for experiences and more likely to choose higher quality and luxury products and rooms, a segment that continues to lead the increase in demand.
"All of this creates a 'virtuous circle' that has allowed us to double the rate of growth in the first half of the year, with 18 new hotel openings, and which will certainly help us to continue growing and restoring value."
Building green
Meliá was keen to emphasise its environmentally friendly credentials and one milestone in this area is the recent inauguration of Gran Meliá Villa Le Blanc Hotel in Menorca, which the chain says will become its first carbon-neutral hotel. The concept is designed to reduce carbon emissions (scopes 1 and 2) by 87%, and explore different alternatives to offset the remaining 13%.
The TOPHOTELPROJECTS database holds details of 44 upcoming Meliá projects including the 235-room ME Doha arriving in Qatar in Q4 2023; Meliá Lisbon adding 240 keys in the Portuguese capital and the vast 835-room Melia White Sands Hotel & Spa due to open in the fourth quarter of this year on Boa Vista in the Cape Verde islands.
Dutch boutique hotel firm Eden Hotels has revealed capital investment plans and created a new parent corporate company, Zien Group. The new group will be the home of the hotel chain and all future brands and businesses. Opportunities and refurbishments Current Eden...
Radisson Hotel Group continues to plan big for its African expansion, underlining that it is looking at further opportunities on the continent. This year in Africa the group has surpassed its half-year growth target with new openings and market entries across both...
Pictured: The recently-opened Sonesta Hotel Cali in Colombia. Sonesta International Hotels Corporation has made several key moves to support future expansion in Latin America and the Caribbean. The US-headquartered group has renewed its ongoing master franchise...
Pictured: Vienna House by Wyndham Andel's Berlin, Germany. Wyndham Hotels & Resorts has acquired Austrian hotel brand Vienna House for €44 million. The deal adds an upscale and midscale portfolio of approximately 40 hotels and more than 6,000 rooms to the...