Lotte Hotels to debut in Sochi after franchise deal
LOTTE Hotel Sochi rendering
LOTTE Hotels & Resorts, the first in the Korean hospitality industry to sign a hotel franchise agreement. Finalised as the fifth hotel in Russia under the LOTTE Hotels brand.
LOTTE Hotels & Resorts announced on 16 February 2022 that it has signed a franchise agreement with Russian construction company Metropolis for a hotel operation in Sochi, Russia. Hereby, the fifth LOTTE hotel in Russia is slated to open in 2025 in Sochi, the former Winter Olympics host city.
It is the first franchise agreement of LOTTE Hotels, and was signed by Heeyoung Park, general manager of LOTTE Hotel Vladivostock, and Anna Nevzorova, director of Metropolis, on 31 January. The hotel is to be owned by Metropolis and will be managed by LeePrime, the Moscow-based hospitality and residential service management company.
In terms of franchising, generally entrusted to global hotel brands, the owner directly operates the hotel and receives the brand name and operation standards of a particular hotel brand in exchange for brand loyalty. For a hotel brand, although it is a business model to effectively expand brand and generate profit without much investment, it is a difficult strategy for companies that lack brand power to implement.
LOTTE Hotels explained that the agreement could be made possible since their competence for operating four five-star hotels in major cities in Russia – Moscow, St Petersburg, Vladivostok and Samara – was highly evaluated.
LOTTE Hotels commenced its global expansion in 2010 with the opening of LOTTE Hotel Moscow, as the first Korean hotel brand to establish and directly manage an international chain. Furthermore, the company broadened the prospect of Korean hospitality by initiating a chain hotel business in Uzbekistan and Myanmar, as well as by being entrusted to operate hotels in the US. With its competence acknowledged upon the franchise agreement, LOTTE Hotels continues to accelerate as a global hotel leader in its 12th year in global expansion.
Sochi, the city with a subtropical climate which can hardly be seen in Russia, is located in between the Black Sea and the Caucasus. The city is considered as the biggest getaway in Russia since various water and winter sports can be enjoyed there.
LOTTE Hotel Sochi is planned to open in the end of 2025 as a five-star hotel. It will have a total of 181 guestrooms across a five-storey building with access to a private beach. The hotel boasts an excellent location by being within a five-minute walk of a shopping mall, the biggest amusement park Riviera Park and major sights.
Sejin Ahn, the CEO of Lotte Hotels, said: "We are proud to become a brand which others ask for loyalty on an international scale. We plan to successfully target the global market through business models that maximise management efficiency such as franchising."
Meanwhile, LOTTE Hotels is currently operating 32 hotels in seven countries. With its Korean-style hospitality service and brand portfolio, the hotel group satisfies the needs of various travellers – premium landmark hotel Signiel, classic upper-upscale LOTTE Hotels, lifestyle hotel L7 Hotels, business-optimised LOTTE City Hotels and LOTTE Resort for family travellers.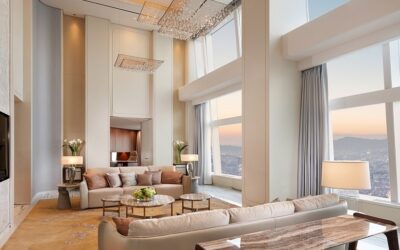 Lotte Hotels & Resorts' premier brand hotel, Signiel Seoul, was selected on its list of 'The Best Hotels in the World' for the first time among domestic hotels in an award hosted by global travel magazine Condé Nast Traveler on October 3 (local time). Condé Nast...
Previous Next In the hills of the Costa del Sol – located between Málaga and Marbella – is the picturesque village of Mijas. In addition to a spectacular view of the Mediterranean Sea, the village offers a lot of Andalusian flair: the winding alleys and the cluster of...
The inaugural site, The StandardX, Melbourne, will open in the Victorian city in February 2024. Original inspiration This new concept takes The Standard brand back to its youthful roots, taking inspiration from its first hotel 25 years ago on Los Angeles' Sunset...
The Dean Hotel Group is a dedicated hotel real estate, brand and management platform recently spun-off from Press-Up Hospitality Group. Founder Paddy McKillen Jr and the McKillen Company will retain a stake and remain involved in the business. Management continuation...