Let there be light with Geberit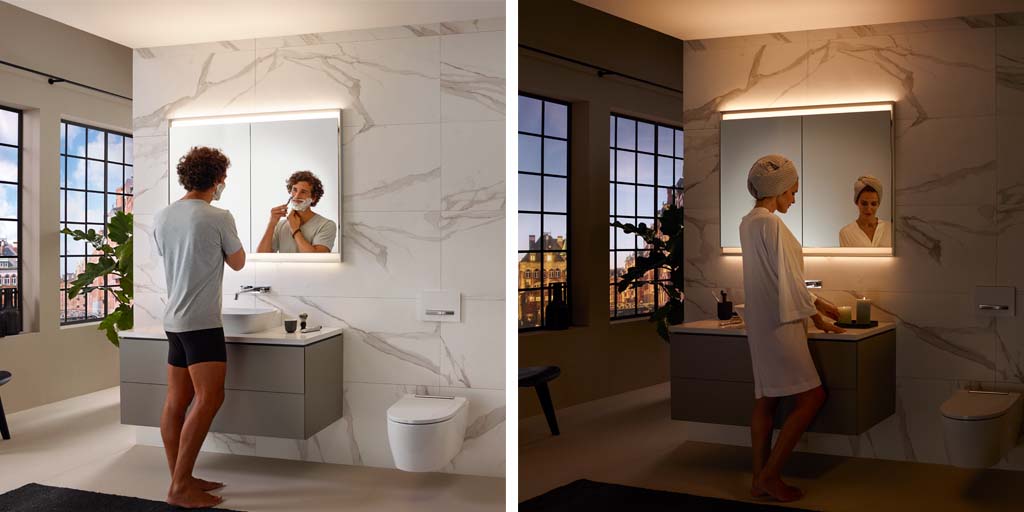 The new Geberit ONE mirror cabinet with ComfortLight offers comfort and convenience at the washplace. It provides perfectly tailored lighting for different bathroom activities. This is all thanks to the integrated, patented lighting concept with four light sources and moods, which helps to create a feel-good atmosphere.
Whether brushing your teeth, applying make-up or shaving – bathroom routines are a more pleasant experience for hotel guests if the lighting is optimal. The right lighting doesn't just make sure the room is bright enough, it also helps to create the perfect atmosphere.
NEW GEBERIT ONE MIRROR CABINET
The new Geberit ONE mirror cabinet with ComfortLight stands out thanks to its innovative lighting concept. It is available in five different sizes, in anodised aluminium and in white, as well as fully mirrored or with an illuminated niche. The high-quality, continuously adjustable glass shelves allow for customisation of the storage space inside the mirror cabinet. Two power sockets are also included as standard. In order to ensure that the mirror cabinets can be installed in any construction situation, the Geberit ONE mirror cabinet is available both as a concealed version with installation box or as a surface-mounted version.
INTEGRATED, PATENTED LIGHTING CONCEPT
In many bathrooms, the mirror cabinet is also the only light source. This is why it is even more important to make sure that different bathroom activities have different lighting levels to suit the task at hand. This is where the innovative Geberit ComfortLight concept comes to the fore. Four light sources integrated in the mirror cabinet – overhead light or indirect room lighting, a mirror light, a niche light and a washbasin light – perfectly illuminate the mirror image, washbasin and room, and harmonise with one another. The light doesn't dazzle the guest here; it ensures an authentic mirror image without casting shadows and also illuminates the washbasin and the tap, all while giving the hotel bathroom a more vivid – and therefore larger – appearance.
Four perfectly coordinated light sources in the mirror cabinet ensure harmonious illumination of the mirror image, washbasin and room.