Kempinski will overhaul latest Cancun acquisition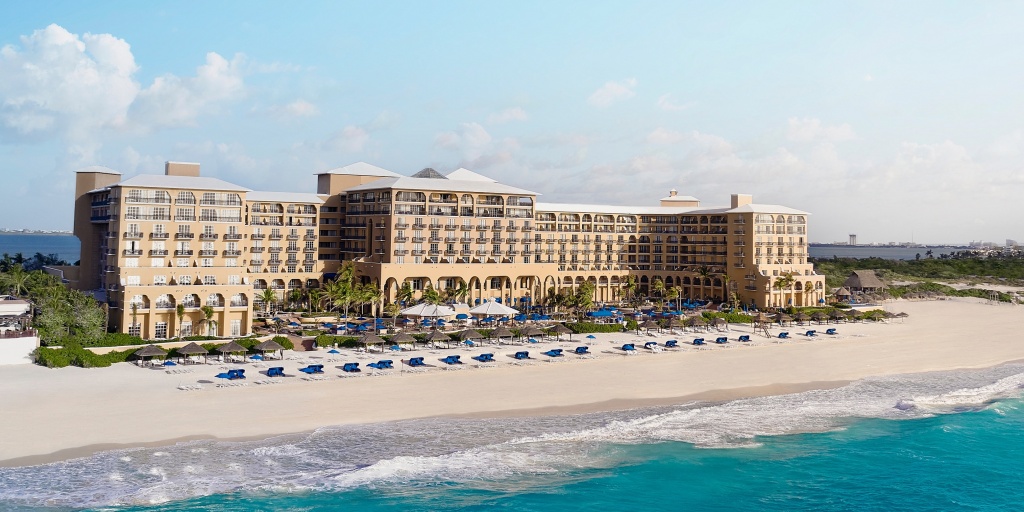 Imagery courtesy of Kempinski Hotels.
Kempinski Hotels is extending its footprint in the North American market through the takeover of a luxurious beach hotel in Cancun, Mexico.
Starting from September 2022, Europe's oldest luxury hotel group will manage the property and intends to renovate it without closure.
Working upgrades
While the site is undergoing the various improvements and adjustments to reach Kempinski brand standards it will be named Grand Hotel Cancun – managed by Kempinski. Following the transition at the end of this year it will be fully operated under the moniker Kempinski Hotel Cancun.
The hotel offers 315 guestrooms and 48 suites – all featuring private balconies or terraces with a panoramic view of the Caribbean Sea. Eight dining options including two AAA Five Diamond Award restaurants, an exclusive club lounge, two swimming pools and an oceanfront whirlpool, a spa with relaxation gardens and secluded terraces, a fitness centre with sauna and steam rooms, a tennis centre, private cabanas and lounges on the hotel's 400-metre stretch of beach, a beauty salon and a kids' club.
Event provision
For incentive meetings, weddings, galas and conferences as well as events for large groups, abundant indoor and outdoor meeting space can be found around the resort.
Large scale events are hosted in a 11,220-sq-ft (1,000 sq m) ballroom which can be divided, plus a beachfront venue for up to 700 guests, while smaller provisions include meeting rooms, boardrooms, breakout spaces and outdoor venues by the pool.
Implementing Kempinski DNA
Bernold Schroeder, CEO of Kempinski Group and chairman of the management board of Kempinski AG, commented: "To strengthen the North American territory and to extend our footprint in this crucial market is an outstanding opportunity for Kempinski. During a three-month transitional period, we will ensure that we implement our Kempinski DNA in the operation of this outstanding beach hotel and that we extend our brand recognition by delivering the impeccable service and quality Kempinski is renowned for."
Kempinski is partnering with fellow operator Grupo Inmobiliario Mosa S.A. at its latest site. Grupo Inmobiliario Mosa's CEO Claudia Molina Basteris added: "We are very excited about this new partnership in which Kempinski Hotels will bring a new level of luxury and service to our iconic resort."
Wynn Al Marjan Island in the UAE's Ras Al Khaimah will be a multi-billion-dollar integrated resort due to debut in Q1 2027 as the largest project of its kind in the Emirate's growing hospitality sector. Beachfront first The Las Vegas-based hotel and casino operator is...
Arjaan Hotel Apartments by Rotana is expected to be completed by 2026.  Full facilities The aparthotel will offer fully furnished spacious studio, one- and two-bedroom apartments. Residents will have access to the Bodylines Fitness & Wellness Club featuring a...
NH Sydney Airport is due for completion in Q3 2026 near Sydney's international and domestic airports, 7 km from the heart of the city's central business district. Upscale plan The overall design and vision for the AUD55 million newbuild upscale property was placed in...
Formerly referred to as Mantra Tullamarine, the hotel has recently been renamed Mantra Melbourne Airport to provide greater clarity and make it easier for guests to identify the hotel's convenient location at the airport. Dining and room refresh The Pacific-focused...