A project that places aesthetics and craftsmanship at the centre, through the encounter between different cultures and the love of nature but above all of Africa, a land that Ludovica+Roberto Palomba have always loved.
Not an ethnic object but the expression of craftsmanship and aesthetics that the architects wanted to exalt in the project, a personal interpretation of Africa, the most poetic one, a meeting point of multiple inspirations. Hence, Karen, the name of the collection is a tribute to the author of "My Africa" Karen Blixen.
"We wanted to transport the strength and beauty of this land into the design by focusing on the intertwined details of the two rings that become armrests".
In fact, the arms and seat of the collection end in curved lines that give it the appearance of a sofa/throne with wrap-around shapes that give the upholstery the look of a refuge, a cocoon of protection.
The detail
A wooden base contrasts with the backrest where countless threads of fabric are woven and stretched over the structure, where soft cushions add comfort to the seat and wide backrest.
The characteristics of the materials and finishes used make the product particularly resistant to sun, water and wear.
The Karen collection is designed to be the protagonist of outdoor settings, but also to dialogue with other furnishing elements in the collection. (sofa armchairs, coffee table, dining table and chairs).
KAREN SOFA
The Karen sofa is characterised by a tribal aesthetic that radiates the strength and beauty of African lands. The wrap-around shapes and curved lines give the sofa the royalty of a throne while conveying security and serenity, as if in a protective cocoon. The fabric weaves that join the armrests and backrest have a handcrafted feel that lends the sofa style and personality.
There are three different colours: natural teak – taupe, natural teak – grey and natural teak – green pine.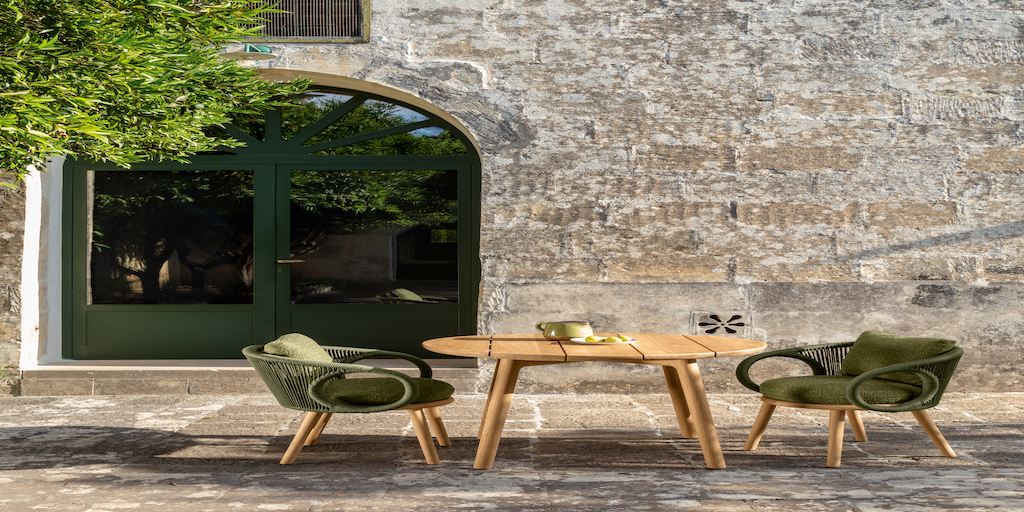 KAREN ARMCHAIR
The living armchair in the Karen collection has a handcrafted aesthetic that recalls Africa and the beauty of its lands. The ring-shaped armrests and the curved lines of the back that wrap around the seat give the armchair the royalty of a throne. The weave of the fabrics and the countless threads that support the backrest mimic the design of a protective cocoon, giving the garden an intimate and reassuring atmosphere.
KAREN DINING TABLE 280×110
The Karen dining table radiates the strength and beauty of the African lands, thanks to the wood finishes that emphasise the soft lines of the design. The craftsmanship of the table makes the garden cosy, yet full of style and personality.
KAREN COFFEE TABLE D60
The coffee table from the Karen collection is characterised by a handcrafted aesthetic typical of African culture. The wood finishes are emphasised by the soft lines of the design, lending the outdoor environment style and personality.