Kärcher Air Purifier – Hygiene starts in the air
Clean and healthy indoor air for a better quality of life.
Hygiene starts in the air
Clean and healthy indoor air for a better quality of life
Everyone needs to breathe easily. For the best air quality in your day-to-day work: the Kärcher air filter reduces viruses, bacteria, allergens, fine dust and odors.
Let's start with the 3 smallest
Kärcher brings 3 new air purifiers – ultra-quiet and ultra-efficient. Launched in September 2022.
Their special filter system and powerful motor means they work extremely efficiently yet very quietly. They're not just for people with allergies – everyone benefits from better air quality indoors. Depending on the model, the machines are suitable for rooms measuring 20, 30 and even 50 square meters. They can be set up easily wherever they're needed, be it a bedroom, a living room or even a home office – simply plug in and switch on.
During operation, the air circulates through the filter in the purifier and is then released back into the room as clean air. In automatic mode, pollutants in the indoor air are constantly being measured and the air flow is automatically adjusted as necessary. The power level can also be adjusted manually via a control panel on the top of the air purifiers.
Ultra-effective filter system, easy filter replacement
 The quality of the air in the room is constantly being measured by the air purifiers. A display indicates the level of contamination in micrograms/cubic meter. The air purifiers also have a three-color LED indicator to see the air quality at a glance.
All three air purifiers are fitted with an ultra-effective two-step filtration system. Large HEPA H13 filter elements* with antibacterial coating trap small particles such as bacteria and viruses whilst the additional activated carbon filter removes elements from the air that cause unpleasant odors. Depending on the level of pollutants in the indoor air, the filters need to be replaced every eight to twelve months. An LED light indicates when the filter needs replacing. Changing the filter is quick and easy with no need for tools or other accessories.
* The H13 filters with antibacterial coating effectively trap at least 99.95% of particles with a diameter of 0.3 µm.
Let's not forget our biggest air purifier AF 100 H 13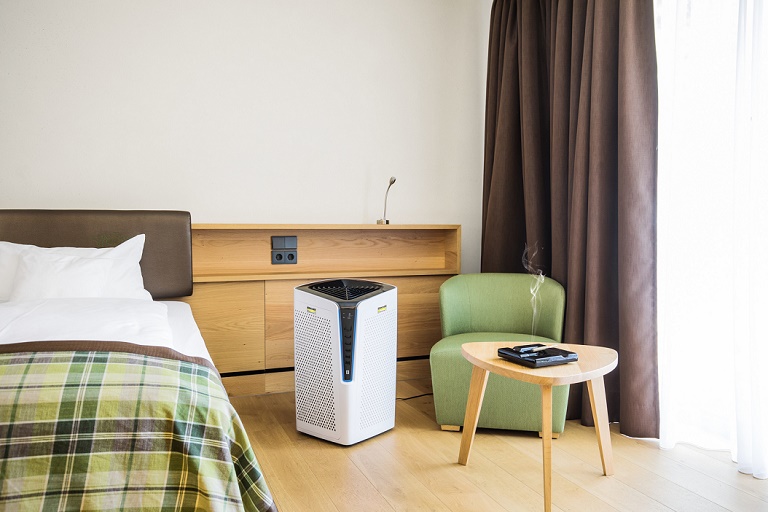 SAY AH! The AF 100 Air Purifier perfectly fits for lobbies, guest rooms and meeting facilities.
Our AF 100 H 13 comes with a HEPA 13 filter – reduces up to 99.9% of the pollution from infectious germs and harmful particles in the air.
Caused by vapors from carpets, pollen, germs or bad air quality after a long meeting in the meeting room, this may lead to a lack of concentration, headaches, blocked noses and even asthma attacks. Allergy sufferers are particularly affected. Breathe easily again with our air purifiers.
It keeps the air pure and healthy so you, your staff and your guests can feel safe again.