Jumeirah to double its Dubai branded residences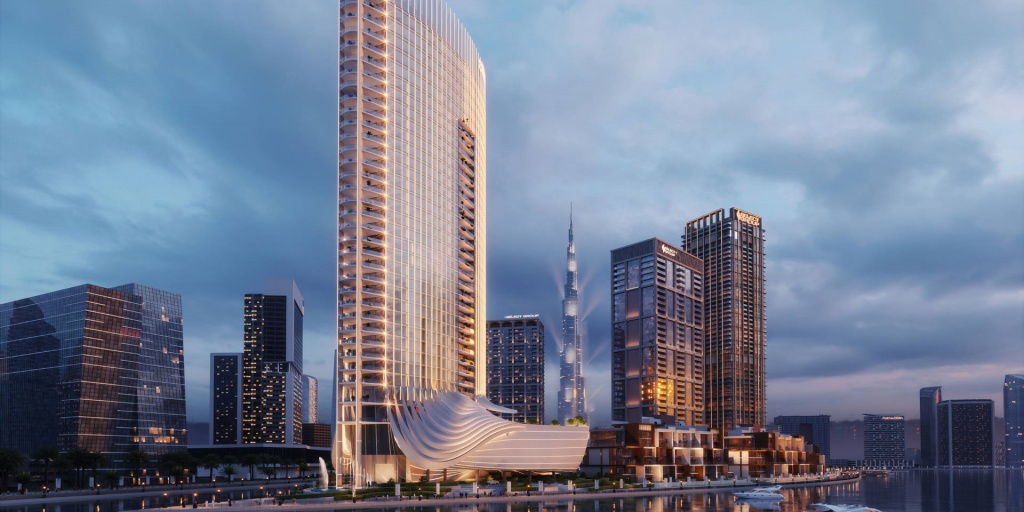 Imagery courtesy of Jumeirah Group.
Jumeirah Group is partnering with Select Group to bring a second Living branded residences development to Dubai.
Jumeirah Living Residences Business Bay will be the flagship of the Peninsula master community development when it opens in Q4 2025.
Towering luxury
Bringing luxury hospitality service to its private residents, the 35-storey tower will include 82 premium branded residences, including two, three, four and five-bedroom units, along with a unique full-floor five-bedroom penthouse located on the top floor.
The development will feature a selection of two luxurious swimming pools with sweeping waterfront views, a decadent jacuzzi spa and steam room and a state-of-the-art gymnasium.
Comprehensive services
Residents will also be able to access a range of deluxe branded facilities and services, including concierge services, a residents' lounge, a guest relations team, an onsite residential manager, security, housekeeping and valet services, as well as a teenager lounge with gaming facilities and a co-studying area to ensure that millennial residents are also catered for.
Inspired by the maritime lifestyle and nautical elements of the location, the tower's design combines art and architecture, set against the backdrop of the Dubai Canal. Architecturally led by Killa Design, the new downtown property follows on from the existing Jumeirah Living Marina Gate, Dubai Marina.
Home from home
José Silva, CEO of Jumeirah Group commented: "We are delighted to be bringing our renowned brand experience to a new location in the heart of downtown Dubai, and to continue our ongoing partnership with Select Group. Our Jumeirah Living serviced hotel residences at Marina Gate have proven highly popular since opening in 2020, where we have seen a rise in global travellers in search of that 'home-away-from-home'. We are entering a new dynamic of hospitality where guests are no longer simply a holiday maker, business traveller, or staycationer, they are now often all three rolled into one, looking for greater immersion in the local community.
"I have no doubt that together with Select Group, we are creating a product that raises the bar for residences in Dubai and beyond, challenging even those of world class cities. From its prime location, stand-out architecture, its impressive interior finishes, and a genuine focus on high-end living through the design of grand spaces, we are excited to continue to delight residents through luxury design and our personalised service for effortless living."
Select Group CEO Rahail Aslam added: "With the award-winning success of Jumeirah Living Marina Gate and our continuous efforts to deliver the best-in-class developments, we are certain that this fruitful partnership with Jumeirah Group will bring a unique value proposition to the Peninsula master development."
Imagery courtesy of IHG Hotels & Resorts. IHG Hotels & Resorts has signed a management agreement with Saudi Investment Group and Marketing Co (SIGMAC), a subsidiary of Ghazzawi Group, for its second Hotel Indigo in Jeddah. Opening in Q1 2028, Hotel Indigo...
Accor's Sofitel Hotels & Resorts brand is expanding in Shanghai with the agreement of a 293-key luxury urban resort, set to open in 2025. The hotel group is partnering with Shanghai Xinguang Technology Development Group on the development of Sofitel Shanghai South...
Imagery © 2022 Hilton and LL Holdings. Hilton Worldwide has signed the first site for its newest brand, Tempo, in the iconic location of New York City's tourist hub, Times Square. The lifestyle strand will premiere in Q4 2023 with the opening of Tempo by Hilton Times...
Cheval Collection has signed a management agreement with Nakheel which will see the debut of its Cheval Maison brand in Dubai. The 131-serviced apartment property, called Cheval Maison - The Palm Dubai, is due to open in Q1 2023. Contract expansion It will feature a...