interihotel MAD22, will be held in Madrid from 5th to 7th October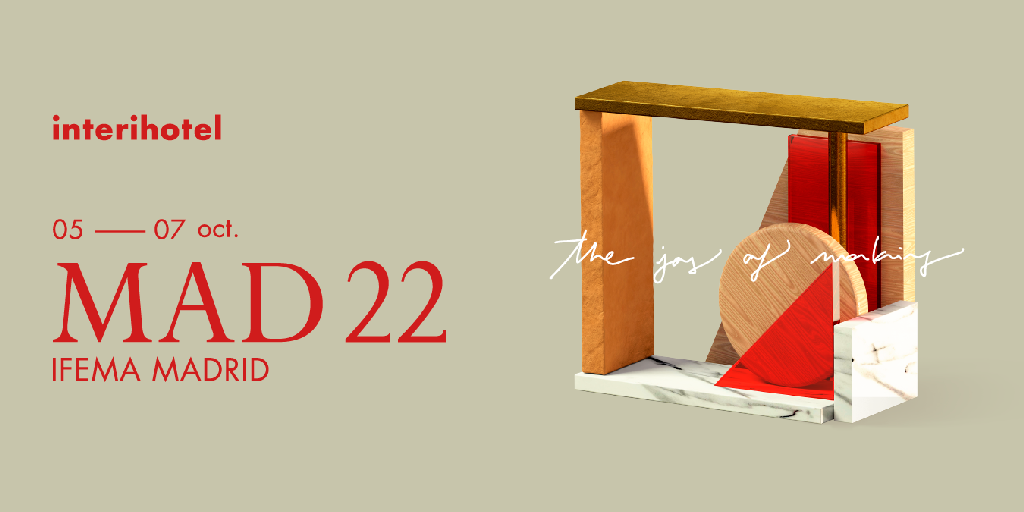 interihotel celebrates its MAD22 edition with great new features, a new location and a line-up of top international speakers. Making by hand, going back to the roots and innovation go hand in hand at interihotel "the joy of making", an event organised by CENFIM Furnishings Cluster.
The return to the origins, responsibility and the simple pleasure of making by hand are the pillars on which "The joy of making" is built, the common thread of this new edition of interihotel, promoted by the Cenfim cluster, which will be held at IFEMA Madrid on 5, 6 and 7 October. The event is structured around five major themes, on which all the activities will be focused: made to inspire, made to transcend, made to last, made by hand and made to evolve.
interihotel is an environment designed to facilitate the relationship between over 6,000 accredited professionals with purchasing or recommending power in contract-hospitality projects and 150 brands specialised in contract, leaders in the sector with international projection, who take advantage of this event to present their new products. In addition, in line with previous editions, "The joy of making" will feature an extensive list of speakers representing the impact of design in the world, including Marc Rahola, Dorothée Meilichzon, Héctor Esrawe, Rebeca Muñoz, Natali Canas, Arrate Arizaga, Jorge Penadés, Belén Moneo, Carlos Couturier, Carlos Esteban y Manuel Villanueva, Nacho Martín o Tomás Alía, among many others.
A very careful set-up
One of the main features of interihotel is the carefully designed set-up of the exhibition area and common spaces. As a result of the collaboration with the exhibiting brands and coordinated by CENFIM, a set-up is created which maintains an overall coherence between the layout design, the branded and common spaces, the programme of activities and the common thread of the event which generates the atmosphere in which everything is encompassed by design.
International event
interihotel welcomes professionals from more than 40 countries, among which we can find a select group of international professionals – architects, interior designers and project and design managers in hotel groups – from the United States, United Arab Emirates, Mexico and the United Kingdom, who will also take part in the conferences to explain the current situation of the sector in these markets.
Trends, innovation and Metaverse for new travellers
New travellers define the design of future hotels. Interiors Living Lab by Cenfim is materialised at interihotel through physical Concept Rooms and Holographic Virtual Reality, in which experiments will take place during the three days of the exhibition to gain knowledge about the usability and interaction of users with the interior design of the spaces. The two physical Concept Rooms have been designed by two interior design studios and they represent hospitality spaces for two different lifestyles. On the one hand, the URBAN SOPHISTICATED Concept Room is a sensorial space with sustainable elements and materials designed by Pombo Estudio and inspired by One Shot Hotels. On the other hand, NATURE & FAMILY is a meeting point focused on sensorial learning designed by Grupo Plan and inspired by Best Hotels.
Also, as part of the Interiors Living Lab, interihotel will once again be presenting an immersive virtual experience which will allow visitors to take virtual tours and interact with other users through a realistic representation of their own hologram. With this, the event goes one step further in its commitment to the application of the most advanced technological solutions and promotes the creation of its own metaverse through five virtual environments: FAMILY LEISURE (INDAStudio-Sideral-Qualia Studio), THE ECO-HEDONIST (designed by Lagranja Design and inspired by Le Méridien Ra Beach Hotel&Spa), THE SLOW FAMILY (designed by Patrick Genard & Asociados and inspired by Guitart Hotels), THE COMMITED TRAVELER (designed by Cuarto Interior and inspired by Castilla Termal Hotels) and THE DIGITAL TROTTER (designed by Wilson Associates and inspired by NH Hotel Group).
Awards
interihotel will reward the brands and professionals that define the interior design of hotels and restaurants. Five awards will value the creative and innovative effort to present cutting-edge quality proposals in the sector. An expert jury, made up of professionals appointed by leading design, architecture and hospitality entities, will determine the winners in the different categories: best hotel interior design, best restaurant interior design, most innovative product, best stand at interihotel and best professional career as an interior designer of hospitalityspaces.
interihotel, promoted by Cenfim, offers an environment designed to facilitate the B2B relationship between interior design and architecture professionals, hotel managers, developers and investors, distributors and product brands. Visitor registrations are still open on the event's website.
Contact:
interihotel.com
[email protected]
+34 977 570 166
@interihotel
#interihotel
interihotel is an environment designed to facilitate the relationship between over 6,000 accredited professionals and 150 brands specialised in contract, leaders in the sector with international projection
More than 90 % of the registered participants have the power to buy or recommend contract-hospitality projects.
About CENFIM Furnishings Cluster:
CENFIM is a cluster of home and contract equipment companies. Founded in 2006, it brings together 148 companies and organisations along the entire furniture and home interior value chain: manufacturers of raw materials, finished products, distributors and universities. Its objective is to enhance the competitiveness of member companies through strategy, innovation, market access and internationalisation activities. In addition to interihotel, there are other notable collaboration projects between companies, such as the permanent showrooms it manages in Barcelona and Madrid and the innovation projects co-financed by different administrations.
Resources: https://drive.google.com/drive/folders/1Jm_4Yxk4VYfhAjM6bKmJ3wEhRIdGrg6D
Communications manager:
Oriol Amat
[email protected]
+34 647 909 040
+34 977 570 122