Hyatt and Life Fitness: Co-creating unique wellbeing experiences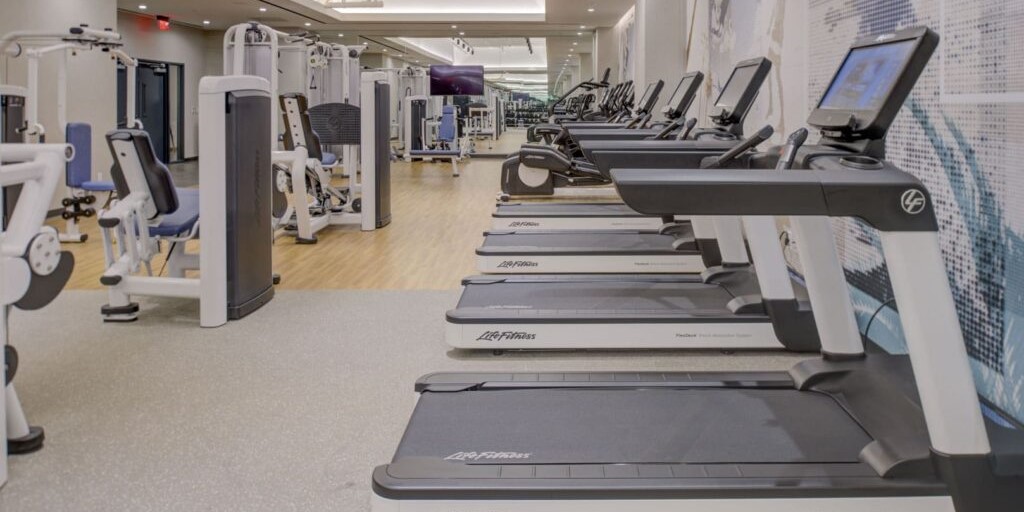 Life Fitness is proud to be a trusted partner of Hyatt on their wellness journey. A clear example of this partnership is seen in the co-creation of the Hyatt Place / Hyatt house LAX hotel fitness space.
In recent years, the way travelers understand their trips has changed. A new focus on health and wellness has grown among guests from a passing trend to a necessity. This has undoubtedly meant a change in the way hotels operate and address the needs of their guests. In the past, a few old pieces of cardio equipment and a handful of dumbbells tucked away in an unused conference room might have worked, but that scenario is not acceptable to today's traveler.
Hyatt understands the importance of a holistic wellness offering, and that's why Hyatt considers opportunities to support the wellbeing of guests in the experience of each of its hotel brands. Sarah Klymson, Vice President of Product and Brand Development at Hyatt Hotels, is a catalyst of this process.
"A focus on wellbeing is a moral imperative," said Klymson. "It is fundamentally necessary and the demand is already evident. As people return to travel, guests are going to expect their wellbeing, and components that support it, to be fully considered."
According to a recent report (2022) by RLA the wellbeing offer has a positive effect on hotel metrics. The report found that hotels with wellness revenue surpassing US$1 million generated 126% more in TRevPAR in 2021 compared to those with wellness revenues less than US$1 million.
Travelers want experiences that help their wellbeing. This is also reflected in the global growth of the wellness tourism market, which is projected to reach $817 Billion this year and $1.3 Trillion in 2025, according to GWI data.
"People are craving meaningful experiences," explained Klymson. "They want to have the opportunity to not just go to the fitness center and run on the treadmill, but try a class or program offering that exposes them to something different. We've watched previous trends, such as the shift from big gyms to boutique fitness experiences. I think hospitality is going through something very similar. Not everybody wants the same experience when they go to a hotel. Travelers are going to want more curated, crafted opportunities that are geared toward making connections and offer them the opportunity to prioritize what is most important to them while traveling."
The challenge, one that Hyatt gladly accepts, is creating wellbeing experiences that reside seamlessly in each of its 19 distinct brands. Each brand needs to convey a different message and craft a unique experience for the wellness traveler.
"Instead of thinking about wellbeing or wellness as being an additive layer to our brands, we're allowing our brands to tell their own wellbeing story through their own voice," added Klymson. "This creates experiences that are more personal, versus a one-size-fits-all concept."
Each of Hyatt's brand standards requires a fitness center, but that's just a small part of the total wellness experience. "Creating spaces with intention" guides Klymson's design process. This approach means designing spaces that consider how they will support one's wellbeing, and then taking inspiration from a series of design principles that guide the design of the spaces.
Knowing how important wellbeing experiences are for a hotel and the satisfaction of its guests, Life Fitness is proud to be a trusted partner of Hyatt on their wellness journey. A clear example of this partnership is seen in the co-creation of the Hyatt Place / Hyatt house LAX hotel fitness space.
"It was awesome to work with Life Fitness as we tried to develop something that was unique and different from any Hyatt Place or any Hyatt House anywhere in America", said Aaron Shock, Owner/Developer of the Hyatt Place / Hyatt house LAX. Together, we co-created the largest gym you can find in a Hyatt Place / Hyatt House, being also a different amenity capable of delighting and surprising its guests.
The Fitness facility includes a strength area, with dumbbells up to 100 pounds and equipment for a more functional workout. The gym also contains a cardio area where guests can find a wide variety of products, from treadmills to ellipticals and even climbers. As Aaron explains, "We sat down with the experts at Life Fitness to make sure we covered all aspects of a full-body workout. We wanted to be able to walk into a gym that is able to meet all their needs. We wanted to be able to build a gym that responded to a comprehensive and holistic view of fitness."
When asked why they chose Life Fitness, Aaron adds that the Life Fitness brand is associated with quality equipment, which is important to them since they also want their guests to be able to recognize a high-quality brand that they are going to work out with and associate it with the experience the hotel provides.
It has been a source of pride for the entire Life Fitness team, from sales to installation, to be able to help Aaron and his team create this different, out-of-the-box space that will help the hotel create delightful wellbeing experiences.
Click Here to download the Ebook on how to create wellbeing experiences that delight your guests.
As the fitness industry's largest supplier of commercial equipment, Life Fitness draws upon its many years of experience to help customers create bespoke wellbeing offerings. Whether it's adapting an existing space, launching a new gym, or providing in-room solutions, Life Fitness manages the process from start to finish; from equipment selection and layout, through to staff training and customer communications, the team can support the entire consumer journey.