Hilton grabs an Algarve double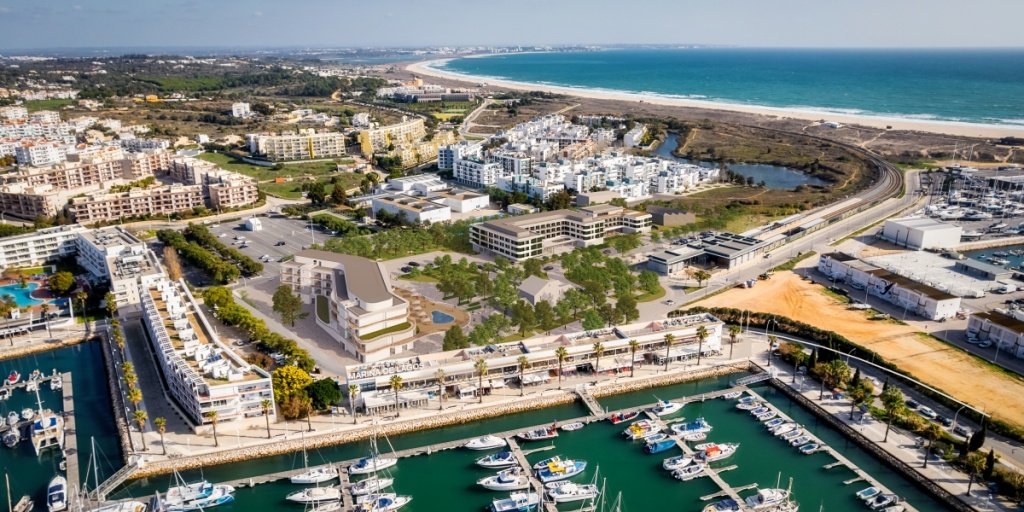 Hilton Worldwide and Portugal-based real estate firm Mercan Properties Group have signed an agreement for the operation of two new hotels in Lagos, in the country's southern Algarve region.
Expected to open in the summer of 2024, Lagos Marina Hotel, Curio Collection by Hilton and Hilton Garden Inn Lagos will be built next to the city's marina.
Third agreement
Overlooking the Atlantic Ocean, this new Portuguese urban rehabilitation project represents an investment of €107.8 million by Mercan Properties Group. This is the third agreement between the two parties following the recent opening of Se Catedral Hotel Porto, Tapestry Collection by Hilton and upcoming opening of Hilton Garden Inn Evora in the same country.
This hotel development of approximately 23,000 sq m gross construction area (GCA) will integrate two hotels with distinct concepts. Lagos Marina Hotel, Curio Collection by Hilton will have 180 high-comfort rooms, distributed among four floors, in a total gross area of 14,776 sq m. Hilton Garden Inn Lagos will have 90 rooms, 27 of which will be converted into Suites with a kitchenette, in a total gross area of 7,505 sq m.
Extensive amenities
Lagos Marina Hotel, Curio Collection by Hilton will feature a restaurant and two bars, one of which will be found on a rooftop terrace complete with infinity pool. It also boasts a second pool on the ground floor as well as spa and fitness facilities.
Offering upscale and affordable accommodation, Hilton Garden Inn Lagos will offer comfortable rooms and suites with kitchenettes. The hotel's multi-functional lobby will feature a bar, restaurant and a 24-hour self-service shop. Other amenities will include fitness facilities and an outdoor pool.
Both hotels are designed to blend into their surroundings through an architectural composition with delicate and careful lines. Rooms and restaurants alike will be designed with terraces, sunken gardens and balconies, so guests can enjoy the warm Algarvian weather as well as views of the Atlantic. Both properties also offer meeting room spaces, as well as more than 160 car parking spaces between the two hotels.
Sought-after destination
Jordi Vilanova, president of Mercan Properties Group, said: "The agreement now signed with Hilton is a proof of the development and interest that the city of Lagos has generated, increasingly asserting itself as a distinctive place, able to combine superb natural landscapes with a rich historical and cultural heritage. This project also represents a winning bet for Mercan Properties Group, very much in line with our values, as we give back to the city a place of comfort and well-being, capable of further boosting the marina and all the services and spaces around it."
Carlos Miro, MD, development, Spain and Portugal, Hilton, added: "Building on Hilton's presence in the incredibly popular Algarve, we are excited to partner with Mercan Properties Group to make our debut in Lagos. Dramatic cliff faces, picturesque beaches and its vibrant culture make this highly sought-after tourist destination an ideal location for our Curio Collection by Hilton and Hilton Garden Inn brands. This announcement solidifies our commitment to Portugal as a key strategic market for Hilton, with plans to more than double our portfolio in the coming years."
Other Hilton group projects already underway in Portugal include another Algarvian site, Legacy Hotel Cascais, Curio Collection by Hilton which will deliver 58 keys in Q3 2023; and the 101-room DoubleTree by Hilton Lagoa Azores arriving on Sao Miguel island in Q2 2023.
One is a brownfield resort located in Uthandi, Chennai, and the other is a 100+-room conversion hotel in Hosur, an hour's drive from Bangalore. Swift openings The two strategically located hotels are scheduled to open in a few months. Both signings are intended to add...
Mayaliah Tulum Hotel & Residences - MGallery will house 45 bespoke hotel guest rooms and 95 branded private residences among tropical greenery, with the complex celebrating the millennia-old rhythm of local life. Tulum debut The distinctive boutique property is...
Under the flagship InterContinental Hotels & Resorts brand, the 450-room newbuild beachfront resort will be located in Kota Kinabalu, capital of Sabah state. Full facilities Marking a new milestone in the growth of IHG's luxury and lifestyle portfolio in Malaysia,...
Occupying a prime location in the city centre, the 124-guest-room Hilton Lille will continue to welcome guests and trade as a Hilton affiliated hotel before fully rebranding under Hilton Hotels & Resorts in 2024, following a multimillion-euro renovation. Dual...