Dual branding hotels increases viability, says Accor development executive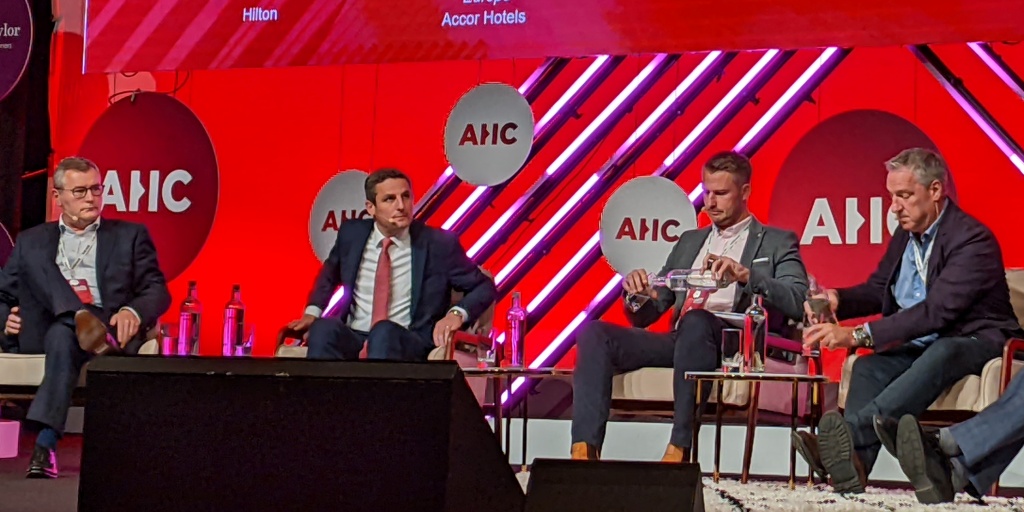 L-r: Hilton's Graham Dodd, Accor's Philip Lassman, Stockton-on-Tees Borough Council's Iain Robinson and Genr8 Developments' Warwick Smither.
Multi-use sites are key to getting hotel development buy-in from local councils, said Accor's vice president, head of development for northern Europe, Philip Lassman, this week.
At the AHC event in Manchester, UK, Lassman was participating in a panel discussion called 'How to fill the hotel development viability gap?'
Diversifying sites
The Accor executive feels: "When you're undertaking a larger scheme, look at dual branding it with a full service and a limited service hotel. As the limited service hotel has smaller rooms you can take advantage of the public areas in the full service hotel.
"You can diversify the income and look at adding some coworking to the site, and branded retail or f&b facilities. Leasing out a retail unit, as we've done in some of the more recently-built projects we've delivered, shows councils that it is truly a mixed use site."
Ticking boxes
Hilton's MD for development in the UK and Ireland, Graham Dodd, agreed: "It's about understanding where those projects are that are going to take enough boxes for all stakeholders to actually be delivered.
"Anything you can do to mitigate the contingencies that a lot of people build into pricing in the development, that's the way to move it forward."
Town regeneration
Another panellist, redevelopment consultant Warwick Smither, development director of Genr8 Developments, considered that reviving town centres is very important to many councils. "Local authority intervention in town centres is critical at the moment, repurposing the high street is right at the top of the agenda. Councils are wrestling with what that involves.
"Hotels are one component of that, as are other uses like retail and restaurants. We need to look at the wider piece about how town centres are regenerated and what the components are. If you can cross fund through other more profitable elements in a much wider master plan, then the authority can facilitate to make the less profitable elements, perhaps a hotel, work financially."
Imagery courtesy of AHC. L-r: Stockton-on-Tees Borough Council's Iain Robinson and Genr8 Developments' Warwick Smither and Legacy Hotels & Resorts' Andy Townsend. Public sector cooperation on hotel projects can be fraught with difficulty, according to Andy...
On 15 and 16 September, high-calibre industry hub Swiss Hospitality Investment Club will be serving up exclusive insights into the latest developments on the hospitality sector and looking at the trends currently defining the investment market, while also providing an...
The Vision Stage at The AHC 2021 (imagery: © Richard Frost) In an exclusive report, we round up the key insights shared in Manchester, featuring contributions from Marriott International, Accor, IHG, Goddard Littlefair and Gary Neville. Leading lights from Europe's...
Barcelona will host from 24-26 November 2021 the reference event for contract-hospitality professionals. After nine editions and thousands of visitors with a buyer and specifier profile per edition, the last few years consolidated Interihotel as an opportunity to...