Design showcase: Top 5 thematic hotels
This week's collaboration with TOPHOTELDESIGN seeks out five major hotels which utilise creative and fun themes for their designs.
Storytelling is a commonly used tool for the building of hotel's identities. It invites guests. It's a journey of discovery through the different areas of the narrative, far away from their ordinary lifestyles and routines.
New world
We selected five projects that chose a specific theme for their interiors, allowing guests to step into a whole new world.
The TWA Hotel at JFK airport transports guests into the world of aeroplanes and luxury airlines. An Oscar-winning actor has been seen at that same place in a famous movie involving pilots and fake checks.
Elsewhere, Stora Hotellet Umea draws inspiration from Sweden's maritime history, combining almost fantasy-like sailing imagery with high society luxury and sophistication.
While HUP Mierlo in the Netherlands is a celebration of sports condensed in a brilliantly smart design idea; using carpets as the main design element to emulate pitch markings of competitive sports.
Sea and beach vibes
The Intercontinental Shanghai Wonderland, as indicated by its name, places guests in wondrous underwater surreal spaces filled with blue light and natural patterns and textures.
Our final choice, Boathouse Phuket, is located right in front of the beach, and gives visitors a glimpse into the sailor's world with subtle details reminiscent of boat interiors.
Click on the images below to explore the projects in TOPHOTELDESIGN.
TWA Hotel at JFK Airport
New York, United States of America
by Stonehill Taylor
Stora Hotellet Umea
Umeå, Sweden
by Stylt Trampoli AB
HUP Mierlo
Mierlo, Netherlands
by Creneau International
Intercontinental Shanghai Wonderland
Shanghai, China
By Cheng Chung Design – Hong Kong
Supplied by KOHLER, Hansgrohe & WMF Professional | Hotel Equipment
Imagery © Kimi Cai
BoatHouse Phuket 
Phuket, Thailand
by LAANK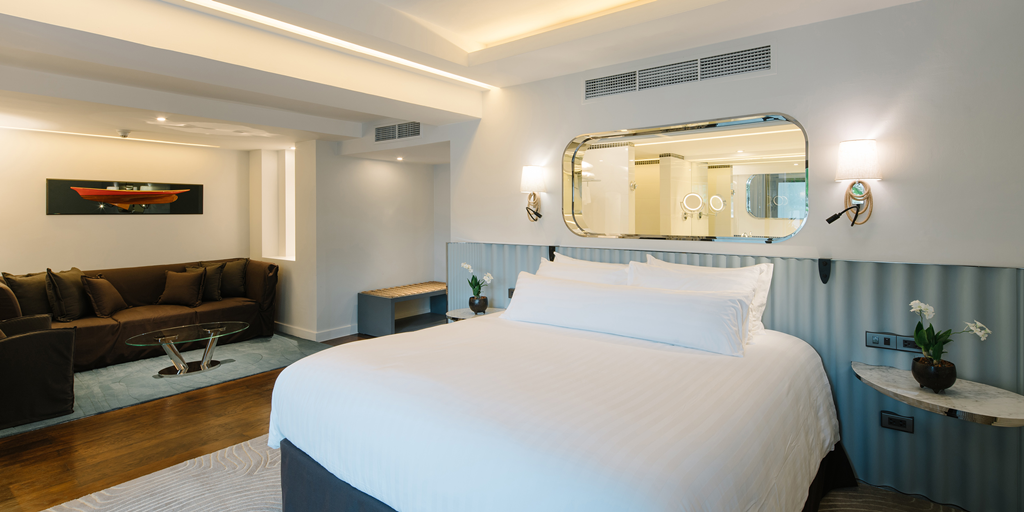 Imagery © Marc Tan
Imagery courtesy of Virgin Hotels. Virgin Hotels has given a sneak peek at its upcoming Glasgow development ahead of its opening in December this year. Virgin Hotels Glasgow is the second site for the brand in the UK and will feature 240 Chambers spanning across 15...
Imagery courtesy of The Pavilions Hotels & Resorts. The Pavilions Hotels & Resorts is relocating 19th century traditional kominka Japanese houses for a new luxury resort in Hokkaido. The Pavilions Niseko Resort will launch in Q4 2024, and the build includes...
This week's collaboration with TOPHOTELDESIGN highlights the hotel hallways which make moving from one area to the next a fascinating exploration. We have chosen five properties which focus on the journey as well as the destination. These corridors not only lead to...
Imagery courtesy of Morris Adjmi Architects. Hot on the heels of an opening in Tampa, Florida, the Roost aparthotel brand is heading to neighbouring US state South Carolina with a development scheduled to launch in early 2024. Roost Charleston is intended to be a...