Design showcase: Top 5 corridor designs
This week's collaboration with TOPHOTELDESIGN highlights the hotel hallways which make moving from one area to the next a fascinating exploration.
We have chosen five properties which focus on the journey as well as the destination. These corridors not only lead to other places, but also become areas worthy of attention in themselves. 
Creative corridors
The challenge of transforming a hallway into a full physical and emotional experience involves exceptional creativity.
We believe that exceptional interior design is all about the desire to transform a visitor's everyday actions into memorable adventures. These five projects reveal a new thrilling level in routine places.
Quality quintet
The Toggle Hotel was selected for its optically playful two-toned colour concept, while A Meticulously Designed Bamboo Lodge stands out for craftsmanship that guides visitors through a bamboo wonderland.
The Shiroya Hotel was picked for its multi-directional stairs and pathways that elevate light and concrete into  something absolutely contemporary and new.
Our fourth selection, Hotel Indigo Dubai Downtown, showcases a deep blue corridor with intricate carpets, and our quintet is completed with Hoshinoya Guguan's poignant theatrical lighting and roof installations.
Click below to examine each project in more depth, and search for 'corridor' to explore more results in TOPHOTELDESIGN.
Toggle Hotel
Chiyoda City, Japan
by Klein Dytham architecture
A Meticulously designed Bamboo Lodge
Yibin, China
by QAD
Shiroiya Hotel 
Maebashi, Japan
by Sou Fujimoto Architects – Tokyo
Image by © Hasselblad X1D
Hotel Indigo Dubai Downtown 
Dubai, United Arab Emirates
by Dsgn Design Dubai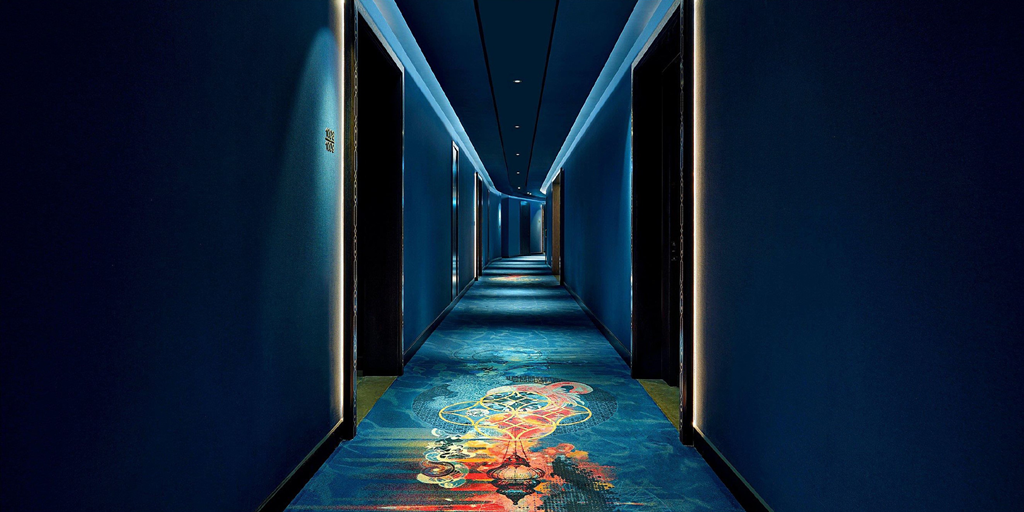 Image by © Phillip Wessels
Hoshinoya Guguan
Taichung City, China
by Azuma Architect & Associates
Imagery © Six Senses. Six Senses Crans-Montana is on track for making its debut, just in time for the 2022-23 winter season, at the end of the year. The year-round slope-side property promises to combine vitality, serenity and adventure in a space featuring luxury...
Imagery courtesy of Morris Adjmi Architects. Hot on the heels of an opening in Tampa, Florida, the Roost aparthotel brand is heading to neighbouring US state South Carolina with a development scheduled to launch in early 2024. Roost Charleston is intended to be a...
Imagery courtesy of Sage Hospitality Group, © The Ingalls. The former NoMad hotel site in downtown Los Angeles is poised to open under a new guise following a revamp encompassing a new rooftop concept. Located in the Giannini Building, the former Bank of Italy home...
Images by © DIGITALAPIN. This week's collaboration with TOPHOTELDESIGN focuses on the sophisticated architecture and interiors of The Hari Hong Kong. Atkins - Shanghai is behind the architectural design of this hotel and Tara Bernerd & Partners designed the...