City overview: 35 new hotels planned in Miami [Infographic]
The TOPHOTELPROJECTS construction database reveals that 35 hotel schemes are currently in the works across Miami, with one brand preparing to launch three separate properties.
Our data suggests that 35 hotel projects with a total of 9,162 rooms are being progressed in Miami as we speak. We take a closer look at these upcoming launches.
Miami's hotel openings by year
2021 will be a busy year with 13 hotel openings adding 2,370 rooms to Miami's offering. Amid the well-publicised impact that Covid19 had on hospitality last year, some of these were undoubtedly pushed back from 2020.
Five properties will open in both 2022 and 2023, bringing 2,447 and 1,620 rooms respectively. For 2024 and beyond, another 12 projects with 2,725 rooms are already underway.
The majority (28) of Miami's 35 new hotels will be in the four-star segment, while only seven fall into the five-star category.
Miami's fastest growing hotel brands
The TOPHOTELPROJECTS research team reports that CitizenM is planning to open three hotels with 954 rooms in Miami over the coming years. This means that the ambitious Dutch company claims the distinction of being the city's fastest growing hotel brand.
Its nearest challenger, incidentally, is Radisson Red, which will be launching two new properties with a total key count of 338.
Top hotel projects in Miami
The 351-key CitizenM hotel at Miami Worldcenter forms part of a 27-acre mixed-use development in the heart of the city. A 12-storey hotel offering sweeping views of the city, it'll also provide the brand's signature tech-focused services, while an 1,850 sq ft creative space on the tenth floor and an impressive public-art programme should set this property apart from the competition. The opening is planned for Q2 2021.
Set in the midst of Miami's arts and shopping district, meanwhile, the new Triptych Hotel by Hilton – Curio Collection will boast 297 luxurious rooms with sweeping city views. The hotel will sit within a 20-storey tower that's also home to office, retail and events spaces, as well as an expansive art gallery. The opening date is yet to be announced.
Lastly, and launching in early 2023, Virgin Hotels Miami will comprise 250 chambers, a spa, meeting space and a variety of F&B venues, including the signature Commons Club. Interestingly, its three-storey terraced rooftop will feature a pool, lounge, and event space, offering a unique venue that'll undoubtedly help pull in the crowds.
Many TOPHOTELNEWS articles draw on exclusive information from the TOPHOTELPROJECTS construction database. This subscription-based product includes details of thousands of hotel projects around the world, along with the key decision-makers behind them. Please note, our data may differ from records held by other organisations. Generally, the database focuses on four- and five-star schemes of significant scale; tracks projects in either the vision, pre-planning, planning, under-construction, pre-opening or newly opened phase; and covers newbuilds, extensions, refurbishments and conversions.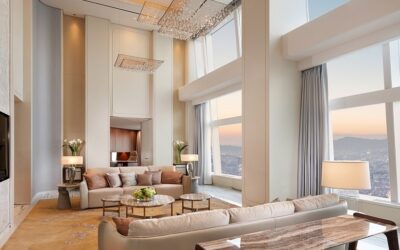 Lotte Hotels & Resorts' premier brand hotel, Signiel Seoul, was selected on its list of 'The Best Hotels in the World' for the first time among domestic hotels in an award hosted by global travel magazine Condé Nast Traveler on October 3 (local time). Condé Nast...