Centara inks agreement for first Surat Thani hotel
Imagery courtesy of Centara Hotels & Resorts.
A Centra by Centara branded site is scheduled to open in Surat Thani, Thailand, in July 2023 following the renovation of an existing low-rise hotel.
Centara Hotels & Resorts and Baansuay Group (Suratthani) PCL signed a hotel management agreement (HMA) for Centra by Centara Hotel Surat Thani. Senior executives from the two companies officially executed the agreement at a signing ceremony held at Centara's flagship Centara Grand & Bangkok Convention Centre at CentralWorld.
The largest of Thailand's southern provinces, Surat Thani is a main transit point for travellers en route to some of the Kingdom's most famous islands, including Koh Samui and Koh Phangan. 
Renovation in phases
Refurbishment work is currently underway,  including the renovation of 110 rooms, an all-day dining Dim Sum restaurant, casual in-style Japanese restaurant and meeting room.
The completion of a second phase is expected in early 2025, which will see the construction of a new building to house additional facilities including a large function room, fitness centre and swimming pool.
Baansuay Group CEO Piriya Tanerananonth said: "We are delighted to be partnering with Centara for their first hotel in Surat Thani. With their excellent reputation and track record, we are confident that Centra by Centara Hotel Surat Thani will become a new landmark for travellers exploring southern Thailand."
Ethnic and contemporary design
The site's concept design aims to bridge the gap between ethnic communities in surrounding Bandon Bay with contemporary furnishings and local arts and crafts.
The 110-key hotel will offer spacious accommodation ranging from 24 to 36 sq m, featuring amenities and services that allow guests to relax at their home away from home, including connecting rooms for families. Facilities include a lobby envisioned as a dynamic multi-use space, two restaurants which will be positioned as a destination in themselves, as well as a deck and garden area with blurred indoor-outdoor boundaries.
Centara CEO Thirayuth Chirathivat said: "We are excited to announce the partnership with Baansuay Group for Centra by Centara Hotel Surat Thani, our 12th Centra by Centara-flagged property, and Centara's first hotel in Surat Thani.
"Centra by Centara's positioning of elevating the essentials by delivering great quality at excellent value make this an ideal brand for leisure and MICE travellers seeking to explore the province's natural and cultural charms."
Centra by Centara Hotel Surat Thani is located in the city centre, a 15-minute drive to Lomprayah Tapee Pier and Tha Thong Pier, and a 30-minute drive from Surat Thani International Airport.
Imagery courtesy of Radisson Hotel Group. A second Riyadh hotel for the Radisson Collection is amplifying the luxury chain's presence in Saudi Arabia. Mansard Riyadh, A Radisson Collection Hotel is named after its distinct Mansard roofline, designed as an homage to...
Pictured: Element Riyadh. The capital of Saudi Arabia is set to welcome 48 hotel projects, which between them will bring as many as 9,838 new rooms to the city. A number of luxury brands are making their mark in the city at this time, with a total of 28 five-star...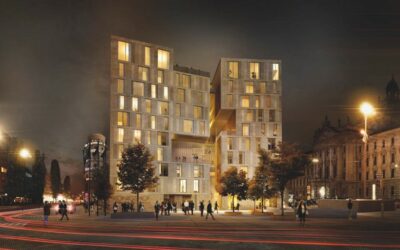 Imagery © Nieto Sobejano. Our latest Project of the Week title goes to the new-build JW Marriott Königshof taking shape in Munich. Highlights of this 10-storey site are to include a wellness floor and a rooftop restaurant affording panoramic views over Munich. A new...
Imagery courtesy of Accor. Accor has opened its first The Sebel-branded property on the Gold Coast, Australia, after an $11 million upgrade of an existing site. Sebel Twin Towns Coolangatta debuted following an extensive transformation and rebrand of the ocean tower...
ABOUT THE CHAIN
Enjoying premium settings in city centre locations and beach and island destinations, Centara Hotels & Resorts' properties are all four-star-rated and provide a memorable experience in both facilities and service.